Health Humanities Digital Badges and Certificate
---
Health Humanities Digital Badges and Certificate
Whether relieving stress, mitigating burnout, providing inspiration, or helping us empathize with others, the acts of reading, writing, and journaling can do so much for our well-being.

Alverno's Health Humanities credentials introduce you to this rich and emerging field which applies the wisdom of the humanities (especially the study of literature, writing, philosophy, and religious studies) to the issues and experiences of health and illness, health care, self-care, caregiving, and care-receiving. The Health Humanities digital badges and certificate courses were designed by Alverno College professor Jonathan Little, PhD.

Three self-directed/self-paced online classes lead to individual digital badges, or can be combined into a Health Humanities Certificate. As an earner of these credentials, you will:
Gain an understanding of the new field of Health Humanities.
Effectively articulate and explore your own point of view on the Health Humanities, especially in terms of your personal and professional interests.
Actively participate in the potential therapeutic applications of the Health Humanities, including reading and analyzing literature, journaling, and creative writing exercises to activate your imagination and to experience the health benefits of creativity and self-expression (i.e. practicing self-care and wellness).
Creatively and imaginatively consider applications of therapeutic reading in your own life, in your communities, and in your job (if applicable).


Badge 1: Health Humanities and Therapy Through Reading
Learn about Health Humanities and explore reading short stories and poetry as a potentially therapeutic resource; explore the ways therapy through literature is practiced throughout the world and in the US, and consider applications to yourself and to your community.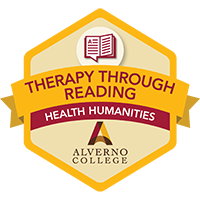 Badge 2: Bibliotherapy and Creative Writing
Learn about the interactive storytelling techniques in the healthcare field and experiment with creative writing exercises, journaling, and creative re-writing to reduce stress and to mitigate against burnout (i.e.: practicing self-care and wellness).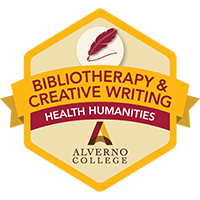 Badge 3: Caregiving and Receiving in Literature — Enhancing Empathy and Compassion
Explore patient and professional care-givers' perspectives through their poetry and essays. Through guided analysis, you will reflect on such issues as empathy, empathy burnout, and the development of compassion.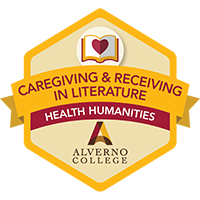 Registration Information
Fee for Individual Badges: $75
Fee for all three Badges (Certificate): $199

Register here!

Questions? Contact adultlearning@alverno.edu.
---
GET IN TOUCH!
Have questions about studying at Alverno? We invite you to connect with our Admissions team to learn more.