Explore your faith.
Refresh your spirit.
Guided by our Catholic Franciscan values, upholding and celebrating the dignity of every human person and goodness of creation, Campus Ministry offers a variety of opportunities for spiritual reflection, conversation, worship, prayer, topical Bible study, interfaith dialogue and meditation.

Our Catholic, Franciscan roots are the foundation for all we do and the reason we're committed to creating a welcoming and inclusive campus. Campus Ministry connects us to those roots and builds bridges.
Whether you're looking for guidance as you grapple with life's big questions, a listening ear while grieving a loved one, or simply a friendly place to decompress between classes, Campus Ministry's door is always open.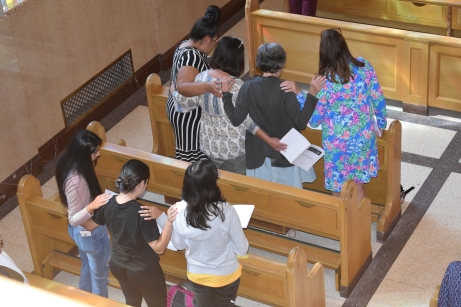 Alverno College Campus Ministry fosters the spiritual growth of students, faculty and staff through prayer and liturgy, service and social justice education, retreats, and spiritual conversations.

Rooted in the Catholic tradition and inspired by the charism of St. Francis, we invite people to reflect on their faith journey, their gifts, and the world's needs.

We welcome and accompany persons of all faith traditions.
Alverno Prayer Network
The Alverno Prayer Network is a group of community members dedicated to praying for needs of community members who offer special requests. Any member of the Alverno community is welcome to join. If you are interested, please contact steven.dunn@alverno.edu.
To submit a prayer request email steven.dunn@alverno.edu. We invite all to continue using the prayer petition book and book of remembrance at the entrance to the chapel.
Meet us for Weekly Bible Study in the Campus Ministry office, FO 259. Each week we examine texts from the Hebrew Bible and New Testament, exploring their background and meaning for our lives today. All are welcome. Snacks and beverages provided.
The meditation room above the chapel is open from 11-1 p.m. on Wednesdays as a space for contemplation and meditation. Access by the stairwell adjacent to the Commons.
Campus Ministry's programs include:
Catholic Masses with opportunities for students to serve as Lectors, servers, cantors, and Eucharistic ministers.
Ecumenical and Interfaith prayer services and opportunities for dialogue.
Devotions
Discussion groups on various topics addressing spiritual needs and interests.
Outreach activities in the community.
Bible studies with reflection and application to contemporary experience.
Open office hours for spiritual support and direction, discussion, and prayer.
We encourage student participation and welcome ideas for activities and needs.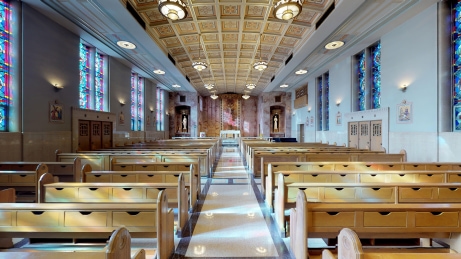 Please complete the form for wedding inquiries and use of the Chapel of Mary Immaculate.
The Chapel of Mary Immaculate is not a parish, which means a couple must have their own Catholic priest or deacon and home parish to complete preparation for the Sacrament of Holy Matrimony.
Contact Campus Ministry
Campus Ministry is here to support you and accompany you on your Alverno journey. We're here to listen, to share resources and to offer opportunities to come together for prayer, worship and community service. We are a Catholic institution, but whatever your faith background -- and many are represented and welcome on campus -- we are here to invite you into more reflection about who you're called to be, your purpose in the world, and how your education might prepare you to make a difference.
Campus Ministry Hours: 1-5 p.m. on Thursdays in FO259 or by appointment. Please feel free to stop by to talk, reflect, discuss spiritual topics, join Bible study, pray, or share ideas.
For more information, contact:
Steven Dunn, Ph.D.
Associate Professor of Religious Studies
Administrator of Campus Ministry
steven.dunn@alverno.edu
414-382-6462