Pharmaceutical Sciences
Nursing and Health Care | Major
---
Opportunities for pharmacists surged during the COVID-19 pandemic, from testing to administering vaccinations. And even during non-pandemic times, more patients are relying on their neighborhood pharmacy for the care they used to seek at a physician's office. Whether you want to interact with a community in a retail pharmacy, prepare life-saving medications for hospital patients or work in a research laboratory to find the next big cure, a pharmacy degree can lead to well-paying and rewarding work.
Best of all? By getting your start at Alverno, you'll earn your white coat faster and more cost-effectively.
Alverno's dual-degree program is offered in partnership with the Medical College of Wisconsin (MCW) School of Pharmacy and Concordia University Wisconsin (CUW) School of Pharmacy. After completing three years at Alverno, you'll apply to pharmacy school. If accepted, you'll spend three years at MCW or four years at CUW to complete your PharmD degree.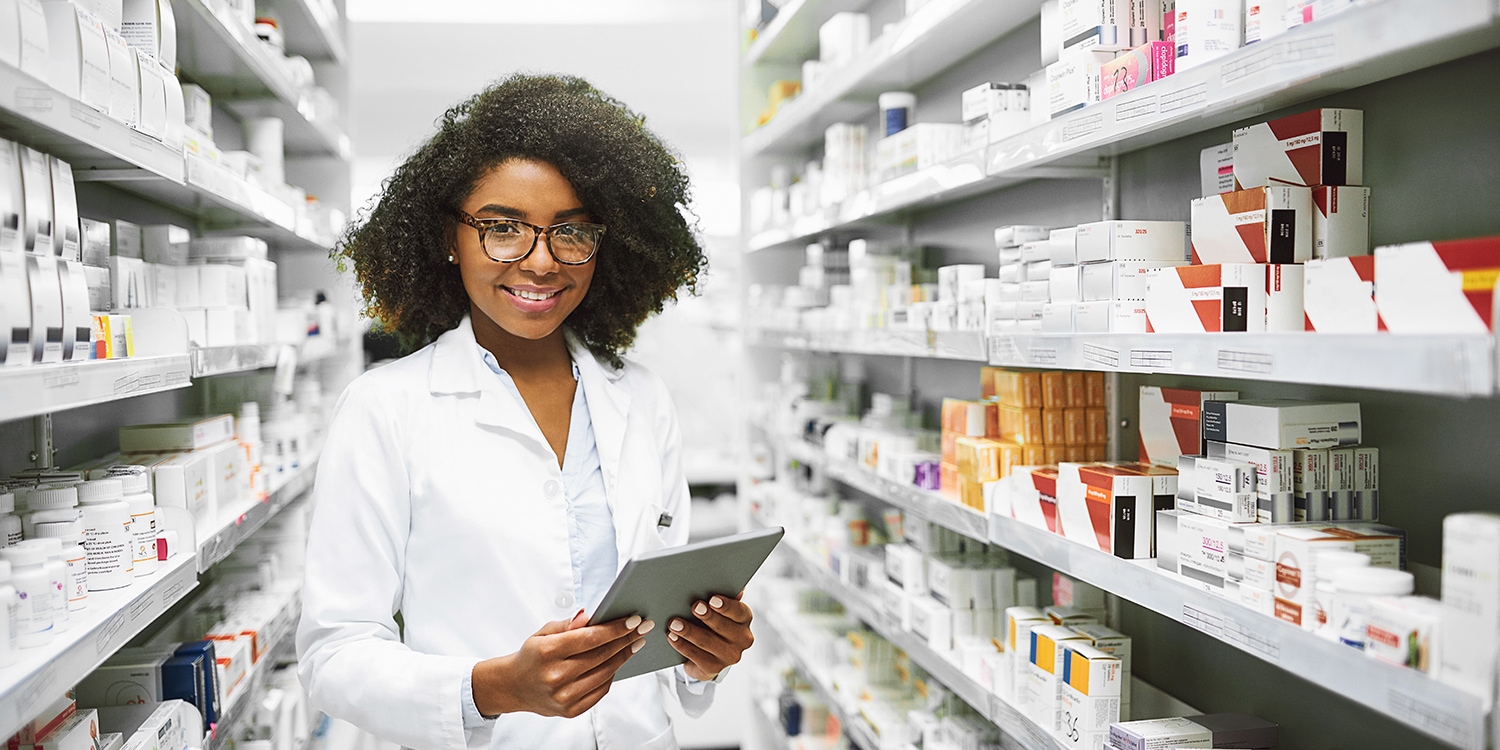 The Alverno difference
At Alverno, you'll build a strong foundation in science and research in an empowering, supportive environment. Our internationally renowned, abilities-based curriculum will develop your critical thinking, problem solving, leadership and communication — skills that will help you in pharmacy school and beyond.
Our faculty will personally nurture your growth as a scientist, and you'll get hands-on experience using cutting-edge instrumentation in Alverno's labs to explore real-world applications. For example, you might use Alverno's new greenhouse to develop methods for isolating and identifying components in essential oils.
Alverno's pre-health program offers seminars, peer support and other resources to make you a competitive candidate for pharmacy school. Your pharmaceutical sciences advisor will introduce you to the programs at MCW or CUW and help you navigate the application process. And in your first year at Alverno, you'll have access to admissions staff and faculty at both pharmacy schools.
Outside of class, you might work as a paid lab assistant or a peer tutor, participate in faculty-student research through Alverno's Center for Academic Excellence, or get involved in a student organization such as Pre-Professional Women of Alverno.
---
"Choosing Alverno has been one of the biggest and most important decisions I have ever made. Not only is it a small college where I feel comfortable, but it also holds the best opportunities for pharmacy students like me."
— Lupe, pharmaceutical sciences major
---
Coursework
You'll begin your pharmaceutical sciences courses during your first semester, as well as your general education requirements. You'll study biology, chemistry of bio-organic molecules, organic chemistry, analytical chemistry, calculus, physics, and probability and statistics, among other areas.
If you go on to MCW or CUW, you'll receive a bachelor's degree from Alverno after you complete the required 120 credits (your pharmacy school credits will transfer back to Alverno). If you do not go on to pharmacy school, you can complete your fourth year at Alverno to earn a bachelor's degree in integrated natural sciences, or you can choose to receive an associate's degree in integrated natural sciences with no additional coursework.

Field education
Although dual-degree students are not required to complete an internship while at Alverno, many opt for an internship experience. Our students have interned at MCW, the Milwaukee County Health Department, Sigma Aldrich and the Water Technology Accelerator at the Global Water Center.
Career opportunities
Most students will go on to pharmacy school. After you earn your PharmD, you might work at a retail pharmacy, clinic, hospital, pharmaceutical company, medical distribution company, or even a government agency like the National Institutes of Health or U.S. Food and Drug Administration. If you decide to go straight into the workforce after Alverno, you'll be ready for careers in research science or industry.
Admission requirements
Your first step is to apply for admission to Alverno by completing the free application at alverno.edu/apply. You should mark your intended major as pharmaceutical sciences.
At Alverno, you'll receive dual advising. Your faculty advisor will help you stay on your accelerated track and get you plugged into pharmacy school-related activities, and your professional academic advisor will help you register for classes and provide additional support.
The Annual Crime and Fire Safety Report for Alverno College, which includes crime statistics and annual fire safety statistics, can be found online. A hard copy of the report is available upon request. Please send your request to Jason Pilarski, director of Campus Safety.
---
GET IN TOUCH!
Have questions about studying at Alverno? We invite you to connect with our Admissions team to learn more.