Welcome to the Alverno family!
Choosing a college is a major decision and commitment for the entire family. That's why we're here to help support you and your student every step of the way.
You're worth it. And so are we.
We're a "Best Value School" in the 2020 U.S. News & World Report college guide, in recognition of our commitment to make an elite education accessible to all.
U.S. News also continually ranks Alverno higher than any other college in Wisconsin in the "Strong Commitment to Teaching" category, honoring our student-centered approach.
Students ranked Alverno the most inspiring college in the nation for two years in a row, according to The Wall Street Journal/Times Higher Education.
Paying for college
An Alverno education is more affordable than you might think: Nearly 100% of full-time undergraduate students who sought financial aid received assistance. Alverno's designation as a Hispanic-Serving Institution — the first in Wisconsin — gives ALL of our students, no matter their background, access to additional federal grants and scholarships. Our financial aid department is happy to walk you and your student through the process.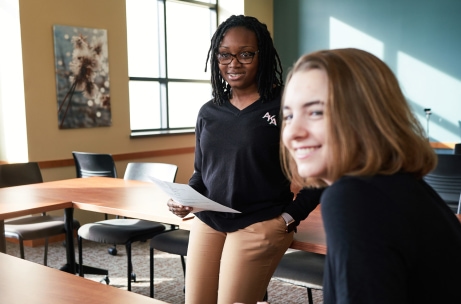 Resources for families
To learn more about how to support your student, check out our FAQs or call us at 414-382-6114. We're here to help!