Doctor of Nursing Practice
Nursing and Health Care | Graduate Program
---
A higher level of leadership
Rise to the top of the nursing profession with a Doctor of Nursing Practice degree from Alverno College.
Our program is fully online and customizable to your unique goals. Choose from one of two tracks – Direct Care or Leadership – to develop the specialized skills and knowledge you need to lead the future of health care.
With full-time enrollment, you can complete the program in just 18 months!
Whether you seek to:
Assume leadership roles in complex clinical environments,
Lead the development of health care policy,
Translate research into practice, or
Serve as role models, facilitators, consultants and expert clinicians in health care,
The Alverno DNP can help you achieve your goals. Contact Alverno Admissions today to learn more!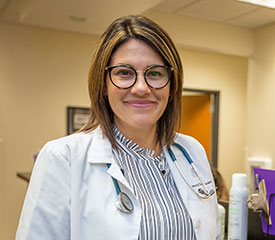 "I chose Alverno because I wanted small class sizes in a supportive environment. Here, everyone is able to contribute, collaborate and learn from each other. It completely and totally prepared me for professional success."
— Sarah, BSN '03, MSN '10, FNP '16, DNP '20
How it works
The Alverno DNP program:
Is fully online
Is open to MSN graduates who are licensed as registered nurses*
Offers session start dates in fall, spring or summer
Choose from a variety of elective courses to fit your DNP project and professional goals
Flexible for your schedule: Choose between 8-week or 16-week course blocks
Immediately relevant and applicable to your professional practice and career goals
Focuses on these advanced outcomes: Leadership, interdisciplinary collaboration, evidence-based translation practice, advanced communication, and informatics
Proudly provides student-faculty ratios that are under the national average for enhanced student learning
Supports students in starting their DNP scholarly project after completing the first core course
* Students pursuing the Direct Care track must also have a current advanced practitioner license and national certification.
Our curriculum
Our curriculum consists of seven core courses, two scholarly project courses, one to three elective courses, and two clinical practicum courses designed to help you achieve the needed 1,000 post-baccalaureate clinical practicum hours.**
Our Direct Care track requires 30 credits for completion, while the Leadership track is completed with 32 credits.
The Nursing Education Leadership track's elective courses are education-based and are elements of existing Alverno College elective courses program curriculum.
**Number of post-baccalaureate clinical practicum hours may vary by student based on total practicum hours completed in their master's program.
Our graduates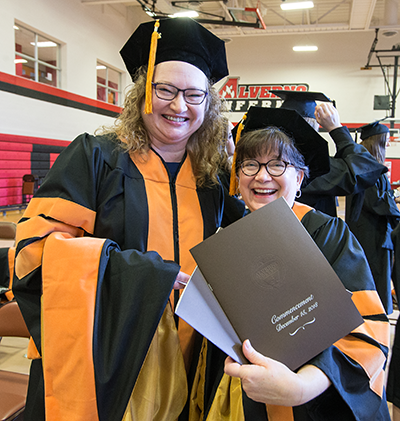 Alverno DNP graduates are already leading the future of health care at organizations in Wisconsin and throughout the United States.
Application steps
Our application is free and available at alverno.edu/apply. Please be prepared to submit the following with your application:
Official transcripts with an MSN from an accredited institution
Documentation of supervised MSN clinical hours
Personal statement
Copy of an unencumbered nursing license
Current resume/curriculum vitae
Frequently Asked Questions

Q: What is the program format? Do we meet on campus or online?
A: All courses are 100% asynchronous online. There is the potential for an on-site 1-day residency in DNP 830: Clinical Practicum I, but that is dependent on total course enrollment.

Q: What tracks are offered in the DNP program?
A: There are two tracks: Direct Care and Leadership. Direct care is specifically for those with an advanced practice certification. Leadership has two pathways: Executive Leadership for those holding a formal leadership position within a healthcare organization/entity and Educational Leadership for those currently in or looking to be in an academic type of leadership position. This could be a Director of an educational program, Dean, or a system-level nurse educator.

Q: What are the eligibility requirements to apply for the post-MSN DNP program?
A: The minimum requirements include 1. Unencumbered RN license in the United States; 2. Advanced practice certification for the Direct Care track; 3. At least one year of professional experience for the Executive Leadership track.

Q: Is financial aid available?
A: Graduate students are able to complete a Free Application for Federal Student Aid (FAFSA) for student loan options. Federal grants are not available to graduate students. We encourage students to speak with their human resources representative regarding any tuition reimbursement available by employers and to research outside private scholarships.

Q: When do you admit new students? Is there an application deadline?
A: New students can apply and are admitted at the beginning of the Fall, Spring and Summer terms. Applications are reviewed monthly (September-May). Applicants are encouraged to apply six (6) months prior to their desired start date.

Q: How many courses can I enroll in each semester?
A: Student may enroll in up to three courses each semester (generally six to nine credits per semester). Six (6) credits are considered full-time for graduate students.

Q: Will I need to take a statistics course prior to applying?
A: Statistics courses completed with a minimum B grade within five (5) years of enrolling in the DNP program will be considered for transfer. Students who do not meet this course requirement must enroll in statistics during the first semester.

Q: How long will it take me to graduate?
A: The DNP program -Direct Care Track is 30 credits and the Leadership Track is 32 credits. If a student takes three courses each semester, they should finish the program within five (5) semesters (including summer). The time it takes a student to graduate is dependent on total credits taken each semester.

Q: How many clinical practicum hours are required? Where is practicum?
A: Students must have a total of 1,000 post-baccalaureate hours by the end of the DNP program. Students can select their clinical practicum site based on their specialty.

Q: How many clinical practicum hours can I transfer in?
A: Clinical practicum hours will be eligible for transfer under the following conditions
Obtained as part of a supervised, academic program.
Designed to help students achieve specific learning outcomes from the Essentials: Core Competencies, role outcomes, and application of theory and evidence to practice.
Have outcomes/ experiences consistent with post-baccalaureate study.
Provide evidence as to how the clinical practicum hours have integrated new knowledge and demonstrated attainment of DNP program outcomes.
Evidence of current national board certification, if applicable.
Do not exceed the following number of maximum allowable hours to be transferred:



Advanced Practice MSN Track Program (CRNA, NP, CNS)

Maximum Number of Transferrable Clinical Practicum Hours: 600 hours
Remaining Hours if maximum hours approved: DNP 830 (200 hours); DNP 930 (200 hours)



MSN Specialty Track Program (Nurse educator, informatics, nurse leadership, etc.)

Maximum Number of Transferrable Clinical Practicum Hours: 550 hours
Remaining Hours if maximum hours approved: DNP 830 (225 hours); DNP 930 (225 hours)



Direct Entry MSN Program

Maximum Number of Transferrable Clinical Practicum Hours: 50 hours
Remaining Hours if maximum hours approved: DNP 830 (475 hours); DNP 930 (475 hours)
Upon admission, the DNP Program Director will review the evidence provided by each student and decide of total hours allowed to be transferred in based on the criteria above. Students will be notified via e-mail how many hours were approved, as well as how many hours will need to be completed in each of the clinical practicum courses throughout the DNP program.

Q: How much does the application cost?
A: Our applications are always free. Apply today at alverno.edu/apply.
---
The baccalaureate degree program in nursing, master's degree program in nursing, post-graduate Doctor of Nursing Practice degree program, and post-graduate APRN certificate program at Alverno College are accredited by the Commission on Collegiate Nursing Education, 655 K Street NW, Suite 750, Washington, DC 20001, 202-887-6791.
The Annual Crime and Fire Safety Report for Alverno College, which includes crime statistics and annual fire safety statistics, can be found online. A hard copy of the report is available upon request. Please send your request to Jason Pilarski, director of Campus Safety.
---
GET IN TOUCH!
Have questions about studying at Alverno? We invite you to connect with our Admissions team to learn more.