Master of Arts in Education
Education | Graduate Program
---
Get ready to build the future
Are you ready to be a catalyst for change in schools and to equip the next generation with essential knowledge and skills? Alverno's graduate education program — open to women and men — prepares teachers and administrators to grow as leaders, innovators and change makers.
Whether you are seeking initial licensure, pursuing a master's degree or doctorate, or you have already completed graduate studies and are seeking to add on specialized licensures, Alverno has a track to fit your needs.
Please contact the Alverno Admissions team at admissions@alverno.edu with any questions.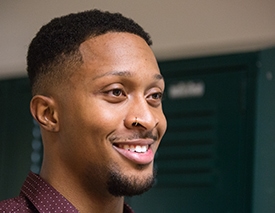 "My students mean the world to me. I work hard to supply high quality lessons with contagious energy. I work even harder to create everlasting relationships with my students. I love that I get a chance to be a positive role model for each and every student. My job isn't easy, but being on the front line to help change lives is rewarding. I feel like a superhero."
— Tyrone, 2020 graduate
Explore our pathways
If you are seeking initial licensure
Alverno's Licensure to Master of Arts in Education program provides a pathway for you to earn your initial teaching license and develop the skills to lead a dynamic classroom. We offer the following licensure programs:
Birth-3rd grade general education
K-9th grade general education
K-12th grade cross-categorical special education
Middle-secondary general education in mathematics, social studies, language arts and science
If you are already a licensed teacher
Alverno's Master of Arts in Education program helps licensed teachers and aspiring administrators grow as leaders and expand their specialized knowledge and skills. Through our program, you can add an additional license, earn a Master of Arts in Education degree or earn the master's degree plus an additional license. These licensure options include:
Alternative education
Bilingual/bicultural education
English as a Second Language
Urban education
If you would like to advance as a school leader

We offer advanced the following advanced licensure programs:
Principal (#51)
Director of Instruction (#10)
Director of Special Education and Pupil Services (#80)
Reading Teacher (#316)
Reading Specialist (#17)
Click here to learn about our Doctorate in Education (EdD) program.
How it works
Our program is flexible to serve working professionals. Some courses meet online, and others are face-to-face instruction on campus. Some courses meet on weekends, and others meet on selected weekday evenings.
Please note: If you are seeking initial licensure, then you must complete field placements and a student teaching experience during the program. If you are currently working under an emergency license, you should be able to gain this experience through your current employer. Otherwise, we will work with you to arrange placements.
Application steps
Our application is free and available at alverno.edu/apply. There is no deadline; instead, we have a rolling admissions process and review applications as they are received.
Please submit the following with your application:
Three recommendations (at least two must be professional or academic)
Official transcripts (verifying that you hold a bachelor's degree)
Writing samples (one education statement and two communication samples)
Passing score on Praxis Core
Completed and clear background check done by Alverno College
The Annual Crime and Fire Safety Report for Alverno College, which includes crime statistics and annual fire safety statistics, can be found online. A hard copy of the report is available upon request. Please send your request to Jason Pilarski, director of Campus Safety.
---
GET IN TOUCH!
Have questions about studying at Alverno? We invite you to connect with our Admissions team to learn more.