Integrated Natural Sciences
---
If you're passionate about STEM, then consider Alverno's integrated natural sciences major. This flexible program allows you to design your own major by blending biology, chemistry, environmental science and mathematics courses around your interests. It's also a great option if you're a transfer student looking to apply previous STEM coursework toward an interdisciplinary STEM degree.
Not only is integrated natural sciences a smart way to explore career paths while still graduating in four years, but this unique major will also prepare you for a variety of STEM careers. These in-demand professions need the talents and perspective of more women, and with your versatile training, you'll be ready to seize new opportunities in the fast-changing STEM world.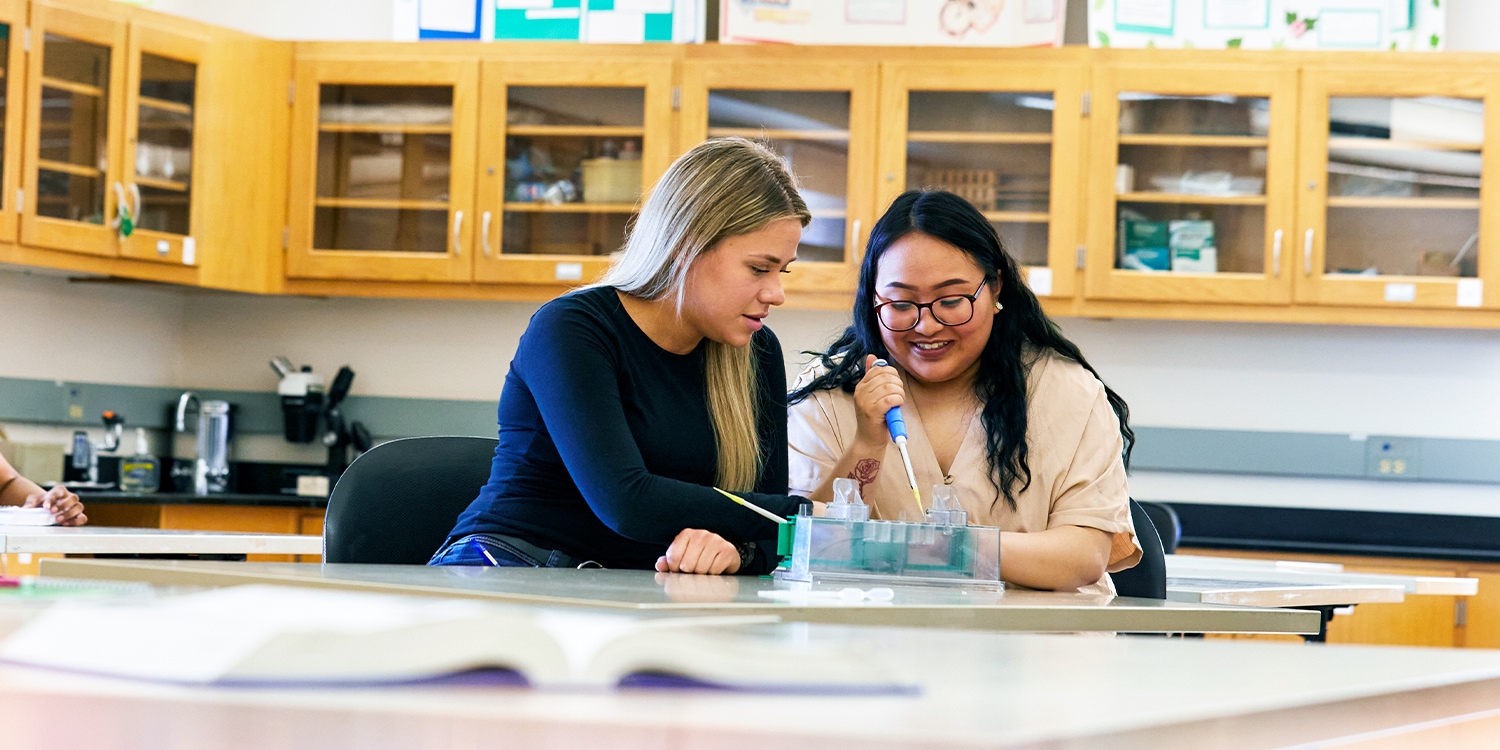 The Alverno difference
Alverno's Natural Sciences, Mathematics and Technology Division is a dynamic and supportive group of faculty, staff and students with a proven track record of fostering students' success in STEM. In fact, students and alumnae often note that studying STEM at a women's college makes a huge difference in their confidence and ability to learn.
Alverno's empowering, supportive environment and innovative curriculum — grounded in the 8 Abilities — will help you achieve your best. Our small, interactive classes will enhance your learning and help you build strong relationships with your instructors, who will mentor you and nurture your growth as a scientist.
You'll practice hands-on science in a variety of ways, such as conducting research in Alverno's new greenhouse and state-of-the-art aquaponics facility. You can participate in faculty-student research or work as a paid lab assistant or peer tutor. In addition to an internship experience, you'll be invited to professional seminars, meetings and conferences, growing your professional network before you even graduate.
Ultimately, you'll stand out in the job market thanks to your interdisciplinary and hands-on experience as well as your mastery of technical knowledge and interpersonal skills. And in a field where women have historically been under-represented, you'll be ready to lead with confidence.
---
"I had no idea what I wanted to do with my schooling other than I wanted a bachelor's degree. The integrated natural science major has given me a chance to focus my degree to what I am doing and where I want to go with my career."
— Lindsay, integrated natural sciences major
---
Coursework
All Alverno students must complete 120 credits to earn a bachelor's degree. You'll begin your integrated natural sciences courses during your first semester on campus, as well as your general education requirements. As part of your major, you'll take foundational courses in chemistry, biology, physics and mathematics and then have the opportunity to select from a wide array of intermediate and advanced electives.
Field education
You'll get valuable in-the-field experience and build your resume by completing at least one internship. Alverno students have interned at the Medical College of Wisconsin's Summer Program for Undergraduate Research, Program for Undergraduate Research Experience, and Genetic Counseling Program; the Milwaukee County Health Department; Sigma Aldrich; the Water Technology Accelerator at the Global Water Center; and the Milwaukee County Zoo. Alverno's Career Studio can help you find the right internship for you.
Career opportunities
Nearly all of Alverno's STEM graduates have jobs or grad school plans lined up soon after graduation — often before. A major in integrated natural sciences can lead to a variety of career paths: sustainability, applied mathematics, research science, biomathematics and more. It's also excellent preparation for graduate studies in STEM-related disciplines or medical or professional health school.
Admission requirements
Your first step is to apply for admission to Alverno by completing the free application at alverno.edu/apply. You should mark your intended major as integrated natural sciences.
For your first two years at Alverno, you'll be matched with a professional academic advisor who gets to know you and guides you through your education, helping you chart your path and register for classes. As a junior, you'll be paired with a faculty advisor who will support your success to graduation.
The Annual Crime and Fire Safety Report for Alverno College, which includes crime statistics and annual fire safety statistics, can be found online. A hard copy of the report is available upon request. Please send your request to Jason Pilarski, director of Campus Safety.
---
GET IN TOUCH!
Have questions about studying at Alverno? We invite you to connect with our Admissions team to learn more.