Paraprofessional to Teacher
Education | Degree Completion Programs
---
Ready to take your career to the next level?
Open to women and men, Alverno's Paraprofessional to Teacher Licensure program is a streamlined path to licensure for practicing paraprofessionals who have an associate degree (or at least 48 college credits) but not a bachelor's degree.
In 24 months, you can earn a Bachelor of Science in Education from one of the most respected and innovative schools in Wisconsin.
Classes are taught in a hybrid format with both online and in-classroom sessions, and other course work may fall within the regular 15-week format. Each student must also complete 18 weeks of student teaching.
Learn more
March 16: Paraprofessional to Teacher Licensure Information Session
Why Alverno?
Alverno's outcome-oriented curriculum is known nationally and internationally for focusing on you, the student. As part of our approach to learning, students learn the essential knowledge within each course subject while also developing the actual skills needed by educators not just today, but also tomorrow.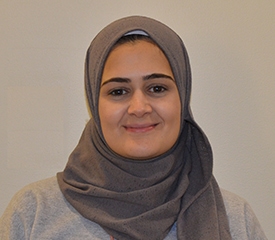 "The paraprofessional to BSE program at Alverno has prepared me to meet my career goals because of the fieldwork connected to the classes. I felt I had a terrific experience at Alverno because everything I do in the classroom I was able to elaborate and discuss it with my professors every week. I think taking the research and theories behind teaching strategies and applying it to the classroom is very valuable in order to be successful in the classroom. I'm so thankful for the professors I was privileged to learn from because they have shaped my understanding of what it means to be an effective teacher."
— Gadeer, paraprofessional to BSE student, class of 2019
Program requirements
Working paraprofessional or be able to volunteer for about 20 hours per week in an elementary classroom.
Associate degree or at least 48 college credits.
Majors
Birth to 3rd Grade
K4 to 9th Grade
Optional minors
ELL
ELL with a bilingual endorsement
Special Education

Sample curriculum
Investigating Integrated Social Studies with the Inquiry Arc
Science in the Elementary Curriculum
Cornerstones for Effective K-9 Mathematics Teaching & Learning
Engagement in Teaching, Learning and Assessment Working with Diverse Populations
Processes of Literacy Acquisition
Literacy Across the Curriculum
Differentiating Instruction and Assessment in Math, Science and Social Studies
The Annual Crime and Fire Safety Report for Alverno College, which includes crime statistics and annual fire safety statistics, can be found online. A hard copy of the report is available upon request. Please send your request to Jason Pilarski, director of Campus Safety.
---
GET IN TOUCH!
Have questions about studying at Alverno? We invite you to connect with our Admissions team to learn more.