Get ready for a music career
The arts are integral to the development of self-expression, innovation and well-being. Through arts experiences, students learn to observe, engage with and shape the world, which provides opportunities for professional preparation and personal growth.

The Music Department at Alverno College prepares students with the knowledge and performance skills necessary to enter a career with confidence and success. The Music curriculum features relevant courses spanning historical timelines and diverse musical styles, as well as clinical experiences that guide students toward their career goals.
The Alverno difference
Alverno's Music Department is unique thanks to:
Our low student-to-faculty ratios.

A curriculum that is attuned to the diversity of music styles relevant in today's world.

Internships that skillfully guide students into a career.
Alverno College has a worldwide reputation for its innovative ability-based curriculum, which the Music Department infuses with performance assessments and career-based core classes. Every music major and minor refines her skills through private study, performance opportunities and a progression of competences, including the self-assessment of one's own abilities.

Student-centered learning, combined with Alverno's strong liberal arts curriculum, produces music graduates who then successfully enter employment within their chosen field.
Learn more about the Music Department via our Music Student Handbook.
Popular Music Studies minor provides a path to learn about American culture in the 20th and 21st centuries with a mix of coursework in music history/culture and musicianship/performance.
The Music Performance minor is for those studying voice or an instrument and offers opportunities to perform in ensembles.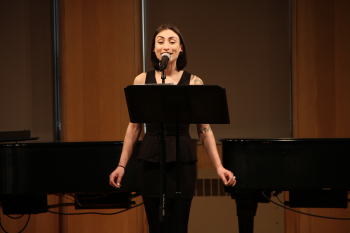 Entrance auditions are required of all students who desire to major in music at Alverno College. The auditions are designed to assess the applicant's ability to successfully pursue college-level studies in music and to place the applicant in courses consistent with current ability level. Audition registration is electronic. Once you have completed and submitted your registration, you are considered registered for the Music Department auditions.
Placement assessments in piano and theory will happen in the fall should you be accepted to the program.
Any questions or concerns about audition requirements or deadlines
may be directed to audition@alverno.edu.
Musical events
Alverno's Music Department is pleased to host student recitals and other events for the broader community.
Faculty Performers: Mathew Arnold & Matt Schroeder
Thursday, September 21
12:15 p.m.



Spring Semester Events in Review




Students explore life through music and lyrics

Rob Collier
Students in Rob Collier's MU-494 Songwriting and Arranging course engaged in the freedom of a final project that provided them the creative range to write and record a song in any style they wanted to explore. Then Collier, an assistant professor of music theory, did a bit of his own arranging by featuring his students' work on SoundCloud for all to hear. Behind each song, there is a story.