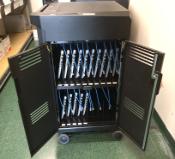 Technology Services currently has three wireless laptop carts available for delivery to classrooms. These carts enable any room with wireless access on campus to become a computer classroom connected to the campus network. There are special policies for wireless laptop cart requests.
Accessories
One monochrome laser printer is available but must be ordered separately. External mice are available on request.
Laptops DO NOT have an internal DVD/CD drive. One USB DVD/CD external drive is available and must be ordered separately. Students may save to a USB flash drive or their OneDrive for Business account via student email.
Power
The built-in battery in each laptop allows it to work for approximately five (5) hours without being plugged in.
If you are planning to use the laptops for more than five hours, you will want to request the AC adapters and some extra power strips so the laptops can be plugged in.
Network Connectivity
The wireless network adapter in each laptop allows it to connect to the campus wireless network without a physical cable. The network laser printer must be connected to a physical network jack in the room.
Students and instructors can map network drives to connect to their home folders (H: or N: drives).
Laptop cart policies
For security, with their eqiupment verification email, instructors are given a combination to open the lockbox and access the key to the cart.

Delivery and set up procedure:
Technology Services staff will deliver the cart to the reserved room, connect the printer, and test a laptop for network connectivity. The cart will be left locked.
Instructors unlock the cart and distribute the laptops to their students. If any mice or adapters were ordered, they will be in containers on top of the cart.
Pickup procedure:
After the class, the instructor replaces the laptops making sure that all the laptops are returned to the cart. Any mice or power adapters (if used) should be returned to the conainers on the cart.
The instructor must lock the cart, return the key to the lockbox and close the lockbox.

Technology Services staff will pick up the cart, return it to storage, and plug in all power cables so the cart is recharged and ready for the next delivery.