Real-World Skills
Real-World Impact
Community is created for Alverno STEM students through interconnected experiences across curriculum, co-curriculum, and culture. Our students have unique opportuntities to engage with peers and faculty, STEM professionals, community service, their social network, and scientific research that impacts the biological and physical environment in which they live. Active participation in these various communities has been documented to increase student success in STEM, particularly with women and students of color.
Alverno's Truchan STEM Community Impact Program is supported by the National Science Foundation (NSF) Improving Undergraduate STEM Education: Hispanic Serving Institution award #2122903.
Varied Experiences
Interconnected Communities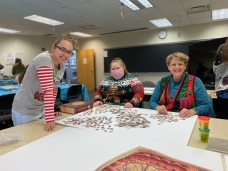 Alverno Student Groups
ASHA (Alverno Student Healthcare Associatio)
Team Green
Alverno Minds over Matter
Peer Mentors in math and science
NSMT Community Clubhouse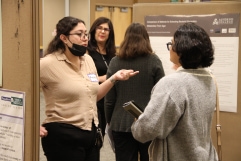 Support for travel to professional conferences
Summer research opportunities
Individualized academic advising
Internship guidance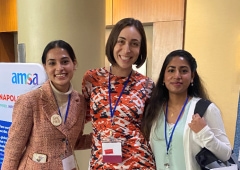 Alumni Network - Alverno Sisters in STEM
Opportunities to join professional organziations
Opportunities for traveling to professional conferences
WE-172 Career Exploration Course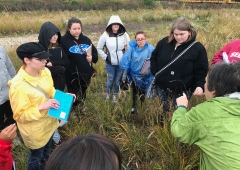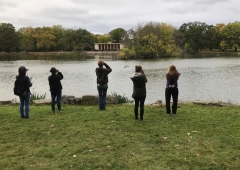 Student Internships
Community Day
Outside community organization invovlement
Effective Citizenship Projects
Student Engagement Opportunities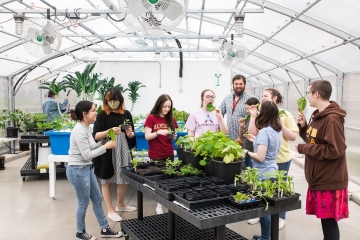 How do you ensure that students get valuable professional experiences? It takes a little flexibility, a lot of creativity, and a whole lot of community partners who are dedicated to Alverno's student-centered mission. We are grateful for the companies, organizations, and institutions who welcome Alverno students to their teams for hands-on experience that enhances their Alverno education, including:
Hunger Task Force Farm
Urban Ecology Center
University of Wisconsin - Milwaukee, School of Freshwater Sciences
Doctorate of Pharmacy (PharmD) Partnerships


Medical College of Wisconsin - Pharmacy Program
Concordia University of Wisconsin

Internship sites
We are proud to announce that in April, 9 students and 6 faculty will be presenting their work in the National Conference on Undergraduate Research!

Afnan Alsiyami - "Determination of nickel's effects on Wisconsin fast plants"
Melanie Garcia-Quezada - "The determination of ditalopram in the Kinnickinnic River from Milwaukee, Wisconsin"

Mei Ling Hansen - "A look into the mind: How the type of mindset affects self-esteem"
Andrea Herrera - "Isolation of compost bacteria with antimicrobial activity against human, fish, and plant pathogens"
Merub Irfan - "'Rise and Shine': Professional trajectories of women cancer scientists: A qualitative study of career narratives"
Michal Irfan - "Identification of bacterial genes involved in polysaccharide biosynthesis"
Marinelle Manuntag - "Antimicrobial activity of earthworm and raw honey bacteria against human and fish pathogenic bacteria"

Carla Rodriguez Mendez - "Isolation of secondary metabolites from antimicrobial producing bacterial isolates"

Ameeera Pearsall - "Associations between early life stress and problematic alcohol use: The mediating efects pf executive fenction components"
Merub Irfan has been accepted to present a poster and compete for an award at the Women's History Month Symposium: Broadening Our Views on Gender on March 2, 2023. This event at the Medical College of Wisconsin is sponsored by The Center for the Advancement of Women in Science and Medicine (AWSM). Merub will present on research she did last summer as a part of the SPARCC program at MCW: 'Rise and Shine': Professional Trajectories of Women Cancer Scientists: ?A Qualitative Study of Career Narratives.


Mikki Ray and Angela Frey - "Enhancing STEM identity among women through participation in community STEM activities: An ecological systems theory approach" - they will describing the foundational theory and design of the Truchan STEM Community Impact Program (T-SCIP) NSF grant.
Angela Frey (panel member) - "Expanding the participation of underrepresented groups in undergraduate research and creative inquiry" - Angela will be presenting on the programs and efforts in AIMS (Alverno Initiatives in Math and Science), including a T-SCIP community engagement capstone course coordinated with Jenny Johanson

Eulandria Biddle, Jenna Coss, Lauralee Guilbault and Megan Krueger - "Pipeline to Success through Research and Community Connections for Underrepresented Women in STEM Majors" - they will be describing the developmental approach to connect high school (Girls Academy), beginning level (USDA) and advanced (Powers) sponsored STEM research.
Effective Citizenship Projects
Student internships
Monthly peer mentoring meetings
STEM affinity groups/NSMT Student Affinity Groups

Team Green
New Futures in Science and Mathematics


National Science Foundation (NSF) Scholarships in Science, Technology, Engineering, and Mathematics (S-STEM) Program award #1742597.

Greenhouse student lab assistants
Biology and chemistry student lab assistants

ASHA (Alverno Student Healthcare Association)
NSMT Community Clubhouse
Earth Day
Spring Biannual NSMT Luncheon (May 5th, 2023)
Alumni Mentoring Network - Alverno Sisters in STEM
Angela Frey, PhD
Executive Director, Center for Academic Excellence
Principal Investigator for the T-SCIP program
angela.frey@alverno.edu
BECOME INVOLVED IN THE ALVERNO MATH AND SCIENCE COMMUNITY!



Get in touch!

Have questions about studying at Alverno? We invite you to connect with our Admissions team to learn more.