Freshwater Sciences: Dual Degree
---
Through Alverno's freshwater sciences dual-degree program with the University of Wisconsin–Milwaukee (UWM), you'll learn how to protect one of our planet's most precious resources. Freshwater scientists are critically needed to find innovative solutions to the many threats facing our freshwater systems, such as climate change, invasive species, pollution and increased water demands due to population growth.
There's no better place to start your freshwater sciences career than here on the "fresh coast" of Lake Michigan, one of the largest freshwater lakes in the world. This dual-degree program saves you time and money by combining just three years of undergraduate studies at Alverno with a two-year master's degree in freshwater sciences and technology at UWM, a pioneer in this field.
Whether you want to lead cutting-edge research or develop policy to ensure safe, healthy water for all, you'll be prepared to make a difference in this exciting and growing field.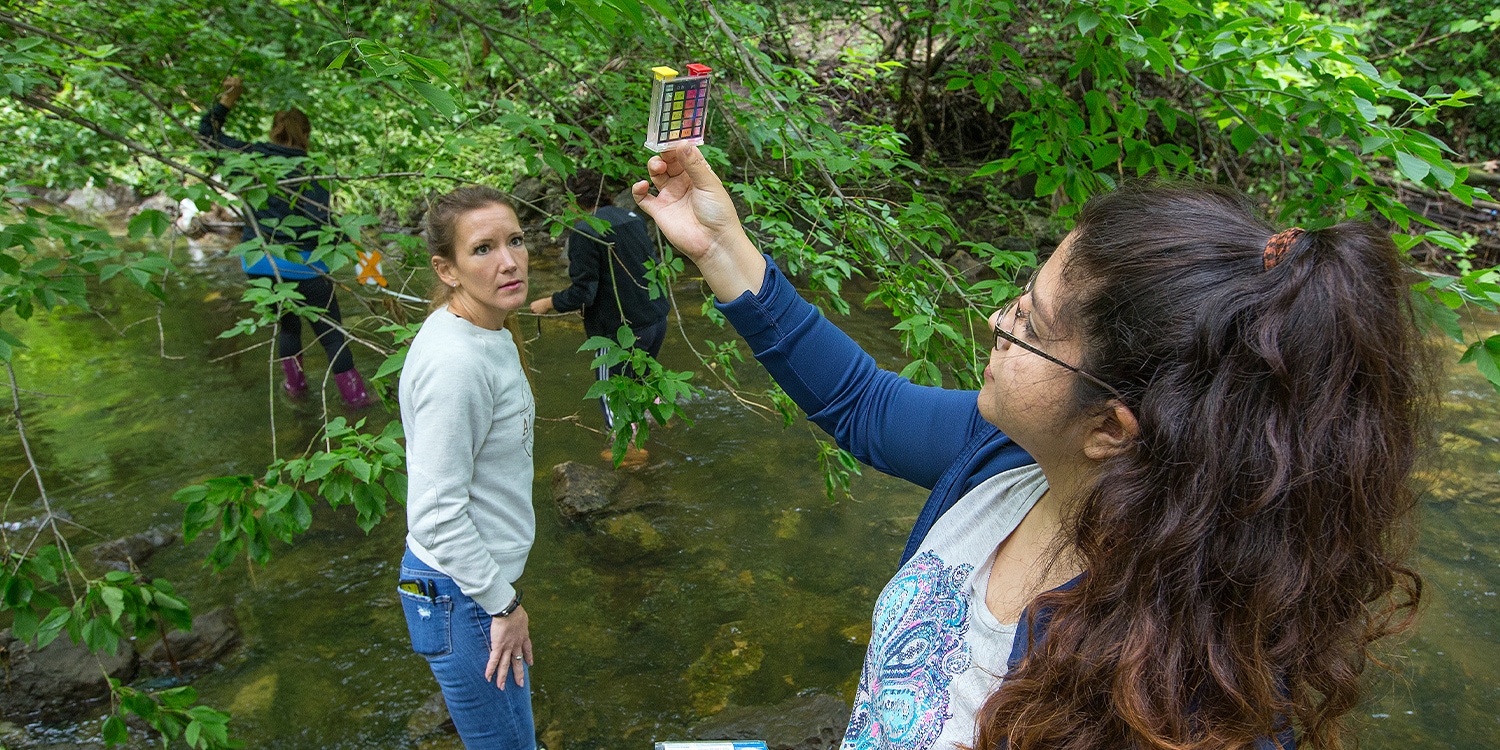 The Alverno difference
At Alverno, you'll build a strong foundation in science and research in an empowering, supportive environment. Our internationally renowned, abilities-based curriculum will develop your critical thinking, problem solving, leadership and communication — skills that will help you in graduate school and prepare you to tackle the water challenges facing the planet today.
Our instructors will nurture your growth as a scientist. You'll practice hands-on science in a variety of ways, whether you conduct research in Alverno's new greenhouse and state-of-the-art aquaponics facility or study the impact of stormwater runoff on the area's natural waterways.
The dual-degree program offers seminars, personalized advising, peer support and other resources to help prepare you for your graduate studies and beyond. You'll gain valuable networking connections by attending regular seminars at UWM's School of Freshwater Sciences and are encouraged to attend local meetings of Women in Science and Engineering, Wisconsin Women Environmental Professionals and Environmental Science Exchange. You can also join one of Alverno's many student organizations, including Pre-Professional Women of Alverno or Team Green, the campus environmental organization.
Coursework
You'll begin your major courses during your first semester, as well as your general education requirements. In the environmental science major, you'll study mathematics, chemistry, earth science, geographical information systems and environmental geology. In the integrated natural sciences major, you'll combine biology, chemistry and math courses. In your third year of studies, you can apply to UWM's School of Freshwater Sciences.
Field education
Although dual-degree students are not required to complete an internship while at Alverno, the professional track of the graduate degree requires an internship, and the thesis track requires a substantial amount of independent research. As a global hub for freshwater research and innovation, Milwaukee offers many internship options, including the Water Technology Accelerator at the Global Water Center, Riveredge Nature Center, Urban Ecology Center, Alliance for the Great Lakes, Southeastern Wisconsin Watersheds Trust, Milwaukee Riverkeeper, Wisconsin Department of Natural Resources and other environmental organizations.
Career opportunities
Most students will go on to graduate school at UWM. Freshwater graduates have been hired by such employers as the U.S. Environmental Protection Agency, Wisconsin Department of Natural Resources, Alliance for the Great Lakes, GE Water and Process Technologies, and Veolia North America. If you decide to go straight into the workforce after Alverno, you will be ready for careers in environmental consulting, government regulatory work, environmental justice advocacy at nonprofit organizations, corporate sustainability programs, research science and more.
Admission requirements
Your first step is to apply for admission to Alverno by completing the free application at alverno.edu/apply. You should mark your intended major as environmental science/ freshwater sciences or integrated natural sciences/freshwater sciences.
At Alverno, you'll receive dual advising. You'll be immediately paired with a faculty advisor who will help you stay on your accelerated track and get you plugged into freshwater sciences activities, as well as a professional academic advisor who will help you register for classes and provide additional support.
---
GET IN TOUCH!
Have questions about studying at Alverno? We invite you to connect with our Admissions team to learn more.