Music Therapy
---
Love music? Then you probably won't be surprised to hear that music is a powerful tool for health and healing. Music therapy is used for everything from helping premature babies grow strong to unlocking memories for older adults with dementia.
With a major in music therapy, you can channel your passion for music into a meaningful career in a growing field. And Alverno is the perfect place to find your rhythm: We've been a pioneer in music education for decades and are one of the oldest accredited music therapy programs in the country.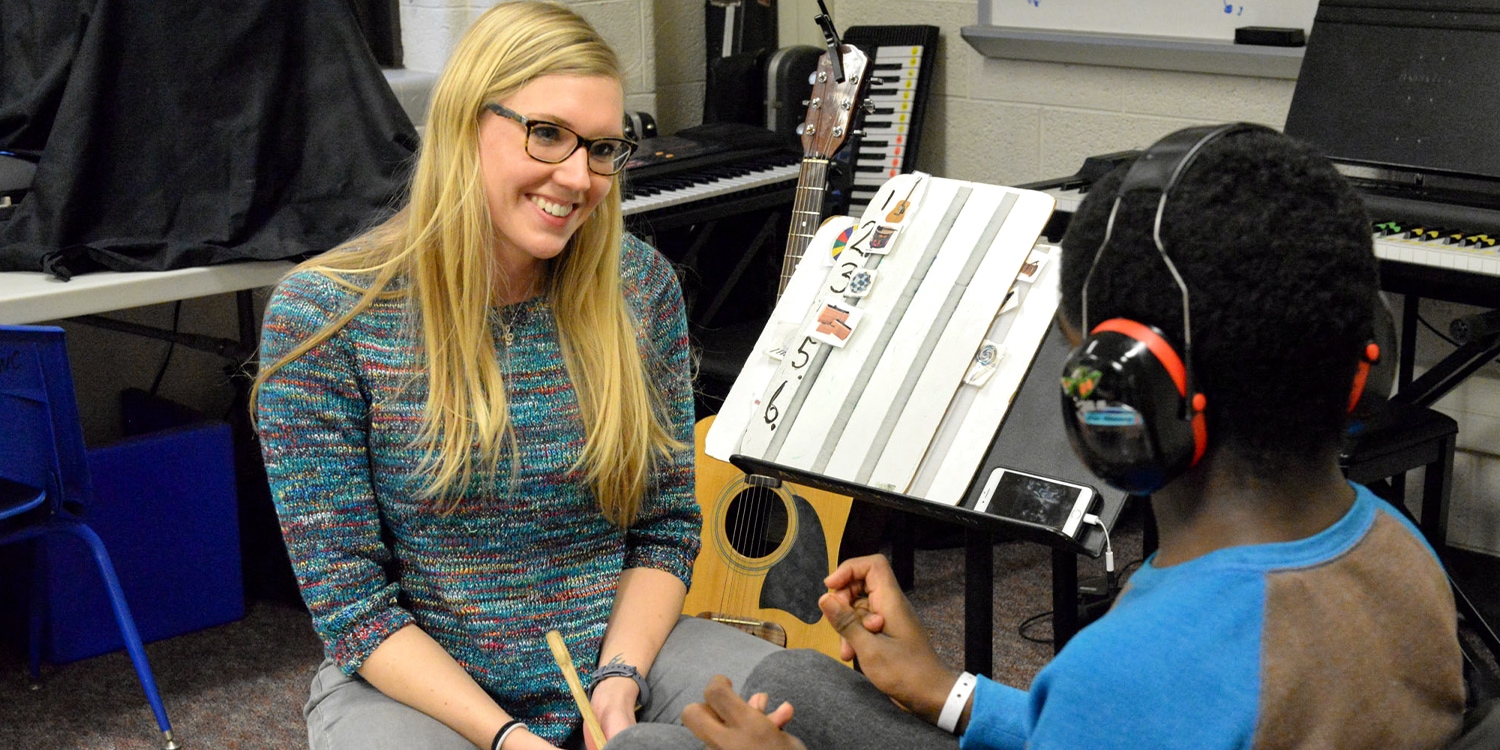 The Alverno difference
Our program is a well-respected leader in the field: Alverno has been an accredited member of the National Association of Schools of Music since 1942 and is approved to offer music therapy through the American Music Therapy Association. Alverno has also won numerous awards for our innovative curriculum and outstanding teaching. Instead of letter grades, we focus on real-world skills and helping you become an effective music therapist.
Alverno is small by design, so you can form strong relationships with your peers and instructors who will nurture your growth as a person and a professional. You'll be mentored by faculty who are board-certified, practicing music therapists, and their extensive industry connections will help you find internships and future job opportunities. Our students are also active members of the Alverno Music Therapy Student Organization and are involved in national and regional organizations for music therapy students, mentored by recognized leaders in the profession.
Alverno's music therapy graduates are exceptionally well-prepared: Graduates have an almost 100 percent pass rate on the national board certification exam, and 100 percent are employed within three months of graduation.
---
"Alverno's focus on self-analysis has made me a more reflective individual. This has transformed how I live my life, how I interact with my peers professionally and personally, how I approach a new piece of music, and how I observe a music therapy clinical experience. Through detailed and meaningful feedback, Alverno pushes you to go deeper and to investigate both out of curiosity and for further scholarship."
— Grace, music therapy major
---
Coursework
The Alverno music therapy bachelor's degree requires 128 credits. You'll begin your music therapy courses during your freshman year along with general education requirements. You'll learn the psychology of music; human biology; guitar, piano, percussion and vocal techniques; music technology; and more. After your coursework, you'll complete a 1,040-hour clinical internship under the supervision of a board-certified music therapist.
Performance
Looking for more opportunities to practice and showcase your musical skills? Join Alverno Choir, Nova A Cappella, Flute Choir, Guitar Ensemble and/or Instrumental Chamber Ensemble.
Field education
You'll start your clinical work during your freshman year and learn to apply your skills alongside board-certified music therapists at hospitals, hospices, social service agencies or private practice sites. Plus, Alverno's own Music Therapy Clinic will give you additional practice working with clients on campus. All of this will prepare you for your culminating clinical experience: your final six-month internship working with the population of your choice.
Licensure
After you complete your undergraduate degree, you'll be eligible to take the national board exam to earn the Music Therapy Board Certification (MT-BC) credential. If you plan to work in private practice in Wisconsin, it's also recommended that you register with the Wisconsin Department of Regulations and Licensing (other state requirements might vary). Your program faculty will walk you through the process.
Career opportunities
The demand for music therapists is evolving quickly, especially in hospice, private practices that serve children and adults with developmental disabilities, behavioral health and children's hospitals. Some music therapists partner with social services agencies, health care providers or school districts to provide therapeutic services, while others work in private practice. This major will prepare you well for a career as a music therapist and related roles, including creative arts therapist, expressive arts therapist, activity therapist, adaptive music instructor and more.
Admission requirements
Your first step is to seek admission to Alverno by completing the free application at alverno.edu/apply. You should mark your intended major as music therapy. Before you can officially declare a music therapy major, you'll need to audition and interview with the music therapy faculty.
For your first two years at Alverno, you will receive dual advising with both a professional academic advisor and one of the music therapy faculty who understands the music therapy profession. As a junior, you'll be paired with a faculty advisor who will support your success to graduation.
Student resources
Music Therapy Student Handbook
---
GET IN TOUCH!
Have questions about studying at Alverno? We invite you to connect with our Admissions team to learn more.