Looking for a space to relax, breathe, and just be? The new Center for Belonging, which is located in the Founders Hall 111 lounge, is for you. We designed to space to offer you what you need for work and relaxation alike: snacks, couches and chairs with blankets and pillows, a fireplace, reading materials, journals, coloring books, activity cards on fun discussion topics and relaxing mindfulness exercises, workspaces with charging stations, and, yes, a groundhog mascot in honor of our February 2nd launch. Most important to this welcoming community space is you -- it's just waiting for you to make it your own.
Student Success and Global Exchange remain your Center for Belonging neighbors. Relax and have a snack before or after you meet with us! However – you don't need an excuse, like a meeting, to hang out in the Center. This is your space. We're so glad you're here at Alverno, and we can't wait for you to make yourself at home in your new Center for Belonging.
I am interested in learning more about: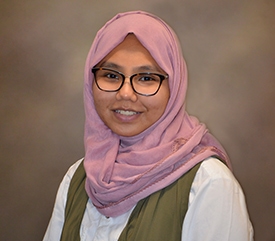 "I chose to attend an international school to learn more about different cultures and take a step out from my comfort zone. I like Alverno's environment, and Alverno being for girls is the most comfortable thing for me in many aspects. Also, the instructors are amazing; they support me and other students, and I am fascinated by how the amount of knowledge they have."
— Afnan, biomedical science major, class of 2022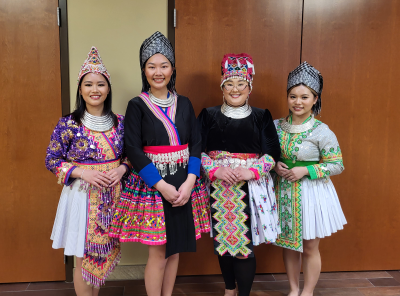 International Night is a beautiful celebration of cultures on our campus. The campus community comes together to share food, songs, games, music, dancing and more.
This year featured traditional dances by students of Puerto Rican, Mexican and Hmong cultures.
Additionally, students shared a traditional Hmong ball game and Loteria, a Mexican bingo games with participants.
International and Intercultural Center Mission

The Alverno International Intercultural Center affords our students opportunities to experience, honor and embrace diverse cultures on and off campus, through global exchange experiences and collaborative programming integrating multicultural values and global perspectives into the learning community.

Get ready to explore our world with help from Alverno's Center for Belonging.
As a resource to Alverno College, the International and Intercultural Center:
Partners with other departments to infuse diversity fluency in their programming.
Develops opportunities to increase student engagement in curricular activities and through cultural events and student organization interaction.
Engages with students to explore and participate in study abroad programs around the world.
Supports faculty to develop and offer short-term study abroad courses to Alverno students and community.
Advises international exchange and degree-seeking students through the admissions process.
Supports international students during their time on campus, including multicultural programming, ongoing advising and host family connections.
Get in touch
Office hours: Monday-Friday, 8:30 a.m. to 5 p.m.
For more information about the International and Intercultural Center or to schedule an appointment, please contact 414-382-6008 or visit us in FO 111. You can also email Elena Burke, coordinator of global exchange programs and Hispanic student initiatives, at elena.burke@alverno.edu.