iPad Cart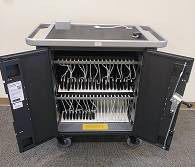 Technology Services has two iPad carts (iPad Air 2) with wi-fi only—no 3/4G.
Cart 1 has 15 iPads
Cart 2 has 20 iPads
The iPad carts can be requested through our online reservation system.
The delivery policies and procedures are the same as the wireless laptop carts. The iPad carts are reserved as a unit. The iPads are not checked out individually.
Apps
PLEASE NOTE: Apple has changed the way apps are activated for educational institutions. As a result, you will need to connect to a wireless network before launching each app for the first time. If this step is not followed, you will receive the following error: "Unable to verify App." The app will not open.
All the iPads on the carts have the same set of apps installed. Our existing app list includes the following:
| | |
| --- | --- |
| 123D Design for Education | Mandalas LITE |
| Adobe Acrobat Reader | Meritum Paint Pro |
| Adobe Spark Page | Microsoft Excel |
| Adobe Spark Post | Microsoft OneDrive |
| Adobe Spark Video | Microsoft PowerPoint |
| AudioCopy | Microsoft Word |
| Autodesk SketchBook | Mindly (mind mapping) |
| Bloxels Builder | Next Generation Science Standards |
| Brushes Redux | Paper by FiftyThree |
| Class Dojo | Prezi Viewer |
| Common Core Standards | Sara Tse - In a World of My Own |
| Dropbox | SketchFab |
| Educreations | Skype for Business |
| Explain Everything | Socrative Student |
| Facebook | Stop, Breath & Think |
| Flipgrid | The Calculator |
| GDrive for Google Drive | The Weather Channel |
| Google Arts and Culture | Twitter |
| Google Chrome | Vimeo |
| Google Docs, Sheets, and Slides | Wordpress |
| Graphic for iPad | YouTube Capture |
| Hangouts | Zen Brush |
| iTunes U | Zoom Cloud Meetings |
| Kahoot - Play Learning | Shaanxi - Touch Media Magic Card |
| Keith Haring: The Political Line | |
All of the paid apps (*) have been purchased through Tech Services' corporate account so that we can "reimage" the iPads and restore the apps owned by the College. Faculty may request new apps in much the same way they request new software for installation in the computer labs. If the app is free, it can certainly be added to all the iPads during one of the next "refresh" periods in August and January. Quicker turnaround might be feasible, but would need to be requested and approved on a case by case basis. Funds for additional paid apps would need to come from the department requesting them. Several faculty members have already indicated that they will fund these purchases through a student course fee (yes; we realize that the students' wouldn't get to "keep" the app their course fee funded, but since the cost of apps is relatively low, we're planning to treat them more like consumables).
Printing from the iPad carts is available. One color printer is available and must be ordered separately. The printer must be connected to a network jack in order to print from the iPads.