Servant Leadership Digital Badge
Adult Learning and Degree Completion |
---
Servant Leadership: Principles in Practice Digital Badge
Servant Leadership is a leadership philosophy that has grown in popularity in recent years and continues to garner attention as a sought-after leadership style. Servant Leadership challenges practitioners to choose the interests of the community over the interests of the individual and to facilitate positive change. The focus rests on the well-being of people instead of the power over people and can be foundational to building empowered teams who find meaning in their work.
Offered by Alverno College in partnership with Wisconsin Servant Leadership (WISL), this digital credential consists of self-directed learning, reflections, and assignments/activities. After completing the required online modules, students must attend three (3) of the WISL roundtable discussions hosted in cities across Wisconsin and online in order to receive the badge. Attendance can be in-person or virtual.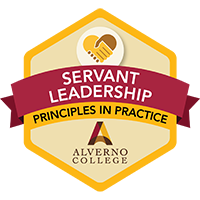 Program Outcomes:
Students will be able to define and discuss Servant Leadership within their personal and professional capacity.
Students will demonstrate the foundation of service through conceptualization and application.
Students will be able to apply Servant Leadership in their personal and professional lives.
Students will be able to provide examples of their understanding of Servant Leadership with professionals from around the world through WISL roundtable discussions.
Instructor: Mariah Weddle, MA
Important Information:
Cost: $100
Time to Completion: One to six months depending on your individual pace
Course Meeting Schedule: Course is offered asynchronously online, there are no scheduled meeting times. You will complete coursework on your own schedule.
Questions: adultlearning@alverno.edu
Register here.
The Annual Crime and Fire Safety Report for Alverno College, which includes crime statistics and annual fire safety statistics, can be found online. A hard copy of the report is available upon request. Please send your request to Jason Pilarski, director of Campus Safety.
---
GET IN TOUCH!
Have questions about studying at Alverno? We invite you to connect with our Admissions team to learn more.