Restorative Practice Digital Badge
Adult Learning and Degree Completion |
---
Restorative Practice Digital Badge
Gain an advanced understanding of restorative justice circles as a method of healing within our multifaceted communities. Through a graduate-level course, Transformative Healing in Families and Groups, working professionals will explore restorative justice circles as a method of healing within families and groups. Participants will learn the theories and basic skills of family and group assessment, intervention, and facilitation within an abolitionist framework, and will learn about and practice the foundational restorative justice skill of "circling."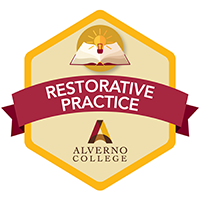 Participants in this course will:
Demonstrate basic group restorative justice practice facilitation
Apply family systems theory to group engagement, assessment, intervention, and evaluation
Self-analyze for biases and assumptions that may impact effective group facilitation
Integrate learning with an understanding of systemic oppression and implications for behavior and group dynamics
Summarize the difference between carceral and restorative justice approaches to families and groups
Learning activities are both synchronous and asynchronous, held fully online at meeting times convenient for working professionals.
Registration and Information
Cost (non-credit): $500 (those interested in receiving graduate-level credit must contact the Registrar's Office: Alverno.Registrar@alverno.edu.)
The Annual Crime and Fire Safety Report for Alverno College, which includes crime statistics and annual fire safety statistics, can be found online. A hard copy of the report is available upon request. Please send your request to Jason Pilarski, director of Campus Safety.
---
GET IN TOUCH!
Have questions about studying at Alverno? We invite you to connect with our Admissions team to learn more.