Mathematics
---
Mathematics is one of the most flexible STEM degrees you can get. Employers in a wide range of industries are looking for analytical thinkers with strong quantitative and problem-solving skills. You'll find math majors working on search algorithms at Google, analyzing stocks on Wall Street, measuring risk at insurance companies, making and breaking codes at government intelligence agencies, teaching students of all ages and much more.
Jobs for mathematicians continue to grow much faster than the average for other professions, according to the U.S. Bureau of Labor Statistics. At Alverno, you'll be well prepared to pursue the infinite possibilities of this rewarding field — and succeed no matter where you land.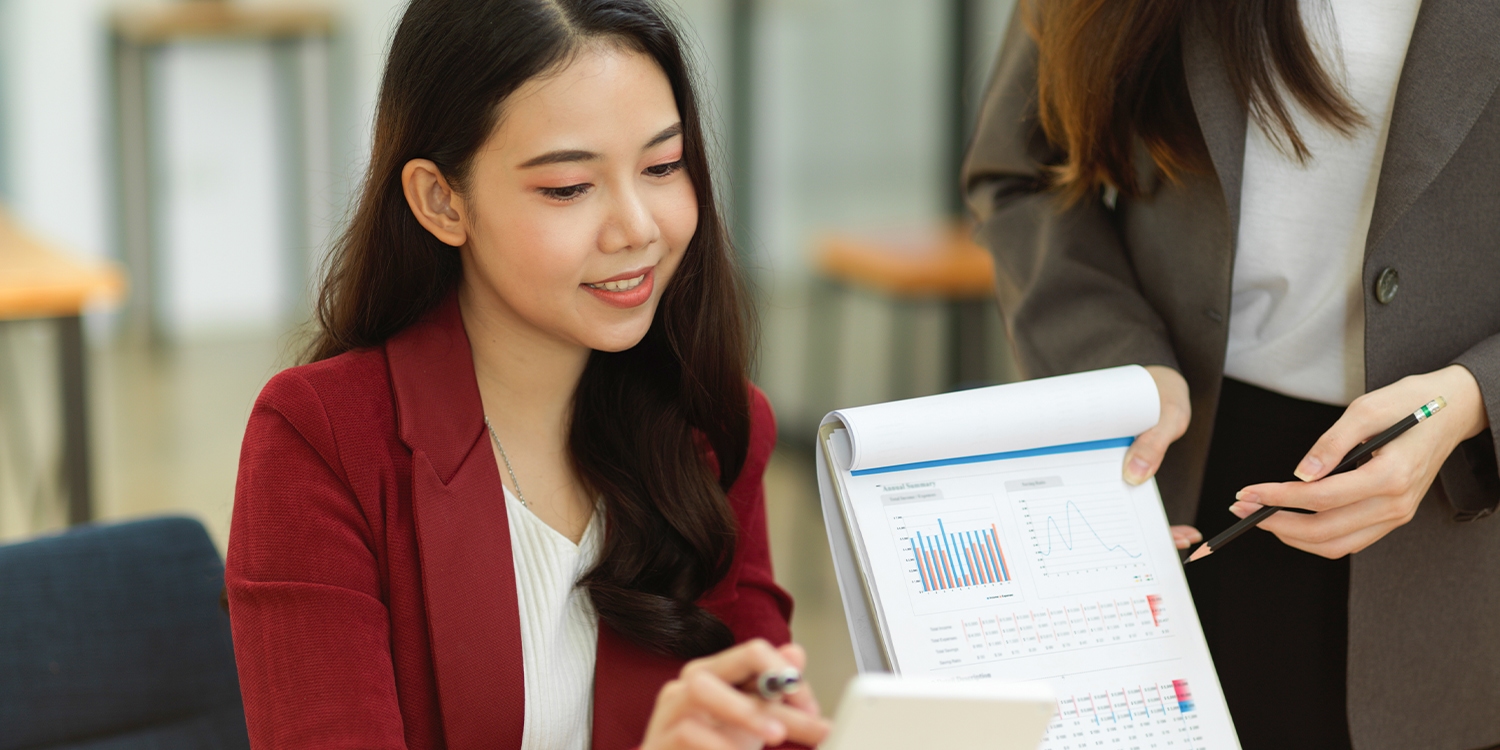 The Alverno difference
Our innovative curriculum, grounded in Alverno's 8 Abilities, will help you build the interpersonal skills, confidence and leadership acumen you need to excel in the workplace. You won't just learn how to find the right answers. Instead, you'll develop the communication skills to explain how you got your answers and what the answers mean.
Alverno's small classes and empowering, supportive environment will help you achieve your best. Our caring faculty will guide you through rigorous courses and help you develop as both a mathematician and a person. Plus, you'll connect with fellow STEM majors through shared classes, joint projects and other networking opportunities.
Outside of class, you might work as a paid lab assistant or tutor in the Daniel M. Soref Science and Mathematics Resource Center, mentor high school students through Alverno's Girls' Academy of Science & Mathematics, or participate in faculty-student research through the Center for Academic Excellence.
---
"I love Alverno's small class sizes because your professors know you and work one-on-one with you. Overall, the supportive environment at Alverno is something I really appreciate and helps me navigate my daily life."
— Kimberly, math major
---
Coursework
All Alverno students must complete 120 credits to earn a bachelor's degree. You'll begin your math courses during your first semester on campus, as well as your general education requirements. You'll study calculus, linear algebra, discrete structures and algorithms, probability and statistics, Python programming, mathematical problem-solving and more.
Computer science dual-degree program
Computer science is a hot and high-paying field. If you choose to join our dual-degree program with the University of Wisconsin-Milwaukee, you'll pursue a three-year math major at Alverno followed by two years of computer science at UWM. You'll earn two bachelor's degrees in just five years, making you even more marketable.
Field education
Alverno's math major is all about connecting theory with real-world applications. You'll intern for at least one semester at places like Northwestern Mutual, the Milwaukee Brewers, Harley-Davidson, AT&T and the Medical College of Wisconsin, among other sites. Alverno's Career Studio can help you find the right internship for your career goals.
Career opportunities
A bachelor's degree in math can open doors to a variety of roles in fields such as biology, business, environmental science, education, financial services, medicine and more. Alverno graduates have been hired by such employers as the Milwaukee School of Engineering, RBP Chemical Technology, Mercer, Social Development Commission, Guaranty/Best Bank and MGIC.
This degree is excellent preparation for graduate studies in mathematics or another area. Math majors tend to perform extremely well on the entrance exams for medical, law and graduate business/management schools.
Admission requirements
Your first step is to apply for admission to Alverno by completing the free application at alverno.edu/apply. You should mark your intended major as mathematics. As part of your admissions process, we'll examine your high school transcripts and any AP or IB exams to determine the appropriate place for you to begin studying math at Alverno.
For your first two years, your professional academic advisor will guide you through your education, helping you chart your path and register for classes. As a junior, you'll be paired with a faculty advisor who will support your success to graduation.
The Annual Crime and Fire Safety Report for Alverno College, which includes crime statistics and annual fire safety statistics, can be found online. A hard copy of the report is available upon request. Please send your request to Jason Pilarski, director of Campus Safety.
---
GET IN TOUCH!
Have questions about studying at Alverno? We invite you to connect with our Admissions team to learn more.