Master of Science in Community Psychology
Behavioral and Social Sciences | Graduate Program
---
Our application for Spring 2024 is currently open.
---
LEARN MORE ABOUT THE PROGRAMS THAT ALVERNO OFFERS IN BEHAVIORAL SCIENCE/MENTAL HEALTH MASTER'S DEGREES.

---
Effect social change
The Alverno College Community Psychology Master's program will help you to meet your goals of becoming a Licensed Professional Counselor. On your way, you will engage with community issues and organizations as you learn the connections between community well-being and the well-being of the individuals therein.
Here you will engage issues of healing and justice. The courses you take will prepare you with the foundation and skills you need to be a good counselor. However, you will do more than this. You will also learn ways to deeply engage the important social issues that affect people every day.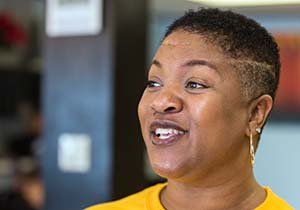 Licensed counselor Simmone, an Alverno MSCP alumna, is a trauma therapist who seeks to destigmatize mental health care and to provide access to underserved communities. Read more in Alverno Magazine.
Designed for your life

Our 60-credit degree program is designed for working professionals with busy lives. Classes meet weekends and/or evenings, and you can complete the program at your own pace.
Accreditation
We are accredited through the Higher Learning Commission. In addition, we have designed our curriculum to follow state of Wisconsin requirements for licensure.
Practicum requirement
Students will be required to complete a 700-hour supervised practicum experience toward the end of the program. We will work with you to find a suitable placement. In some instances, you may be able to complete part of your practicum at your current worksite if appropriate work and supervision can be arranged.
Licensed for clinical practice
Graduates will be eligible for Wisconsin's Licensed Professional Counselor designation. To receive this license, graduates will have to complete post-master's supervised a Counselor-in-Training License while they are completing post-graduate supervised hours toward full licensure.)
Coursework and outcomes
Your courses will cover such topics as culturally engaged counseling; research, evaluation and statistics; professional ethics; trauma counseling; and more. Click here to view a list of required courses.
Throughout the program, you will be challenged to demonstrate your understanding of five core outcomes that will guide your coursework, as well as your career in community psychology. They are:
1) Theoretical reasoning related to the individual and community: Engage in theory related to the individual and to the systems that mutually affect individuals and communities, particularly as these theories encompass an understanding of prevention strategies, counseling and research.
2) Methodological proficiency and relevance: Apply theory and methods of prevention, counseling, research and evaluation within a variety of social and cultural contexts.
3) Professional interaction: Communicate effectively with people across a variety of professional contexts, including interactions with clients and other service providers, inter-organizational collaborations, community research, interdisciplinary management, program evaluation and consultation.
4) Self-monitoring and reflection: Discern the quality of self-performance and self-awareness related to ethical professional practice including multicultural competence.
5) Ethical insight and action: Respond to the needs of others with sensitivity to various perspectives and make ethical and moral decisions to complex, real-world dilemmas.
Learn more
Does this program sound right for you? We encourage you to get in touch. Please contact the Alverno Admissions team at admissions@alverno.edu.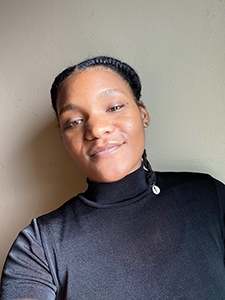 "The Community Psychology program at Alverno is engaging, intense and impactful. Showing up to a room full of individuals who truly and genuinely want better for the world, in an environment that cultivates constant self-reflection leading to inevitable evolution, was an experience that cannot be matched."
— Ashley, Master of Science in Community Psychology graduate, class of 2020
---
MSCP Frequently Asked Questions
What are the admission requirements?
An application to our program is free. The required pieces are:
1. Completed online application.
2. Writing sample using provided prompt OR an APA style paper written within the past 5 years that meets the criteria outlined in the provided prompt.
3. Personal statement
Personal statement that clearly describes your interest, experience and goals for work in the area of community psychology.
Please note the 5-page limit.
4. Official transcripts showing a baccalaureate or advanced degree.
5. Three professional or academic recommendations.
6. Criminal background check: A criminal background check is required for the program, but not at this time. This will be discussed in class during the first semester.
How much time will it take me to complete this program?
This is a 60-credit program. You can take up to nine credits per semester and up to nine credits each summer. Some students have completed the program in 2.5 years. Many complete within 3 years.
Do I have to take nine credits a semester?
No. You can take three, six, or nine credits any semester. You can go at your own pace.
When do the classes meet?
During the fall and spring semesters, most classes meet every other weekend, on Friday evening, Saturday morning or Saturday afternoon. Some classes meet every other week night. Classes are generally four hours long and are very interactive.
Can I get my LPC (Licensed Professional Counselor) when I finish this program?
Yes! The Alverno College Master of Science in Community Psychology degree is approved by the State of Wisconsin for licensure as an LPC. Once you finish the program you are eligible for the Licensed Professional Counselor-in Training (LPC-IT) credential. You then engage in 3,000 hours of post-master's supervised practice and take the National Counseling Exam to be eligible for the LPC license.
What if I have a degree other than psychology? Can I still be accepted into this program?
Yes. Our students have bachelor's degrees from several different fields including social science, community leadership, nursing, English, philosophy, and women's and gender studies, to name a few. The Admissions Committee will look at your ability to think critically and to write at a graduate level. You will submit writing samples that will help them assess your ability to engage in successful graduate work.


---

Alverno's program is focused on demonstrating skills and competencies rather than using numbers or letter grades to represent abilities. Based on this, we are interested in seeing a demonstration of your academic skills in an applied manner. We have developed the below task as a short way to demonstrate your abilities in this area. If you struggle with this or would like more information, please do not hesitate to reach out.
In order to demonstrate your reading and writing skills, please read the following article from an academic journal and respond to the prompt below. The goal of the writing is to demonstrate your understanding of the material as well as your ability to express your understanding. This paper should be between 2-3 pages long. Please make sure to use appropriate in-text citations (including citing the attached article) as well as a reference page. You may use other sources in your writing if you wish, but all sources must be appropriately cited. Our program uses APA style to cite sources, but if you are not familiar with APA style and prefer a different style (such as MLA), that is acceptable for the purposes of this application assessment. You can find additional information about APA style here: https://apastyle.apa.org/
Article: https://tpcjournal.nbcc.org/wp-content/uploads/2020/09/Pages-327-336-Peters-Case-Formulation-and-Intervention-Application-of-the-Five-Ps-Framework.pdf
1. Why is the Five Ps framework appropriate for treating substance abuse?
2. What is a holistic approach and how does it differ from other models?
3. Imagining yourself as a substance abuse counselor, what do you think might be challenging about implementing a framework like this? What do you think you would do well?
---
Continuing education

Alverno College has been approved by the National Board for Certified Counselors (NBCC) as an Approved Continuing Education Provider, ACEP No. 7133. Programs that do not qualify for NBCC credit are clearly identified. Alverno College is solely responsible for all aspects of the programs.
The Annual Crime and Fire Safety Report for Alverno College, which includes crime statistics and annual fire safety statistics, can be found online. A hard copy of the report is available upon request. Please send your request to Jason Pilarski, director of Campus Safety.
---
GET IN TOUCH!
Have questions about studying at Alverno? We invite you to connect with our Admissions team to learn more.