Master of Business Administration
Business and Communication | Graduate Program
---
Upcoming Info Sessions

June 14
12 p.m. session: Register
4:30 p.m. session: Register
Take the lead with the Alverno MBA
No stodgy curriculum, no boring lectures, no theoretical textbook lessons without real application. With limited enrollment, individualized teaching and assessment methods that focus on each student, a curriculum developed with business leaders, and a distinctive outcome-focused approach, the Alverno MBA offers professionals on the move a better way to learn.
The program was developed by Alverno's award-winning faculty and created for growth-oriented, high-potential women and men focused on becoming the next generation of business or organizational leaders.
About our program
We offer a general MBA or an MBA with concentrations. All courses are taught by full-time faculty or part-time professionals, and we do not require the GMAT. Required courses are offered every other Saturday on campus. You can complete our MBA in 18 months, depending on your desired pace and schedule. (Students have seven years to complete the program.) Electives are offered year-round in the classroom, fully online or in a hybrid format. For students to be able to actively apply what they learn, Alverno requires that all MBA students be employed full time in a business-related field. Experienced professionals can apply for credit for prior learning.
This program operates in a cohort. Please contact the Admissions Office for further information.
Our application is free and available online: Apply Now
Please submit the following with your application:
Official transcripts showing a baccalaureate or advanced degree
Professional statement (Describe your career aspirations and your goals for the MBA program)
Current resume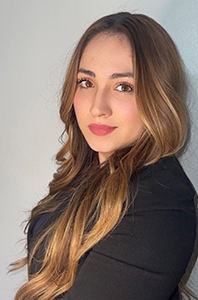 "I gained so many skills as an Alverno MBA student. I'm excited to see the impact that it's going to have on my professional life and where it takes me. It definitely has opened new doors of opportunity."
— Cirila, MBA graduate, class of 2021
How do I know I can apply?
For consideration in this program, applicants must hold a bachelor's degree from an accredited college or university, be actively working and have three or more years of relevant work/professional experience. Relevant business experience includes increasing levels of responsibility; line, staff or project responsibility; managerial experience; interaction with management, departments/functions or external audiences outside own area of responsibility.
Is there a way to help finance my future?
Graduate students are eligible to apply for loans. To qualify for a federal loan, you must complete the Free Application for Federal Student Aid (FAFSA). Applications can be found at fafsa.ed.gov (use Alverno's federal code 003832). We encourage all students to complete the FAFSA even if you do not anticipate the need for financial aid at this time. If your situation changes, your information will already be on file.
What about my busy schedule?
Classes meet every other Saturday for eight sessions during the fall and spring semesters. We also offer accelerated electives over winter and summer terms so that the Alverno MBA can be completed in 18 months.
---
Core courses
Part of the coursework is applying the knowledge you've gained.
The Alverno MBA is designed to develop leaders and managers who can productively operate and thrive in the global economy. It has earned our graduates preferred placement in companies throughout Milwaukee and across the country.
This accredited 33 semester-hour MBA program consists of six cross-functional required courses (18 credits) and five electives (15 credits) and can be completed in as few as five semesters. Each cross-functional required course integrates core knowledge areas with skills, values and attitudes to enable graduates to build relationships that enhance organizational capabilities, results and agility. The electives offer students the opportunity to focus in greater depth on selected business practices, engage in a highly relevant internship or intensive project, and participate in short-term study abroad.
Program outcomes and required core courses
MBA-600 Integrated Management (3 credits)
In this introductory course, students learn management theory and basic accounting through integrated content. Through case studies and projects, you will connect knowing and doing, develop your financial acumen, and improve your organizational decision-making skills. You will also learn how to apply principles of management in today's business environment.
MBA-609 Financial and Managerial Accounting Concepts (3 credits)
This course focuses on financial and managerial accounting. It includes a financial accounting case study and a managerial accounting report/presentation project to develop your financial acumen while applying your managerial best practices.
MBA-610 Strategic Management (3 credits)
This course focuses on strategic management and personal and professional development. Students will continue to build upon their financial literacy. You will assess your professional competence, emotional intelligence and risk intelligence through a variety of learning experiences. You will also learn how to leverage your knowledge and strengths in a managerial capacity.
MBA-611 Financial Analysis and Decision Making (3 credits)
In this course, students will use financial frameworks to assess an organization. Students will learn a variety of quantitative analysis frameworks and techniques. These techniques include ratio analysis, vertical analysis, horizontal analysis, competitor analysis, and cash flow analysis. Students will develop financial analysis and decision making as a core competency and management skill.
MBA-620 Operations Management (3 credits)
In this course, students learn how to effectively manage processes, relationships, and organizational resources to enhance organizational capability, results, and agility. They will gain an acute understanding of operations and how individuals, processes, relationships, and systems can work together as a competitive advantage.
MBA-630 Leadership through Innovation and Change (3 credits)
This capstone course focuses on change management and leadership. Students will learn how to respond to changing markets, global operating environments, and unforeseen business challenges. You will develop advanced skill sets and knowledge related to creativity, innovation, and problem-solving.
Elective courses
Elective courses offer you the opportunity to focus in greater depth on selected business practices and explore emerging topics.
Examples of electives include:
Data for Business
Strategic Project Management
Managing the Consulting Process
Social Entrepreneurship
Servant Leadership
Facilitating Change in Organizations
Building External Relationships
Social Media in the Business Environment
Tools and Processes for Organizational Intervention
Group and Team Facilitation
Professional work experience and completion of the Pivot Your Skills Pathways Program will be considered for graduate credit in the form of Credit for Prior Learning toward the Alverno MBA program. Students must be admitted to the MBA program to apply for Credit for Prior Learning, which could count toward MBA electives. For further information, please contact the MBA Program Director.
Frequently asked questions
What is the deadline for applications?
We have a rolling admission process so we review applications as they are received. We strongly encourage applicants to apply early.
Your admission requirements include "relevant work experience." What qualifies as relevant work experience?
Relevant work experience is an important admission requirement because our MBA students will contribute to one another's learning as well as learn from each other. Relevant work experience includes:
Increasing levels of responsibility
Responsible line, staff, or project responsibility
Planning, organizing, leading, controlling, evaluating functions
Functional/business knowledge as part of the job description
Interaction with management departments/functions, or external audiences outside own area of responsibility
This doesn't look like other MBA programs I'm considering. What makes an MBA an MBA?
No two MBAs are alike. Business schools design their programs to meet the needs of their stakeholders – employers, students, the community – based on their vision of graduate business education. In designing this program, Alverno business faculty studied the literature on graduate business education, reviewed other MBA programs, met with community business professionals, and drew upon their own extensive experience as business educators.

The Alverno MBA builds the foundation and provides for the immediate practice of knowledge and abilities needed to lead, manage, create, and compete in the global marketplace. Learning is based on Alverno's internationally acclaimed teaching, ability-based curriculum, and assessment methods for adult students to achieve their personal and professional goals.
You say this program is for "growth-oriented, high potential individuals…who aspire to greater influence and impact." How do I know if this is right for me?
Here are some questions you can ask yourself to help you determine whether this MBA program is the right one for you. Do you want to…
Learn to ask the right questions?
Engage in a transformative experience?
Continually learn from faculty, colleagues, and personal feedback?
Develop your business acumen?
Develop personal leadership?
Execute with excellence?
If your answer to these questions is a resounding "yes," then there is a good fit between your goals and the design of this MBA program.
Do I need an undergraduate business degree to be admitted to the program?
No. All applicants accepted into the program bring with them relevant business or organizational experience that creates a rich learning environment for everyone. From the very beginning with the Integrated Management course, students work in teams and benefit from one another's diverse experiences and expertise. This course introduces non-business undergraduates to the critical concepts, principles, and skills needed as a foundation for subsequent coursework. For participants with an undergraduate business major, the course provides an opportunity to review, integrate, and share their prior learning in new ways.
Why don't you require the GMAT? How do you know whether applicants are qualified to take on the challenges of a graduate program?
Alverno faculty believe the GMAT creates a barrier for busy professionals interested in advancing their careers through graduate business education. After a careful review of the literature, faculty followed the example of some of the best business schools in the country, and decided not to require the GMAT as an admissions requirement. Instead, faculty drew upon their extensive experience with assessment methods to create a carefully designed portfolio assessment that is used along with other evidence to evaluate applicants.
Who is in the program?
The Alverno MBA targets a mix of students with relevant business experience who can share their work experiences with faculty and students and apply their learning immediately in the workplace. This is the foundation for our student-faculty learning community and provides the opportunity to develop lasting personal and professional networks. Students represent a cross-section of business functions and industries and have varied academic and business backgrounds. Our goal is to reflect the Milwaukee area social and business demographics in each class.
Since your MBA doesn't have the traditional accounting, finance, and other business courses I see offered by other MBA programs, how do I learn these subjects in the Alverno MBA?
The simple answer to your question is that Alverno business faculty, in designing the Alverno MBA, has distributed the content you would find in these traditional courses across our six required MBA courses. You develop your understanding and ability to apply this knowledge in a developmental way as it is needed. Imagine the textbooks from traditional MBA courses set out before you on a table. By the time you complete the Alverno MBA, you will have studied the material covered in these texts and mastered the same body of knowledge as other MBA graduates.
The Annual Crime and Fire Safety Report for Alverno College, which includes crime statistics and annual fire safety statistics, can be found online. A hard copy of the report is available upon request. Please send your request to Jason Pilarski, director of Campus Safety.
---
GET IN TOUCH!
Have questions about studying at Alverno? We invite you to connect with our Admissions team to learn more.