Master of Arts in Music and Liturgy
---
Bringing liturgy to life
Choirs, ensembles, cantors and instrumentalists have significant roles in liturgical celebration, but their principal responsibility is to encourage and enable the full, conscious and active participation of the assembly of believers.
In order to serve parish communities well, music ministry leaders must have multiple musical skills, expertise in liturgy and planning, and the pastoral sensibilities necessary to navigate the rubrics, relationships and realities of parish liturgy. The goal of the Master of Arts in Music and Liturgy (MAML) is to help students develop, deepen and integrate a broad range of skills necessary for effective parish ministry in a culturally diverse church.
How is the program structured?
The MAML is a low-residency program designed to accommodate practitioners of all ages who have ongoing responsibilities at their parishes and/or at home. The 33-credit curriculum can be completed in just 25 months through a combination of experiential learning on the Alverno campus in Milwaukee, Wis., during an annual five-week summer session, and through four online courses (one per semester) that dovetail with students' work at their home parishes during the year.
How do electives work?
The program takes a modular approach to elective courses, offering more than a dozen one-credit options. Students select six electives, which are offered as three-day intensives during the first week of each summer session.
Who is eligible?
Applicants must have a bachelor's degree in music or music education, or in theology, pastoral ministry, religious studies, or another field. Applicants must also have experience in music ministry—full-time, part-time or as a volunteer.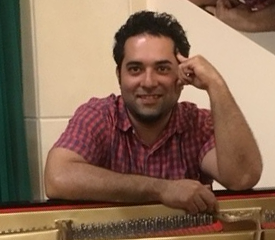 "I have degrees in music education and performance and have served in parish ministry as a director of music for a decade but felt I lacked academic liturgical training. Alverno is the only place I could find that offered a balanced degree for music and liturgy and, at the same time, is designed for someone who works full time. My coursework here has taught me to see and think about the liturgy in a different way. This degree has also provided practical approaches that I can immediately use to enhance the liturgical life of my parish."
— Benjamin Balleza, MAML student and director of music ministries, St. William Catholic Church
Master of Arts in Music and Liturgy - Degree Requirements
Required courses
The Second Vatican Council: Ecclesial Renewal and Liturgical Reform
Worshiping Well: Ritual, Music, Planning, Celebration
Development and Practice of Congregational Song
Celebrating Sacred Time: Seasons, Saints, Hours, Calendars
Celebrating the Eucharist and Sacraments
Liturgy and Music in a Culturally Diverse Church
Conducting Volunteer Choirs and Ensembles
Composing and Arranging for Pastoral Musicians
Liturgical Music as Pastoral Care: Insights from Psychology of Music
Music Ministry Management
Applied Music - three summers
Ensemble (Chorus) - three summers
Accompanist as Leader of Congregational Song
Training Psalmists and Cantors
Capstone Ritual Event
Theology of Ministry and Comprehensive Review
Performance Studies (Choose two. Others may be taken as electives.)
Gregorian Chant: Interpretation and Chironomy
"Praise and Worship" Repertory and Performance
The Music of African American Catholic Worship
Spanish and Bilingual Repertory and Practice
Liturgy Electives (Choose 3)
Traditions of Popular Piety
Liturgical Catechesis and Mystagogical Reflection
Liturgy and Music in Merged and Multi-Site Parishes
Spirituality and Traditions of Latino Catholics (variable)
African American Catholic Worship and Spirituality (variable)
Training and Organizing Liturgical Ministers
Leading Public Prayer
Liturgy Seminar (variable content)
Music Electives (Choose 3)
Technology for Music Ministers
Vocal Pedagogy for the Choir Director
Working with Children's Choirs
Choral Music for the Liturgical Year
Leading Choirs and Ensembles from the Keyboard
Liturgical Music Seminar (variable content)
Do you have questions about studying the Master of Arts in Music and Liturgy? Conect Director Steven R. Janco, M.C.M., D.Min., at steven.janco@alverno.edu.
---
Workshops
The Alverno Program provides practical, parish-focused educational, skill-building, and enrichment opportunities for parish leaders in music, liturgy, and Christian initiation (employees and volunteers), as well as a new summer-and-online degree program leading to the Master of Arts in Music and Liturgy. We invite you to participate in one of more of our 2019-2020 learning opportunities—and to share information about these workshops and series with others who would benefit from them.
---
Registration for Music & Liturgy Workshops
Registration Information
Payment for workshops must be received at least 5 days prior to the start date. You may pay by credit card or check, or we will invoice your Parish if you have received prior authorization. You will receive an email confirmation that includes a campus map, room locations, parking information, and any suggestions for preparation.
Continuing Formation for Lay Ministry Fund:
Employees who work twenty or more hours per week at a Catholic parish, institution, or organization in the Archdiocese of Milwaukee are eligible (and encouraged by the Office of Lay Ministry) to apply for funding for these workshops or series. Funding is not need-based. For more information and an application, visit https://www.archmil.org/Lay-Ministry.htm.
Priests and Deacons
Priests and deacons of the Archdiocese of Milwaukee may use their continuing education allowance to cover registration fees for music and liturgy workshops and series.
Financial Assistance for volunteers and under-20-hours part-time employees:
Limited support is available for volunteer leaders and part-time employees who are not eligible to apply to the Lay Ministry fund (above) and who would not otherwise be able to attend a workshop or series. To apply, complete the application here.
Consider a donation! Consider making a donation that will help the Program for Music and Liturgy keep its workshops and workshop series as accessible as possible. Please contact Steve Janco for more information: steven.janco@alverno.edu.
Refund Policy: Cancellation requests received five days in advance of the workshop of first session of a series will receive a full refund minus a $15 processing fee. Registrations cancelled less than five days in advance are non-refundable. Please submit requests by email to: alverno.outreach@alverno.edu.
---
The Annual Crime and Fire Safety Report for Alverno College, which includes crime statistics and annual fire safety statistics, can be found online. A hard copy of the report is available upon request. Please send your request to Jason Pilarski, director of Campus Safety.
---
GET IN TOUCH!
Have questions about studying at Alverno? We invite you to connect with our Admissions team to learn more.