Global Studies & International Affairs
---
PART OF THE GLOBAL COMMUNITY
It's a big world — and you're fascinated by all of it. The Global Studies and International Affairs major provides a foundation for understanding a constantly changing world. You'll learn how to insightfully analyze global culture, world geography and international politics. You'll also learn about social change, explore the nuances of cross-cultural interactions and diverse perspectives. Most of all, you'll be ready to use what you've learned to make our world a better place.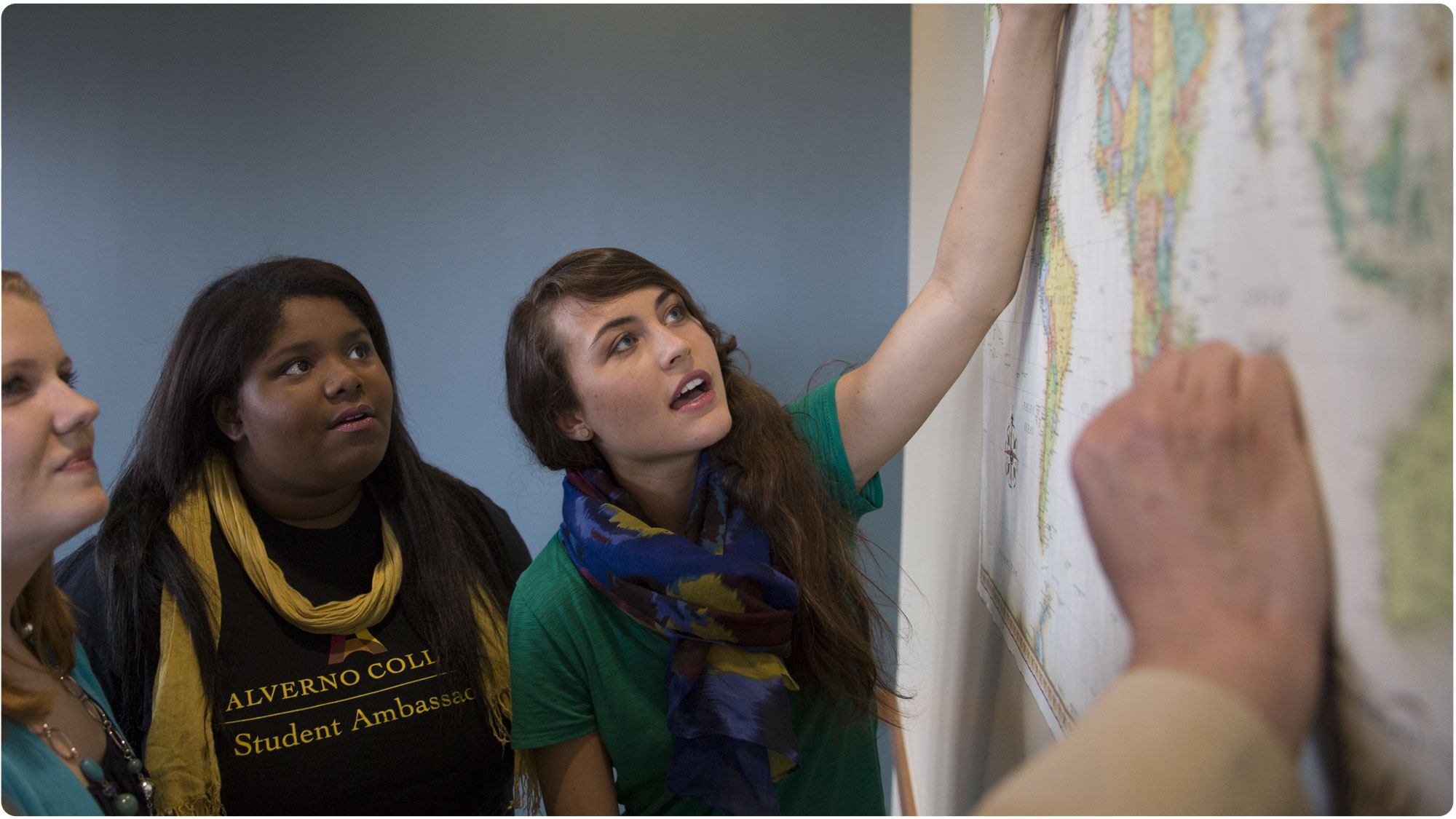 THE ALVERNO DIFFERENCE
At Alverno, our small classes mean you'll receive individualized attention and feedback to help you grow. As a women's college, we strive to welcome, include and empower all of our students. You'll create strong relationships with faculty and bond with your peers, and we'll all cheer you on as you explore new ideas and challenge yourself.
Our classes will give you a strong foundation in global studies and international affairs. You'll also be encouraged to explore your own interests, including specific nations, cultures and global issues.
Crucially, we connect and apply what we're learning to the real world. All Alverno students complete at least one internship, and all Global Studies students participate in the American Model United Nations. This four-day nation UN simulation is a great way to demonstrate the abilities you have developed!
AS AN ALVERNO GLOBAL STUDIES STUDENT, YOU WILL:
Learn how to analyze a variety of global issues from different perspectives and develop wide-ranging knowledge.
Conduct independent research to explore the issues, topics and places that interest you the most.
Dig deeply into a country or region that interest you the most, developing expertise that will set you a part from others.
Effectively expresses your position on global issues and become engaged in these issues.





---

"Alverno has helped me grow and to see the world as a whole when it comes to culture, government and traditions. I have learned to work together and share ideas with others in order to get things done. I especially enjoyed the United Nations simulation where many schools represent different countries and work together to find solutions to world issues."

—Sheilla, Global Studies major, class of 2021

---
GLOBAL STUDIES MAJORS ARE READY FOR CAREERS IN:
Politics and government
International business
Non-government organizations
Education and bilingual education
Humanitarian relief
And more!
The Annual Crime and Fire Safety Report for Alverno College, which includes crime statistics and annual fire safety statistics, can be found online. A hard copy of the report is available upon request. Please send your request to Jason Pilarski, director of Campus Safety.
---
GET IN TOUCH!
Have questions about studying at Alverno? We invite you to connect with our Admissions team to learn more.