Environmental Science
---
Climate change is perhaps the most critical challenge of our lifetimes, and vulnerable communities often have the most at stake. Environmental scientists are needed more than ever to address urgent environmental justice issues, such as access to safe and clean water, natural disasters brought on by a changing climate, energy production, air and water pollution, and food production.
Alverno's environmental science major will equip you with the natural science knowledge and tools to analyze and solve a broad range of environmental problems — to help preserve natural resources, clean up environmental damage, and advocate for communities and ecosystems. You'll learn how to use science as a tool for social change and be empowered to fight for environmental justice for all, including the low-income and minority communities that have historically suffered the most from environmental harms.
It's a meaningful way to make a difference for generations to come. And your specialized skills will be in demand: Jobs in this field are growing much faster than the average for other professions, according to the U.S. Bureau of Labor Statistics.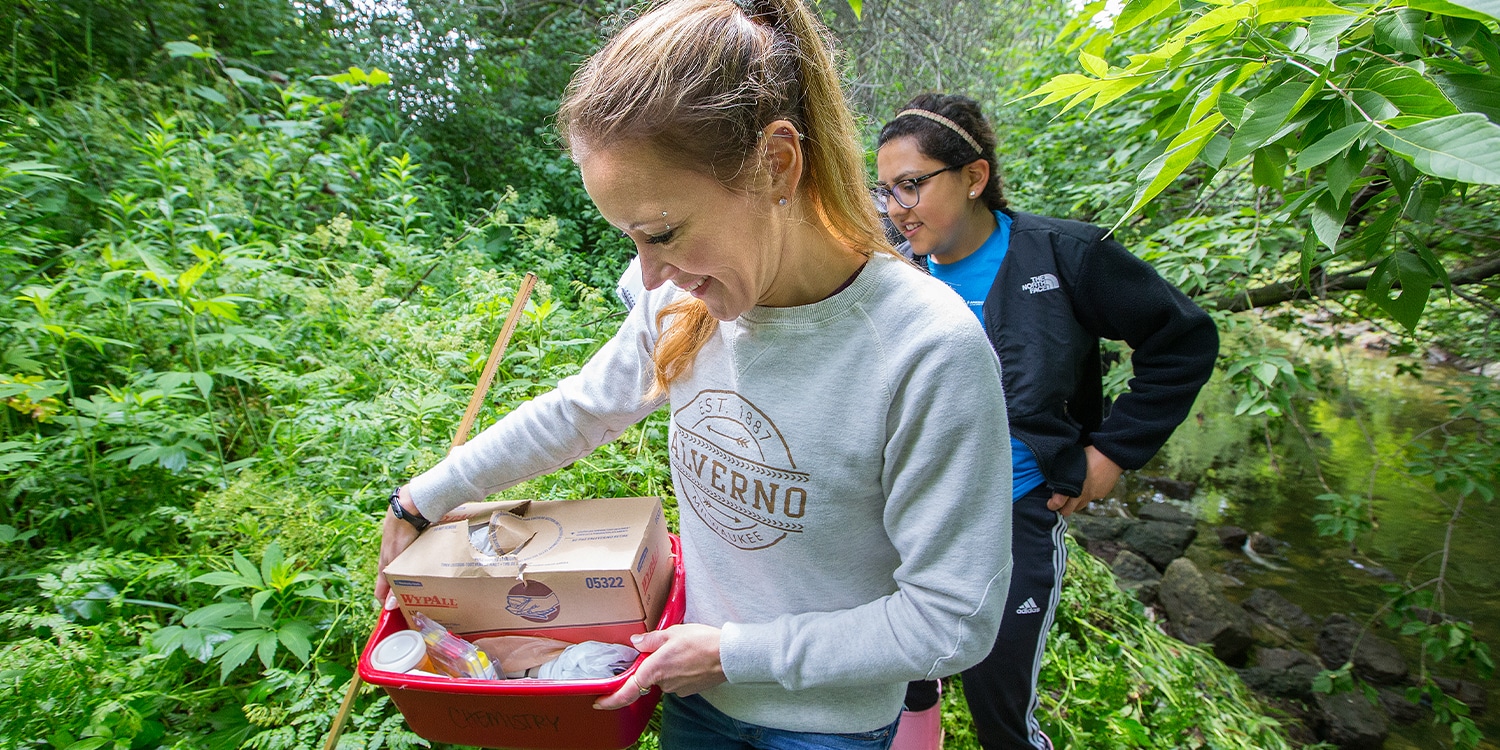 The Alverno difference
We're experts at developing scientists who are ready to make a difference on Day 1. It starts with Alverno's internationally renowned, abilities-based curriculum. You'll become a strong communicator, leader, critical thinker and problem-solver — all vital skills to be an effective environmental scientist.
Every environmental problem needs to be explored from multiple perspectives. At Alverno, you'll get a solid foundation in the liberal arts and learn how to bring a multidisciplinary perspective to your work. You'll also be prepared to consider the ethical dimensions of environmental justice.
Alverno's small, interactive classes will help you build strong relationships with your instructors, who will mentor you and nurture your growth as a scientist. You'll practice hands-on environmental science through research in Alverno's new greenhouse and state-of-the-art aquaponics facility. You'll also collaborate with other STEM students through shared classes, joint projects and other networking opportunities.
You'll have the opportunity to participate in faculty-student research projects, share research at conferences and attend events to meet, network and learn from professional scientists. You can also join Team Green, the campus environmental group, to get more involved in environmental advocacy.
---
"At Alverno, the environmental science major is a lot more than science. This major incorporates so many different classes that allow you to gain a global perspective. The classes are challenging but also very interesting, spanning topics from Chinese civilization to the natural history of North America."
— Kaylee, environmental science major
---
Coursework
All Alverno students must complete 120 credits to earn a bachelor's degree. You'll begin your environmental science courses during your first semester, as well as your general education requirements. You'll study mathematics, chemistry, earth science, geographical information systems and environmental geology, among other areas.
Field education
You'll get valuable, resume-boosting experience by completing at least one internship. Our students have interned at Milwaukee County Parks, Urban Ecology Center, Milwaukee Metropolitan Sewerage District, Wehr Nature Center, Schlitz Audubon Nature Center, Eco-Justice Center of Racine and Great Lakes Water Institute. Many of our students are hired by their internship sites after graduation.
Career opportunities
This major could lead to careers in environmental consulting, government, environmental justice advocacy at nonprofit organizations, corporate sustainability programs, and more. You might specialize in energy, water, soils, forests, animals, land development or air quality. This major is also excellent preparation for graduate studies in environmental sciences, freshwater sciences, chemistry, biology or environmental law.
Admission requirements
Your first step is to apply for admission to Alverno by completing the free application at alverno.edu/apply. You should mark your intended major as environmental science.
For your first two years at Alverno, you'll be matched with a professional academic advisor who gets to know you and guides you through your education, helping you chart your path and register for classes. As a junior, you'll be paired with a faculty advisor who will support your success to graduation.
The Annual Crime and Fire Safety Report for Alverno College, which includes crime statistics and annual fire safety statistics, can be found online. A hard copy of the report is available upon request. Please send your request to Jason Pilarski, director of Campus Safety.
---
GET IN TOUCH!
Have questions about studying at Alverno? We invite you to connect with our Admissions team to learn more.