English Minor
---
CREATE, ENGAGE AND INSPIRE
Are you curious about the world? Do compelling stories help you make sense of what you experience? If so, then consider adding an English minor. You can engage with others through reading, writing and film.
The professional world demands creative thinkers. As an English minor, you'll be ready for a career in law, education, media, marketing, web development and more!
THE ALVERNO DIFFERENCE
At Alverno, we're small by design. We know your name, your career aspirations, your personal challenges and your strengths. Because we know who you are, we curate learning to meet your individual needs, connect you with people in the field, and help you set personal goals. You are not just a student to us; you are a lifetime member of the Alverno community.
As a student, we'll help you lay a strong foundation for a successful career. You'll choose English courses on topics that match your professional goals. All students complete at least one internship, ensuring you'll get hands-on experience in your field. And you'll build your skills as a reader, writer, and creative communicator through a hands-on digital portfolio process that includes publication and production possibilities in the college's online literary site.
Our students are highly sought-after by employers. You'll impress with your sophisticated communication style, high level of analysis and advanced critical thinking – all part of Alverno's strong ability-based curriculum. These are the skills that will get you ready for success.
AS AN ALVERNO ENGLISH STUDENT, YOU WILL:
Gain skill and experience interpreting diverse works of literature, film, and other media.
Learn to understand and use literary frameworks to analyze and evaluate works.
Make connections between literary studies, professional choices, and public life.
Become a strong writer, making creative and sophisticated choices in language, style, and structure.
Engage personally, intellectually, and creatively with the world of literary studies.

---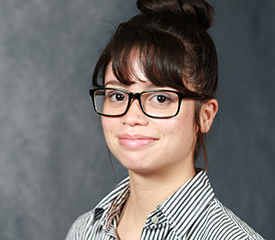 "Alverno has challenged me to become my best self and to be open to new ideas. I look forward to graduation because I know that I have learned the skills I needed to go into the world and make a difference."
—Glorivee, English major, Class of 2021


---
The Annual Crime and Fire Safety Report for Alverno College, which includes crime statistics and annual fire safety statistics, can be found online. A hard copy of the report is available upon request. Please send your request to Jason Pilarski, director of Campus Safety.
---
GET IN TOUCH!
Have questions about studying at Alverno? We invite you to connect with our Admissions team to learn more.