Creative Arts in Practice
---
Do you dream of a career in the arts? Then consider Alverno's unique creative arts in practice major, which allows you to pursue multiple artistic passions while also learning the practical business skills that will enhance your success. You'll customize the major to your interests by choosing two of the following tracks: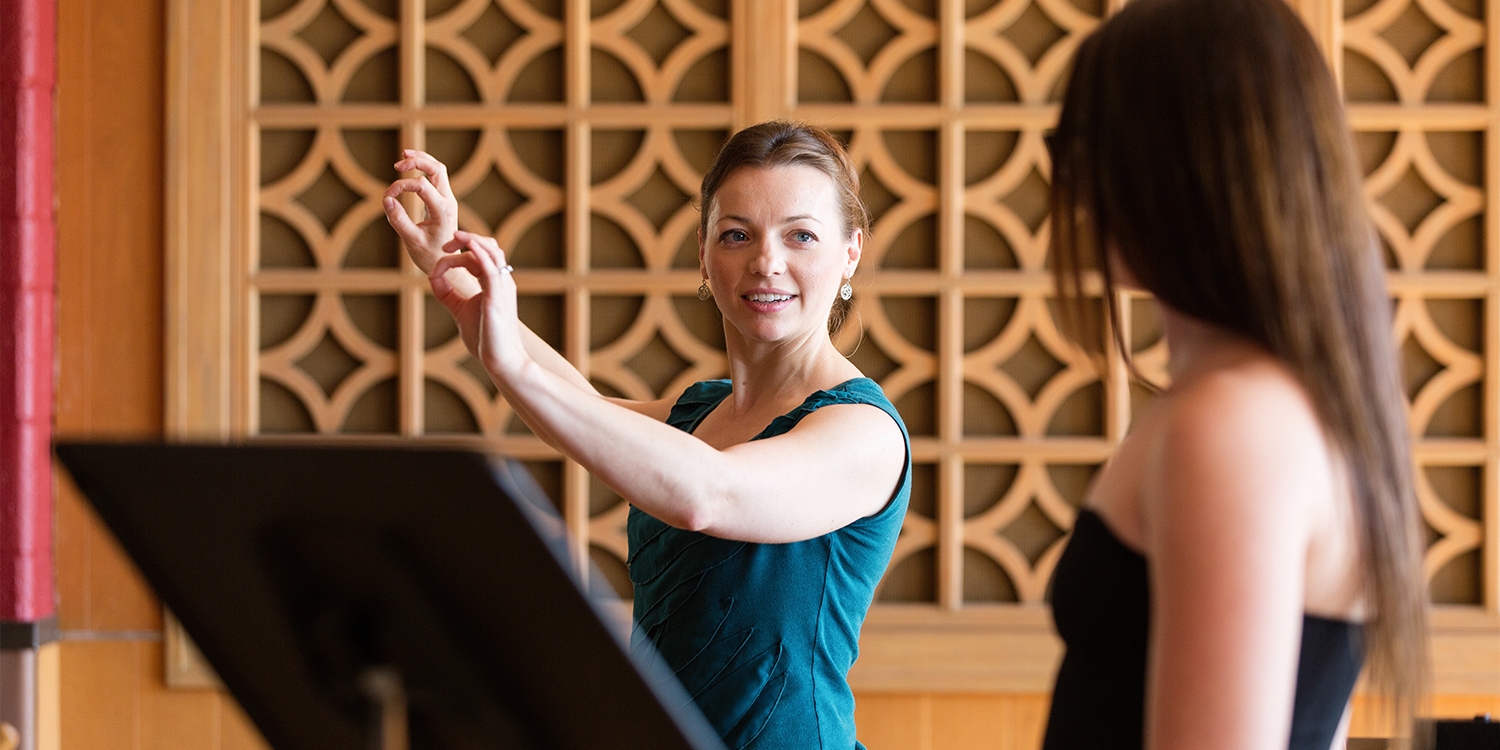 The Alverno difference
Alverno is known for its innovative curriculum and outstanding teaching. Instead of letter grades, we focus on real-world skills and helping you achieve your highest potential. You will strengthen your communication, leadership, critical thinking and problem-solving skills, which will help you become an even more effective arts professional.
Your creativity will flourish in Alverno's supportive, empowering environment and small class sizes. You'll form strong relationships with your instructors, who will nurture your development as an artist. Our talented faculty have deep experience as working artists: for example, Carole Barrowman is the author of the best-selling Hollow Earth book series and also writes for DC and Titan Comics; Thomas Reed works regularly as an actor and recently played Chikkuza the Lizard Man in the sci-fi/fantasy feature film By Sword or By Fire; and Dara Larson has had her fine art shown all over the world.
Your artistic playground will include Alverno's Art and Cultures Gallery, a state-of-the-art dance studio, light-filled art classrooms and studios, the beautiful Pitman Theatre for performing arts, and the Mac lab for film studies. Outside of class, you can participate in our annual juried art competition, learn gallery and theatre management skills, apply for work-study opportunities to learn behind-the-scenes aspects of managing art exhibition spaces, and get involved with the Artourage student organization.
---
"I've been able to incorporate the artistic aspects that I'm passionate about into the business knowledge I've acquired over the years. Through my classes and internships, I've gotten experience in graphic design, podcasting and web design."
— Alex, creative arts in practice major
---
"Don't Lose Faith," Alverno College's first narrative short film project, received recognition as the winner of the Horror film category for the Top Shorts Film Festival in March 2023 as well as a first place win at the Horror Hotel Film Festival in Cleveland. Tom Reed, chair of Alverno's Creative and Performing Arts, partnered for the project with Wisconsin-based GhostFire Entertainment, and involved Alverno students in the production and film roles.
Coursework
All Alverno students must complete 120 credits to earn a bachelor's degree. You'll begin your arts courses during your freshman year, as well as your general education requirements. In addition to the courses in your chosen tracks, you'll study self-employment in the arts, grant writing for artists and educators, business and management, creativity in careers and more. Your studies will culminate in a group performance, production or publication that showcases your creative and professional skills.
Field education
Milwaukee's vibrant arts culture offers plenty of ways to build your resume. Our students have interned at the Marcus Center, Shakespeare in the Park, Milwaukee Rep, Milwaukee Art Museum, RedLine Milwaukee, Wisconsin Visual Artists, the Walker's Point Center for the Arts, the Milwaukee Film Festival and the Wisconsin Book Bindery, among other sites.
Career opportunities
You'll develop a unique blend of artistic and business skills that will prepare you for roles at theatres, galleries, museums, production companies, design firms and arts-related nonprofit organizations. You might work in marketing, fundraising or management for an arts organization, or focus on producing your own creative work through writing, theatre, film, music, dance, design or other visual arts. Your background in two different artistic disciplines will also expand your career options.
Admission requirements
Your first step is to apply for admission to Alverno by completing the free application at alverno.edu/apply. You should mark your intended major as creative arts in practice.
For your first two years at Alverno, you'll be matched with a professional academic advisor who gets to know you and guides you through your education, helping you chart your path and register for classes. As a junior, you'll be paired with a faculty advisor who will support your success to graduation.
The Annual Crime and Fire Safety Report for Alverno College, which includes crime statistics and annual fire safety statistics, can be found online. A hard copy of the report is available upon request. Please send your request to Jason Pilarski, director of Campus Safety.
---
GET IN TOUCH!
Have questions about studying at Alverno? We invite you to connect with our Admissions team to learn more.