Chemistry
---
When COVID-19 hit, chemists sprang into action, developing new diagnostic tests, treatments and personal protective equipment needs. But even in non-pandemic times, chemists are in demand in a wide variety of industries. With a chemistry major, you might make a discovery that leads to a new life-saving medication, create eco-friendly materials for art, develop a safe alternative food coloring for a food science company, or test DNA to help solve a crime.
At Alverno, you'll gain the knowledge, scientific tools and hands-on experience you need to excel in this exciting field. Chemistry is also a smart career choice: Jobs for chemists are growing faster than the average for other occupations, and chemists command higher-than-average salaries, according to the U.S. Bureau of Labor Statistics. Whether you decide to jump straight into the workforce or go to graduate school, Alverno's chemistry program will be the catalyst for your success.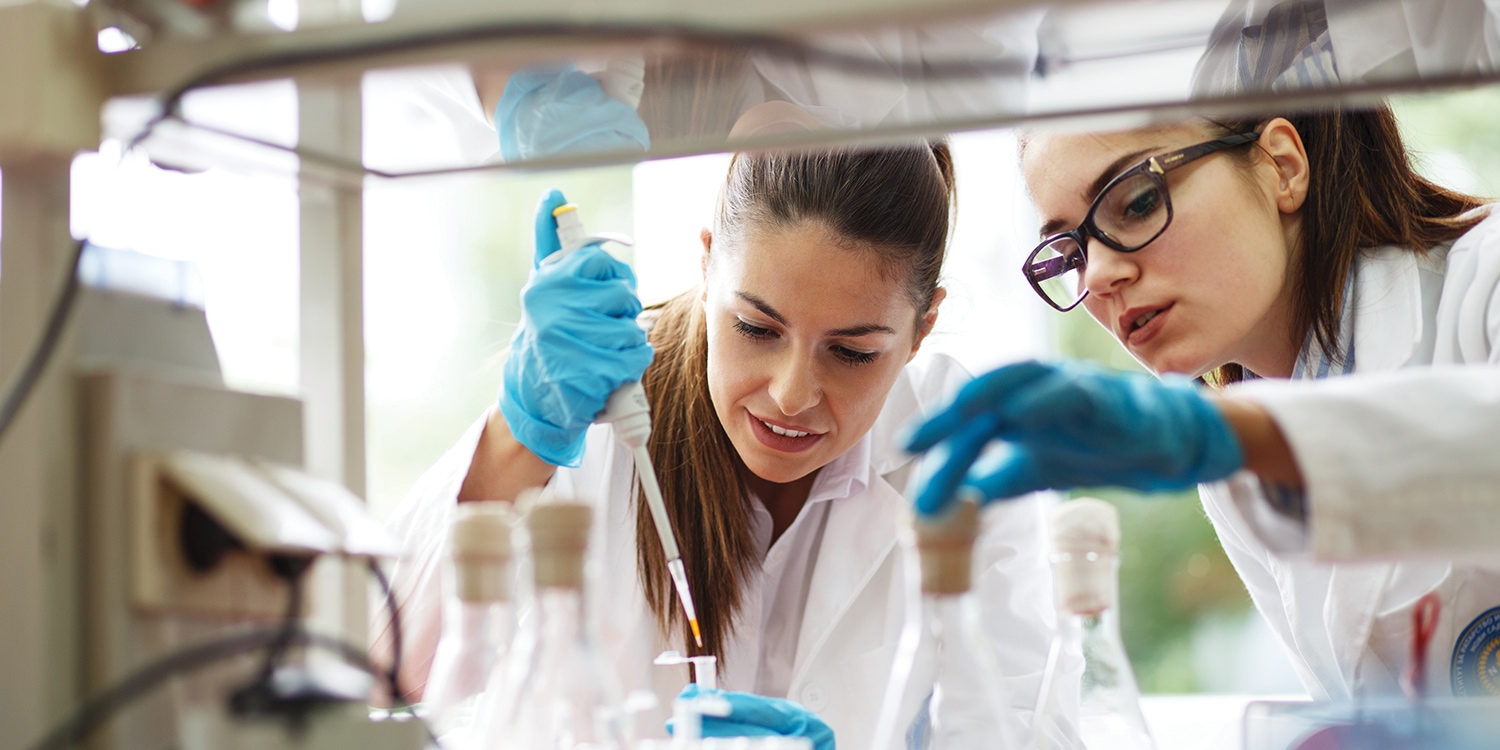 The Alverno difference
At Alverno, we create phenomenal women scientists who are ready to lead. Not only will you develop the technical expertise required in this field, but you'll sharpen your communication, critical thinking and problem-solving skills, which will make you an asset to any workplace team.
You'll be prepared to consider the ethical dimensions of the field and your responsibilities as a citizen and a professional, exploring how you can use your chemistry knowledge to solve the world's most pressing problems.
Alverno's small class sizes offer a much more intimate atmosphere than the large chemistry lecture halls you might find at other colleges. You will be on a first-name basis with your faculty, who will personally guide you through rigorous coursework and nurture your growth as a scientist.
You'll get plenty of hands-on experience using cutting-edge instrumentation in Alverno's labs to explore chemistry's real-world applications. For example, you might use Alverno's greenhouse to develop a variety of methods for isolating and identifying components in essential oils, or you might explore the interplay of chemistry and art through courses on textiles, color and glass.
Outside of class, you might work as a paid lab assistant or peer tutor in the Daniel M. Soref Science and Mathematics Resource Center, mentor high school students through Alverno's Girls' Academy of Science & Mathematics, or participate in faculty-student research through the Center for Academic Excellence.
---
"Alverno is my gateway to my future career. In my summer research fellowship, I have learned the basic skills of working in a research lab and explored the chemical characteristics of water. Real-life application of the sciences has opened new opportunities for me."
— Shivani, chemistry major
---
Coursework
All Alverno students must complete 120 credits to earn a bachelor's degree. You'll begin your chemistry courses during your first semester, as well as your general education requirements.
You will focus on the concepts and methods commonly used in research and industrial laboratories, and you'll apply what you learn in the classroom to your work in the lab. You'll study chemistry of bio-organic molecules, organic chemistry (including green chemistry principles), analytical chemistry, chemistry of inorganic materials, biochemistry and physical chemistry, among other areas.
Field education
You'll intern for at least one semester, allowing you to build your resume while applying the skills and knowledge you'll learn on campus. Our students have interned at the Milwaukee Metropolitan Sewerage District, Sigma Aldrich, the Medical College of Wisconsin, the Water Technology Accelerator at the Global Water Center and Denali Ingredients, among other sites. It's not uncommon for our chemistry students' internships to turn into post-graduation job offers.
Career opportunities
With a strong foundation in chemistry, you'll be prepared to work in a variety of industries, from biotechnology to waste management to materials science. Alverno graduates have found work as forensic scientists, water chemists, quality assurance technicians, food chemists, chemistry teachers and more. Almost all of our students are hired for scientific positions immediately after graduation or choose to go on to graduate or professional school.
Admission requirements
Your first step is to apply for admission to Alverno by completing the free application at alverno.edu/apply. You should mark your intended major as chemistry.
For your first two years, you'll be matched with a professional academic advisor who gets to know you, helping you chart your path and register for classes. As a junior, you'll be paired with a faculty advisor who will support your success to graduation.
The Annual Crime and Fire Safety Report for Alverno College, which includes crime statistics and annual fire safety statistics, can be found online. A hard copy of the report is available upon request. Please send your request to Jason Pilarski, director of Campus Safety.
---
GET IN TOUCH!
Have questions about studying at Alverno? We invite you to connect with our Admissions team to learn more.