Biomedical Sciences
---
Are you dreaming of medical school? Or eager to research a breakthrough new vaccine in the lab? Alverno's biomedical sciences major can put you on the fast track to an exciting career in medicine or biomedical research. Our unique major combines biology, chemistry and mathematics courses, preparing you to excel in the workplace or in graduate studies. Many students use this major as a steppingstone to medical, dental, veterinary or other professional health schools or PhD programs.
As the COVID-19 pandemic has showed, health care providers and researchers play an invaluable role in our society. And they're needed more than ever. There's a national shortage of both physicians and veterinarians, and jobs for medical scientists are also growing faster than average, according to the U.S. Bureau of Labor Statistics.
Wherever your biomedical sciences degree takes you, you'll be ready to use your advanced lab, problem-
solving and analysis skills to make a difference.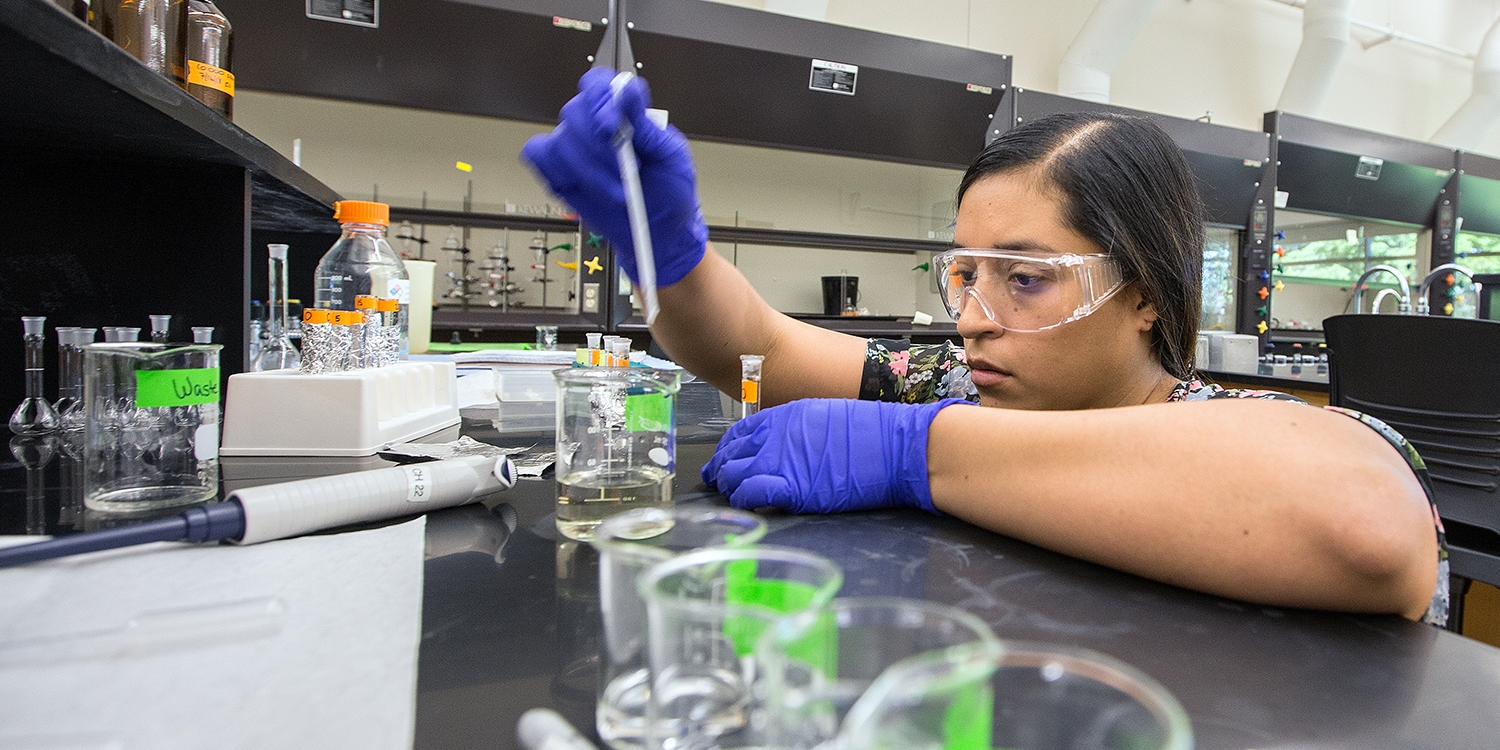 The Alverno difference
We create women leaders who are ready to succeed and shatter ceilings. Here, you'll find an empowering, supportive environment that helps you thrive. Our professors will personally guide you through rigorous coursework and help you select the right classes, internships, research experiences and other opportunities to reach your career goals.
Alverno's STEM majors aren't isolated in their own departments. You'll connect with fellow STEM students through shared classes, joint projects and other networking opportunities, broadening your perspective and exposing you to new possibilities.
If you plan to go to medical school or another professional health school, Alverno's pre-health program offers seminars, personalized advising, peer support and other resources to help make you a competitive candidate. The biomedical emphasis in this major will also help prepare you for the Medical College Admission Test (MCAT) or other work in the health field.
To bolster your resume, consider working as a paid lab assistant or peer tutor in the Daniel M. Soref Science and Mathematics Resource Center, mentoring high school students through Alverno's Girls' Academy of Science & Mathematics, or participating in faculty-student research through the Center for Academic Excellence. You can also join Pre-Professional Women of Alverno or other student organizations to practice your leadership skills and connect with classmates who share your interests.
---
"I liked that I got to essentially combine the biology major and the chemistry major. This major is ideal for any student who is interested in going to a professional school or even just interested in the sciences, because you get the best of both worlds."
— Abigail, biomedical science major
---
Coursework
All Alverno students must complete 120 credits to earn a bachelor's degree. You'll begin your biomedical sciences courses during your first semester on campus, as well as your general education requirements. You'll study human anatomy and physiology, microbiology, biochemistry, analytical chemistry, organic chemistry, probability and statistics, physics and more. Because of this program's interdisciplinary nature, you won't need to complete a separate minor.
Field education
You'll intern for at least one semester, building your resume while applying the skills and knowledge you're learning in the classroom. Our students have interned at the Medical College of Wisconsin's Summer Program for Undergraduate Research, Program for Undergraduate Research Experience, and Genetic Counseling Program; Milwaukee County Health Department; Sigma Aldrich; the Water Technology Accelerator at the Global Water Center; and the Milwaukee County Zoo. Alverno's Career Studio, which is connected to more than 2,000 partner sites, can help you find the right internship for you.
Career opportunities
Many Alverno biomedical sciences graduates go on to medical, dental, veterinary and graduate school at institutions such as the Medical College of Wisconsin, University of Wisconsin-Madison, University of Wisconsin-Milwaukee, Marquette University, University of Minnesota and Butler University. Other students choose to go straight into the workforce. This versatile degree can prepare you for such careers as a forensic technologist, toxicologist, biomedical researcher, pharmaceutical sales representative and other roles in research, industry and education.
Admission requirements
Your first step is to apply for admission to Alverno by completing the free application at alverno.edu/apply. You should mark your intended major as biomedical sciences.
For your first two years at Alverno, you'll be matched with a professional academic advisor who gets to know you and guides you through your education, helping you chart your path and register for classes. As a junior, you'll be paired with a faculty advisor who will support your success to graduation.
---
GET IN TOUCH!
Have questions about studying at Alverno? We invite you to connect with our Admissions team to learn more.