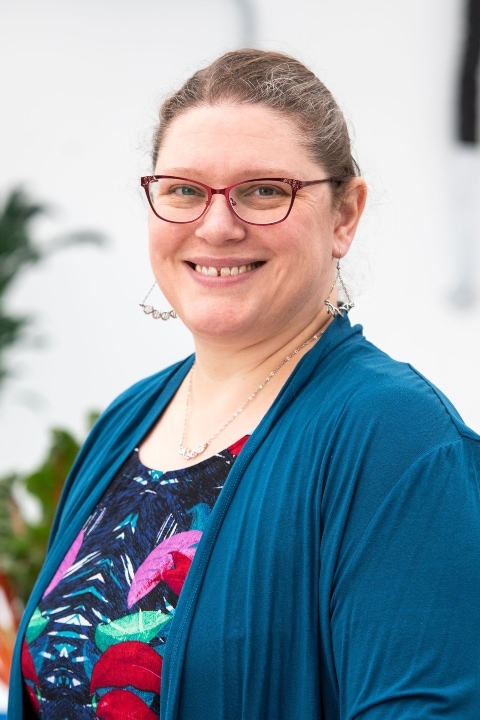 Rebekah Klingler, PhD
Biology
AREAS OF EXPERTISE
Genetics and genetic susceptibility to disease
Cell and molecular biology
Toxicology and radiation biology
Developmental origins of adult disease
Molecular cloning techniques
DNA, RNA and protein isolation and manipulation
Laboratory maintenance and management
Technical writing including grant writing
BIOGRAPHY
Rebekah Klingler is an assistant professor of Biology at Alverno College, where she has taught since 2018. She is also the director of the campus greenhouse, which houses a state-of-the-art aquaponics facility that grows plants, vegetables and yellow perch as a model of sustainable urban agriculture. The facility offers hands-on interaction to students, faculty and staff from across the college. Klingler is the Project Director for Alverno College: Establishing a Pipeline of Student Experience and Leadership Development in Sustainable Agriculture, a $273,786 grant from the US Department of Agriculture's - Hispanic-Serving Institutions Education Grants (HSI) Program, which will support the development of outreach and retention activities, as well as some initial curriculum redesign, utilizing the new teaching greenhouse.
Prior to coming to Alverno, Klingler was a post-doctoral research associate and lab manager at the University of Wisconsin - Milwaukee School of Freshwater Sciences for eight years. She has 17 years of experience leading one-on-one and group trainings of graduate students, undergraduate students, interns and technicians in basic laboratory, molecular and cellular techniques, as well as aquatic animal and rodent techniques and surgeries. She has also taught a number of courses at Milwaukee Area Technical College and the University of Wisconsin – Milwaukee, given guest lectures on cancer formation, numerous presentations on research and training, and done public education on STEM education and research, waste reduction, recycling and disposal of household hazardous waste.
Klingler earned her Bachelor of Arts in Biology from Hartwick College in Oneonta, New York, and a PhD in Cell and Molecular Biology from Colorado State University in Fort Collins.