Pure Resilience
Take 1. Never anticipated the unknown. Events in our lives may destroy us piece by piece and make us feel like there is no hope. However, a special place in my heart has altered my perspective on life, bolstered me to accumulate mindfulness and clarity, and made me think that maybe, the unknown is flourishing growth in the moist soil cultivated by the product of consciousness. This special place is my home, Alverno College. It has become the pillar of my pedestal and foundation in my journey of becoming a powerful and resilient woman. 3, 2, 1, action. Starring role.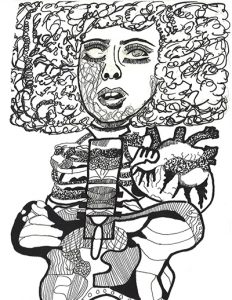 Alverno is a community that challenges me to continually unlock the possibilities that the universe has to offer, including self-exploration and recovery. Alverno has empowered me to transgress against restrictive boundaries within the classroom and to define education as a gateway to freedom. I have thrived in classroom discussions and activities that encourage us to explore the human mind, its anatomical structure, mental and physical effects, and the understanding that hardships are inevitable in life. Also, Alverno's way of strongly engaging us through the 8 Abilities, its caring and extremely compassionate faculty, and the personal connections developed with professors have all guided students like myself toward academic and personal success.
Due to personal obstacles, I never wanted to observe my reflection. Painting, which I love, became a tedious chore. No synthesis of sublime and extraordinary colors. However, throughout the years, I have come to realize that I am a strong person with the tremendous support from the essential people I have met. They challenge me to put myself first in order for me to achieve stability. They help me realize that I am Alverno Strong and that I possess the strength to accomplish anything.
I never anticipated the unknown being Alverno, leading me to my destiny. My name is Natalya Alexandra Cook. I am a self-published author. Most importantly, I have the same desire to help others discover the true depths of themselves and find their inner light and strength, so that they may swim to the surface with a tight grip on their determination to heal. If my life is a film, I'm the protagonist. I see the art of strength through the darkness, and I have found inner resilience. I am the woman in the mirror. I can finally see the woman I desire to be.
Thank you, Alverno, for making me remember that we have the starring role in our films and ways of surviving our own wars. We can weather malice with the powers of clarity, rejuvenation, positivity and love. When we feel like life isn't our own, always remember that we are the starring role of our journey. We aren't just strong. We're Alverno Strong.
---
Natalya Cook is an English major at Alverno college and has published two books of poetry — Escape the Ordinary: Evocative and Spring Awakening: The Courage to Teach. This essay appears in the spring/summer 2019 issue of Alverno Magazine.
Published on June 26, 2019 | Categories: Magazine