A Fertile Ground for Learning
Stop by the Alverno Greenhouse on any given day, and you'll find a place where plants ― and so much more ― are in bloom.
Since the greenhouse opened for campus use last September, it has become a hub for learning and discovery for Alverno students and faculty, as well as K-12 students and community members.
"Everyone has the opportunity to explore new thoughts and research, to work with their hands and to use the greenhouse as their own educational tool," says Emma Ray, greenhouse manager.
The possibilities for learning are endless, encompassing horticulture and aquaponics, water sampling and perch, not to mention art, education, STEM and more.
"It's not built as an urban agriculture greenhouse to promote the highest yield of production," says Thor Stolen, an assistant professor of education. "It's built through an educational lens, so that's why there's a lot of extra space for students to move around. It's really meant as a learning space."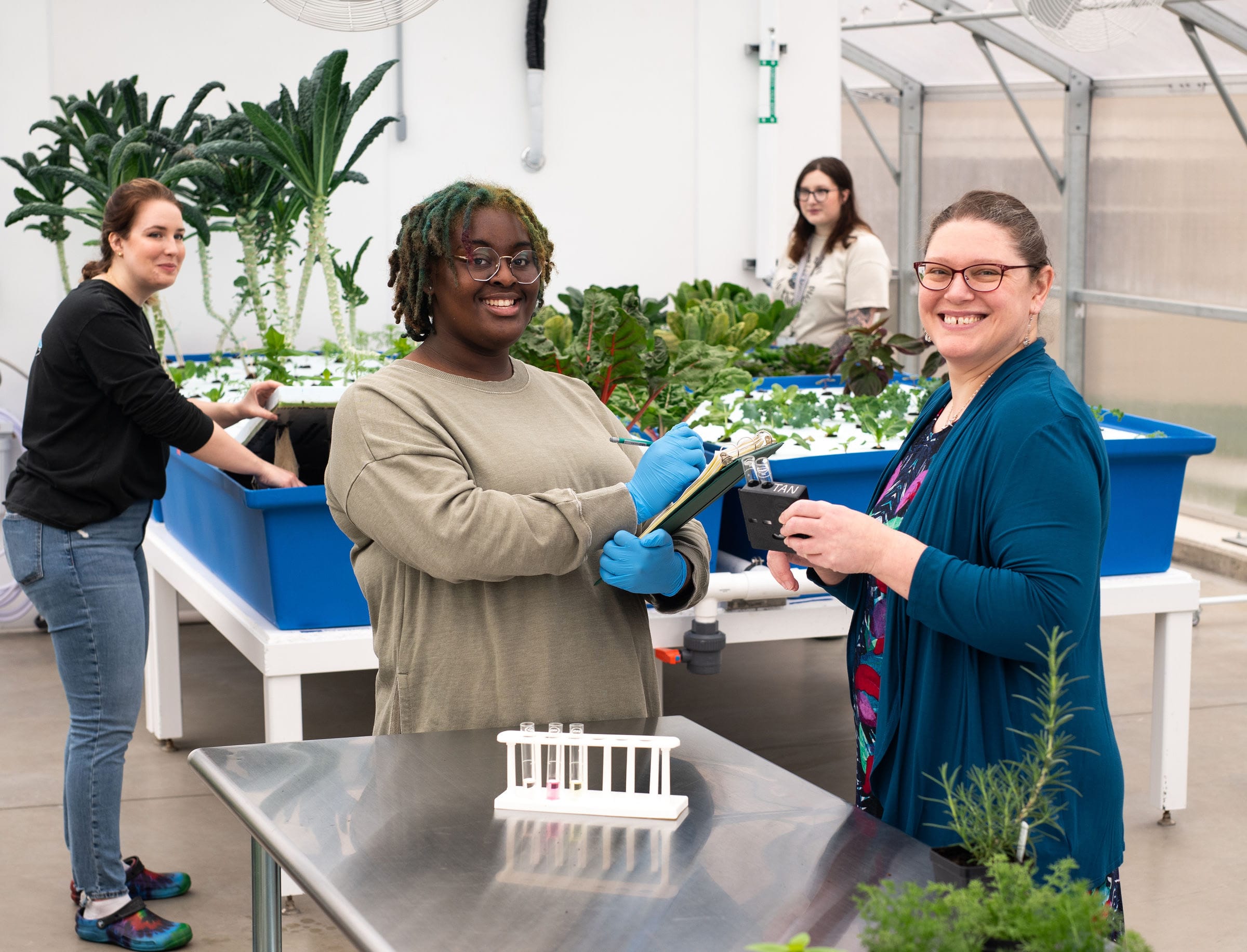 Construction began on the 1,400-square-foot warehouse in spring 2021. Built in partnership with A.O. Smith Foundation, the project also received grant support from the U.S. Department of Agriculture.
The perch, which can grow up to 11 inches, are one important component of this living laboratory, as are the four hydroponic beds that can hold up to 192 plants, plus an array of potted herbs, greens and other plants.
To allow the plants to flourish, the greenhouse's temperature is kept at a balmy 55-80 degrees, depending on the season, regulated by wall vents that automatically open and close as needed. To mitigate the spread of organisms that could harm the plants and fish, all visitors must first wash their hands and clean their shoes.
Tours of the greenhouse start in the fish room, where three 175-gallon tanks hold up to 200 perch. (A wall sign cheekily proclaims "no fishing.") Perch are a native Great Lakes species that require cool water, so having their own room ensures that the heat of the greenhouse doesn't affect their water temperature.
A model of sustainability, the greenhouse uses fish waste to fertilize its plants. A pipe directs waste from the fish tanks into a mineralization tank, where an aerator helps bacteria convert the waste into nutrients.
After visiting the perch, it's on to the rest of the greenhouse, where giant leaves of kale thrive along with other various leafy greens, potted lavender, cherry tomatoes and nasturtium (whose edible leaves have a bit of a zing!).
Assistant Professor of Physical Sciences Christy Bell regularly harvests the kale to share via Alverno's campus food pantry. The hardy plant has proven a success, and Bell, as the director of horticulture, is growing new skills alongside her students.
"I've enjoyed learning how to pollinate tomatoes without bees, and we're going to try the same thing for squash," she says. (The secret? An electric toothbrush stimulates the release of pollen.)
Students in an introductory chemistry class have visited the greenhouse to collect kale to study the process of photosynthesis, and future chemistry students may harvest herbs like mint and rosemary to extract essential oils.
But the greenhouse is not just for STEM students. Education students are growing plants and learning how to engage youth in horticultural activities. Art students have sketched the plants as inspiration for sculpture projects and may someday explore how to pull fibers from plants for papermaking.
"Hopefully, it opens their eyes to new experiences and the possibility of different kinds of careers. I hope it helps them find some passion, perhaps in another way than they were thinking," says Rebekah Klingler, greenhouse director and assistant professor of biology. "I believe that until you try it, you don't know what you like. So, it's just another tool for trying new things."
This article appears in the summer 2022 issue of Alverno Magazine.
---
Q&A with Emma Ray, greenhouse manager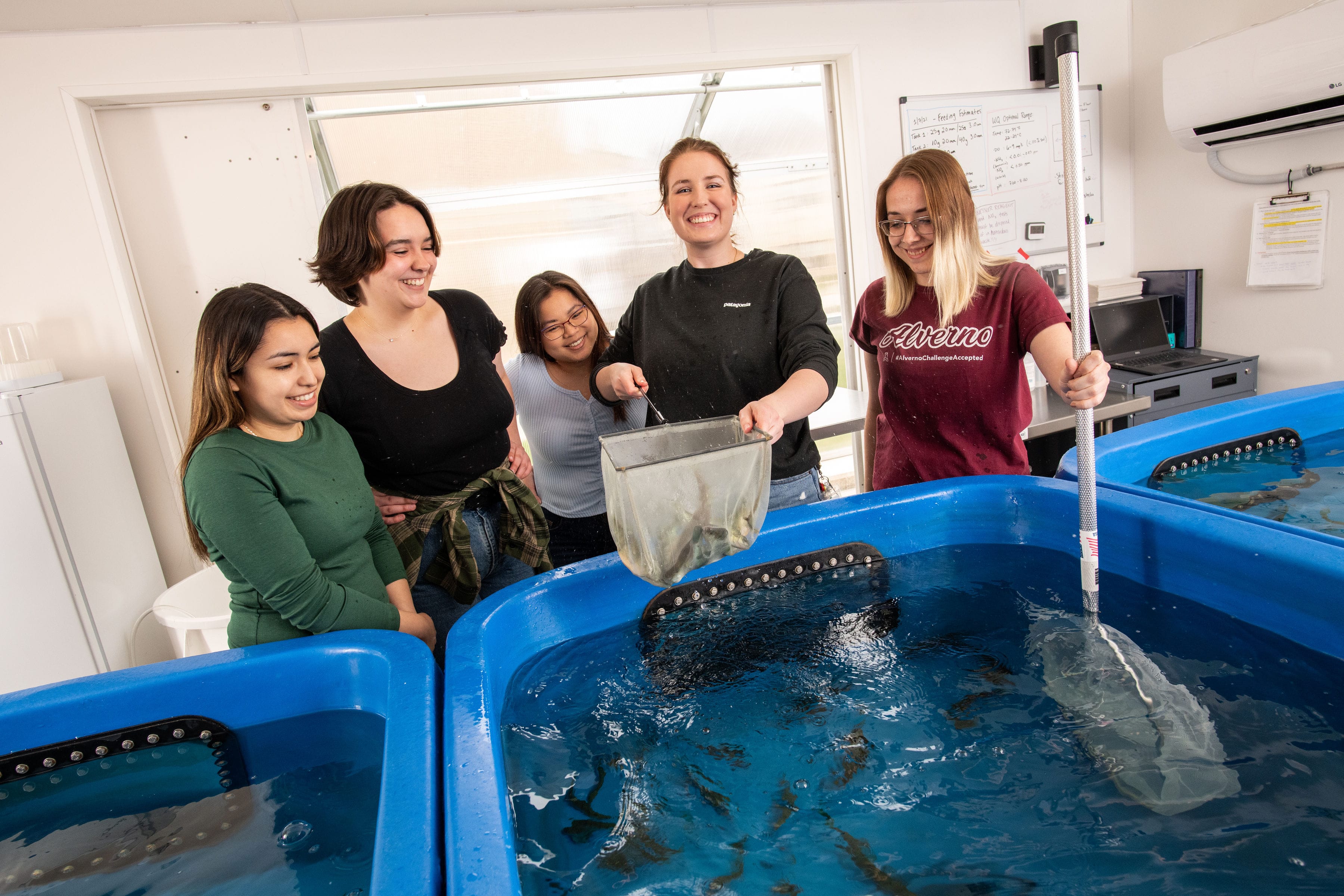 What is your favorite thing about teaching and working with students at Alverno?
"My favorite thing about working with students at Alverno is watching them grow and evolve. Over the course of one semester, I have the privilege of witnessing students gain confidence in their skills, continue to strive to be their best selves, and be welcoming to new challenges."
What do you hope to empower your students to achieve?
"I hope to empower students to be themselves, be comfortable being their own advocate, figure out what they want to achieve in life and to create a persona of innovation and scientific discovery. The students should become comfortable seeing themselves as a scientist and being an integral part to the STEM community"
What is your vision for the greenhouse?
"My vision for the greenhouse is for the greenhouse to become an all-encompassing feature to the campus. This facility is open to any and all students, faculty and staff from all departments. Everyone has the opportunity to explore new thoughts and research, to work with their hands, and to use the greenhouse as their own educational tool. The greenhouse can be multi-faceted and approached from many interdisciplinary angles."
Published on June 29, 2022 | Categories: Magazine
Frequently Asked Questions
How long does it take to complete the online EdD?
The EdD takes a total of six semesters to complete, or approximately 24 months. Students who choose the K-12 Leadership concentration may take somewhat longer if they decide to pursue additional coursework to prepare for superintendent eligibility.
Students who enter on the ABD completion track or the EdS completion track may take slightly less time to complete their degree.
Can I work while I earn my EdD? Will I have to travel often?
The online EdD is designed to accommodate full-time work schedules. Coursework is almost completely online, with two residencies of one weekend each included in the program.
What can I do after graduation?
Graduates of the EdD program can pursue advanced teaching or leadership roles in a wide range of industries—not just education. While most graduates will opt to serve in K-12 schools or districts or higher education institutions after earning the EdD, other options include government agencies, education publishing or educational technology companies, corporate training and retention, and more.
Is financial aid available?
Financial aid is available to those who apply and qualify. Graduate students can qualify for federal loans. We suggest that all students begin the Free Application for Federal Financial Aid (FAFSA) as soon as they apply. Alverno's FAFSA code is 003832.
Alverno's Financial Aid Office is happy to answer your questions. Call us at (800) 933-3401.