Pre-Professional Program in Law
Fighting for justice and equity. Protecting the vulnerable. Driving public policy through politics. As a lawyer, you'll be empowered to use your legal knowledge, skills and position to help others in a multitude of ways.
And Alverno is the perfect place to start your pre-law journey. Alverno's pre-law program, which is open to students from any major, will supplement your undergraduate studies with specialized courses, personalized advising, peer support and other resources to make you a competitive candidate for law school. We recommend you choose a major that will strengthen your writing, logical reasoning and argumentation skills. English, history and sociology are popular choices, and majors such as environmental science, business, public health and global studies are also excellent options if you're thinking about specializing in a related area of law.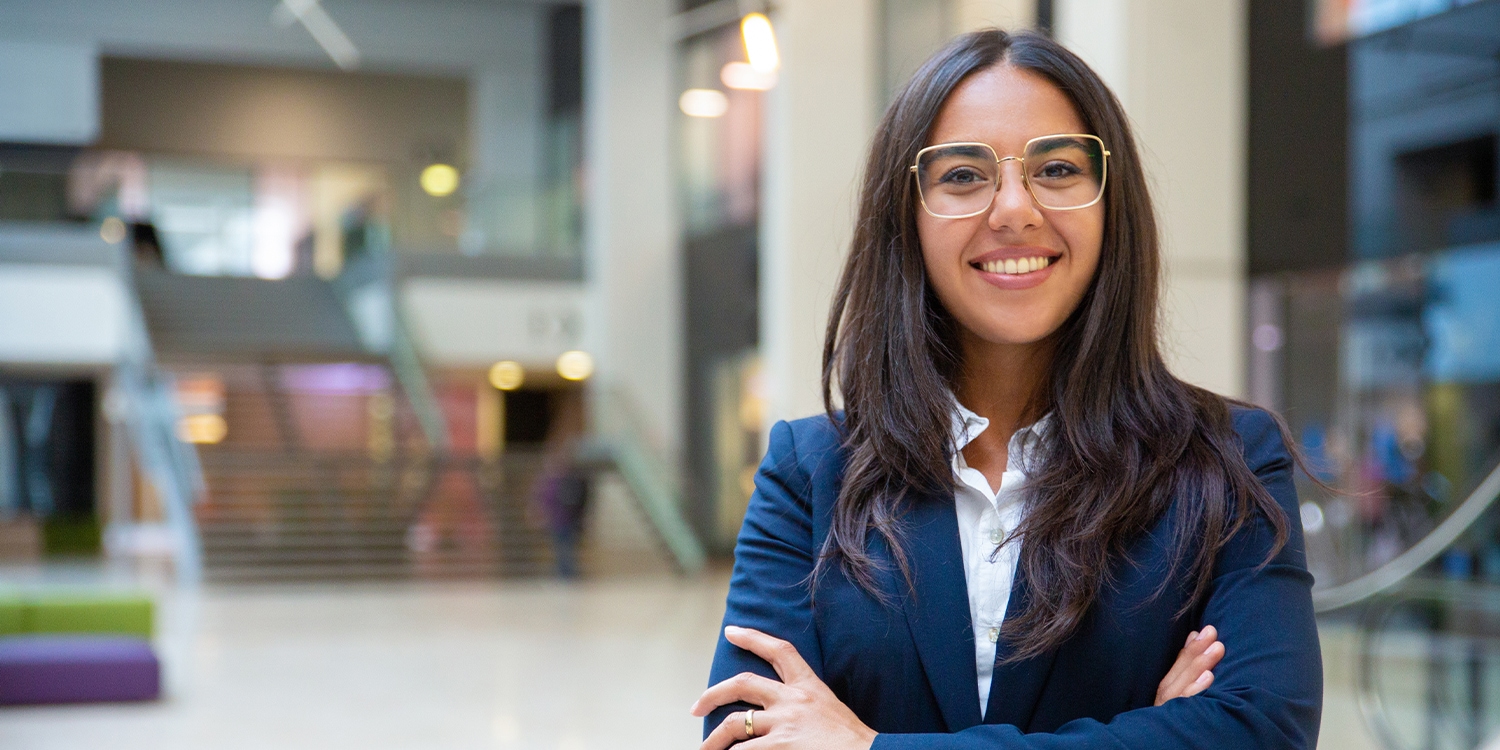 The Alverno difference
This is the sort of place where ambitious, talented women thrive. Alverno's supportive environment and small class sizes will set you up for success in law school and beyond. Our innovative, abilities-based curriculum emphasizes many of the skills valued by law schools: analytical thinking, problem-solving, communication and leadership. Instead of freezing up the first time you encounter the Socratic method of teaching in law school — when a professor challenges you to explain your thinking with a series of questions — you'll be confident because of all the public speaking practice you'll get at Alverno.
Starting freshman year, you'll be invited to workshops that cover law school admissions procedures, timelines, test-taking strategies for the LSAT (Law School Admission Test), practice tests and more. You'll also meet regularly with your pre-law faculty advisor and have the opportunity to shadow legal professionals, get tips from current law students and network with Alverno alumnae working in law.
While your grades and LSAT scores are the biggest factor in law school admissions, your other undergraduate experiences can help you stand out. At Alverno, you can grow your leadership skills in one of our many student organizations (including Pre-Professional Women of Alverno), participate in faculty-student research through the Center for Academic Excellence, and intern at major legal organizations. Interested in international law? Alverno regularly participates in American Model United Nations, which includes a simulation of the International Court of Justice. You could argue a case before the court or play the role of a justice, giving you a sense of law on the world stage.
---
"I definitely walked in to my first year of law school with skills in public speaking, critical thinking and communication that were honed at Alverno as well as crucial in law school and in my practice today."
— Kaquishka
---
Coursework
All Alverno students must complete 120 credits to earn a bachelor's degree. In addition to the courses in your major, you'll have access to specialized courses designed to prepare you for law school entrance exams.
Field education
All Alverno students complete at least one internship, and our location in Wisconsin's largest city offers many internship and shadow sites that can give you a window into the legal world. Past pre-law students have interned at the Milwaukee County District Attorney's Office, ACLU of Wisconsin, Legal Aid Society of Milwaukee, Voces de la Frontera and private law firms. Alverno's Career Studio can help you find the right opportunity to advance your goals.
Career opportunities
Our graduates have gone on to study law at Marquette University, University of Wisconsin-Madison, New England Law, University of Puget Sound, University of Missouri-Kansas City and University of Arkansas at Little Rock, among other schools. After completing your law degree, you might specialize in civil rights, juvenile justice, family law, environmental law, corporate law, intellectual property law, or other areas. You could climb the legal ranks to become a district attorney, state attorney general or judge, or you might use your legal training as a politician, labor negotiator, entrepreneur, lobbyist or legal writer.
Admission requirements
Your first step is to apply for admission to Alverno by completing the free application at alverno.edu/apply. You should mark your intended major and interest 
in pre-law.
For your first two years at Alverno, you'll be matched with a professional academic advisor who gets to know you and guides you through your education. As a junior, you'll be paired with a faculty advisor from your major who will support your success to graduation. Your pre-law advisor will serve as an additional resource, sharing law school-related opportunities and supporting you through the law school admission process.
The Annual Crime and Fire Safety Report for Alverno College, which includes crime statistics and annual fire safety statistics, can be found online. A hard copy of the report is available upon request. Please send your request to Jason Pilarski, director of Campus Safety.
Published on May 29, 2020 | Categories: Programs