Education: Kindergarten to Ninth Grade
Do you love life in the classroom? Working with younger kids? Supporting and encouraging others? Then consider Alverno's major in in elementary/middle education.
As an elementary or a middle school teacher, you'll nurture students' minds and spirits during their formative years. You'll get to work both independently and be part of a team, challenging yourself to find new ways to reach all students and ignite students' love of learning. It's fun, meaningful work that allows you to make a lasting impact on young people's lives.
It's also a good career bet. The world will always need teachers, and as the state and national teaching shortage continues, teaching remains a stable profession with strong job prospects. And Alverno-educated teachers are in high demand because school leaders across the region recognize that our graduates are exceptionally well-trained.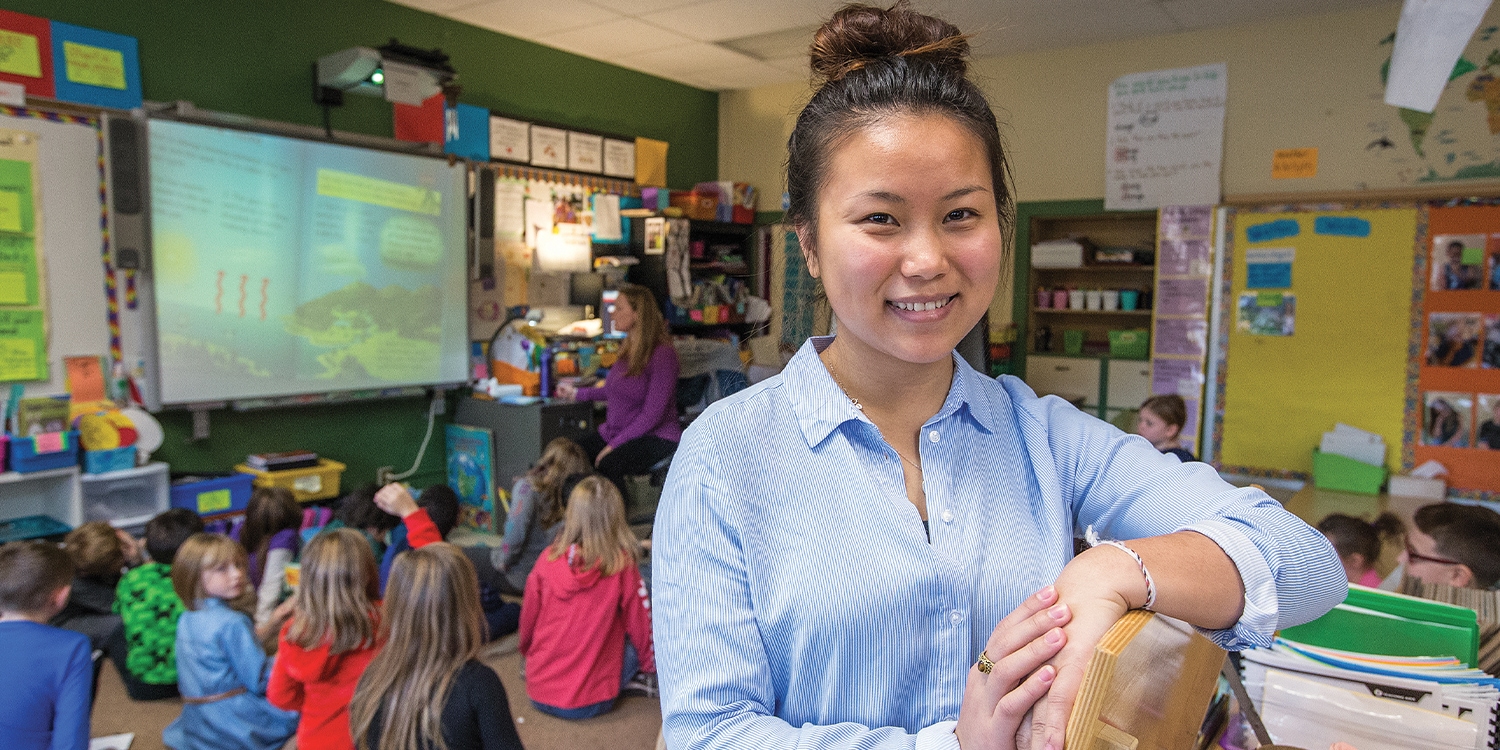 The Alverno difference
There's no better place to study education: Alverno has won numerous national awards for its innovative practices, outstanding teaching and high classroom engagement. Educators from around the world visit Alverno's campus to study our abilities-based curriculum and revolutionary approach to learning and assessment. Our emphasis on real-world skills and insightful, personalized feedback will push you to achieve your full potential, and you'll learn how to bring this effective approach to your own classroom.
You'll thrive in our small classes, led by faculty who have deep experience as current or former K-12 classroom teachers. We recognize that students learn in different ways, and you'll explore how you learn best, plus learn how to lead and engage a classroom of students with different learning styles. You'll get hands-on experience in real K-12 classrooms early and often, ensuring you're ready to step up to the front of the classroom with confidence.
Looking to connect with fellow aspiring educators? Join the Alverno chapter of Student WEA (Wisconsin Education Association) to practice your leadership skills and get involved in the field.
---
"Alverno gives education majors a lot of hands-on experience through field placements and student teaching. We also learn about best practices and explore the different pedagogies. I was awarded a research scholarship after my first semester, and after graduation, I was accepted into a competitive educational psychology research program at the University of Wisconsin."
— Valencia, Elementary/Middle Education major
---
Licensure options
After you graduate with your bachelor's degree in education, you'll be eligible for a Wisconsin teaching license that enables you to teach kindergarten through ninth grade — expanding your career options and making you more marketable to school districts looking for flexibility. If you opt for a minor in special education and/or teaching English language learners, you'll be eligible for those additional teaching licenses.
Coursework
All Alverno students must complete 120 credits to earn a bachelor's degree. You'll begin your education courses during your freshman year, as well as your general education requirements. You'll take courses in lifespan development; teaching, learning and assessing; literacy in early and middle childhood; teaching math, science and social studies; exceptional learners; critical issues in school and society; and more. If you choose to pursue additional licensure areas, you'll take courses in those areas as well.
Field education
Alverno's program gives you extensive experience in elementary and middle school classrooms, with field experiences starting as early as your second semester freshman year. Field experiences are usually 4-5 hours a week and combine observation and teaching experience, so that you're teaching more and more lessons as you progress through the program. You'll clock more than 250 hours of classroom practice through your field experiences, which will prepare you for the culmination of your major: full-time student teaching.
Alverno is connected to more than 150 private and public schools throughout the metro Milwaukee area and beyond, and our students do field experiences and student teach at a variety of urban and suburban schools. While all education majors are required to student teach, top students will also have the opportunity to compete for a limited number of paid student teaching internships.
Career opportunities
Your elementary/middle education degree will provide a strong foundation for a variety of rewarding roles, including classroom teacher, reading and math interventionist, tutor, peer mentor, department chair and more. Teachers with math and/or science minors and dual licensure for teaching English language learners or special education are especially in demand. With additional education, you could advance to a school or district administrative leadership role or play a role in shaping education policy on the state or national level.
Admission requirements
Your first step is to apply for admission to Alverno by completing the free application at alverno.edu/apply. You should mark your intended major as elementary/middle school education.You will first start out as a pre-education major. Before you can officially declare an education major, you must complete an introductory education course, satisfy other criteria and be reviewed by a faculty committee.
For your first two years at Alverno, you'll be matched with a professional academic advisor who gets to know you and guides you through your education, helping you chart your path and register for classes. As a junior, you'll be paired with a faculty advisor who will support your success to graduation.
Published on September 3, 2020 | Categories: Programs
Frequently Asked Questions
How long does it take to complete the online EdD?
The EdD takes a total of six semesters to complete, or approximately 24 months. Students who choose the K-12 Leadership concentration may take somewhat longer if they decide to pursue additional coursework to prepare for superintendent eligibility.
Students who enter on the ABD completion track or the EdS completion track may take slightly less time to complete their degree.
Can I work while I earn my EdD? Will I have to travel often?
The online EdD is designed to accommodate full-time work schedules. Coursework is almost completely online, with two residencies of one weekend each included in the program.
What can I do after graduation?
Graduates of the EdD program can pursue advanced teaching or leadership roles in a wide range of industries—not just education. While most graduates will opt to serve in K-12 schools or districts or higher education institutions after earning the EdD, other options include government agencies, education publishing or educational technology companies, corporate training and retention, and more.
Is financial aid available?
Financial aid is available to those who apply and qualify. Graduate students can qualify for federal loans. We suggest that all students begin the Free Application for Federal Financial Aid (FAFSA) as soon as they apply. Alverno's FAFSA code is 003832.
Alverno's Financial Aid Office is happy to answer your questions. Call us at (800) 933-3401.