Advocate: Samantha Epstein '09
Male teachers and students at Milwaukee's South Division High School know not to stop by Samantha Epstein's social studies classroom during the lunch hour.
That's because the room turns into a safe haven for one of Epstein's students to take off the veil she wears the rest of the day. Being in Epstein's classroom allows the young woman to comfortably eat lunch with her female friends while honoring her religious and cultural values.
"She eats in here every day with her friends. My door has a window, and they cover it with paper. Today they were studying their vocabulary for my class," says Epstein, a 2009 Alverno alumna. "It's an honor to be someone she trusts and that she feels comfortable taking her veil off in front of me."
It's one of many ways that Epstein works to make students from refugee, immigrant and other traditionally marginalized communities feel not only safe but valued.
"I feel like it's my purpose," she says. "Working with children, particularly those who come from traumatic and difficult experiences, has allowed me to gain a global perspective that I wouldn't have if I did anything else. I'm really grateful for them. I truly am fulfilled by what I do every single day."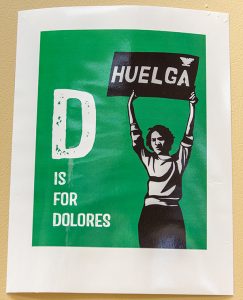 Epstein's classroom is decorated with posters of a feminist alphabet, honoring female leaders like activist Dolores Huerta.
Epstein's first job after Alverno was as a fifth-grade teacher at Clara Mohammed School in Milwaukee's Harambee neighborhood. Many of her students were Bantu refugees, an ethnic minority from Somalia fleeing a long history of persecution.
"It was very eye-opening to me," she recalls. "I learned a lot about Islam and was able to immerse myself in the cultural component of that religion in a way that really changed my perspective on life."
When Epstein began teaching sixth-graders at Prince of Peace School on Milwaukee's South Side, her students included native Spanish speakers learning English. She applied the language-teaching strategies she had used with her Somali students at Clara Mohammed.
Epstein's passion for working with English language learners led her to earn a bilingual teaching license and then a master's degree in English as a second language (knowledge that she's now sharing with other education graduate students as an instructor at Cardinal Stritch University). Then it was onto South Division, where she has taught social studies for the past six years. South Division is one of the most diverse high schools in Wisconsin; according to Epstein, 25 languages are represented by students and their families.
Epstein's curriculum includes a citizenship course that covers the principles of civic engagement and how the U.S. government works. She empowers her students with the knowledge they need to not only participate in civic life but to also impact their communities. It starts with them.
"One of the things that I talk to students about frequently, and that I design my curriculum to capture, is the idea that every single person on this planet has a story," she says. "Who tells our stories and how [they are told] are really important."
Epstein wants her students to know they have stories worth telling, and she hopes everyone else will listen.
"The rest of us would be so much better off if we took a minute to listen to those stories and understand them and what their families have gone through," she says. "I hope that when my students leave my classroom, they feel empowered and know that they're worthy of their education and they are worthy of being heard. There are people in this world who want to know them and who would gain so much from knowing them."
Advocates in Action
Alverno alums like Epstein dedicate their careers to social justice causes. Click the names below to read their stories of advocacy, and if you know of an Alverno alum who is working on behalf of others, let us know at magazine@alverno.edu.
---
This article appears in the spring/summer 2019 issue of Alverno Magazine.
Published on July 9, 2019 | Categories: Magazine