A Stubborn Hope
For Sister Ann Oestreich, IHM, the question isn't whether it's possible to end human trafficking. Instead, it's how can you not try?
Oestreich joined the Alverno community in late 2016 as part of a nationwide project to connect young women with Catholic sisters, to share the sisters' legacy and inspire more women to consider religious life. It's just one of the many things she has been called to work on as a Catholic sister.
Another calling? To stand on the front lines in the fight against human trafficking.
More than 40 million people around the world — including in our community — are trafficked, being forced to provide sex, labor, or other services against their will. Women religious, including Oestreich, have stepped up to educate the public, advocate on survivors' behalf and connect these men, women and children with the resources they need to start healing.
Oestreich recently had the opportunity to visit Rome through Talitha Kum, an international umbrella organization for national networks of religious women dedicated to fighting human trafficking. The group met with Pope Francis, who affirmed this brave work. Shortly after Oestreich's return, she graciously agreed to share her story with Alverno Magazine.
What is your vocation story?
When I was in grade school, we had a wonderful group of sisters who taught us. They were very young and they were smart, well-prepared, super educators. I just always had this feeling that maybe I would like to be one of them. I went to college and got my master's, but the thought never left me. After I got my master's degree, I entered the community just to check it out. And I'm still here!
How did you first come to learn about human trafficking, and how did you come to take up this cause?
In 2009, I worked for Sisters of the Holy Cross in South Bend. They're an international community, and I was their justice coordinator working on social justice issues. The president of the congregation said to me, "we really have to address human trafficking. Internationally, women religious have made a commitment to end this." So we had to get up to speed and educate ourselves, educate the sisters and learn how it presented in America. Because it's different in how it presents in different countries and cultures. For example, we don't have child soldiers here, which is a form of trafficking. But we do have sex and labor trafficking. We have organ trafficking along the southern border. We have forced begging. We have forced marriages.
I'm a member of U.S. Catholic Sisters Against Human Trafficking. Part of our mission is to educate the public about the crime, because still a lot of Americans don't think it happens here. Milwaukee [in particular] is actually quite a center for human trafficking.
There's a ratio that I believe describes what human trafficking is. It's a low-risk, high-profit criminal enterprise. It's a crime. It's a sin. And nothing's going to change until we flip the ratio to make it high-risk, low-profit. So that's what we're about — trying to flip that ratio.
Do you see signs of hope?
I see that there is a movement in many states to decriminalize and expunge the records of people who have been trafficked, because getting them to commit crimes is a way to control them. I also see that there are more prosecutions [of traffickers] than there were 10 years ago. And there's beginning to be more emphasis on reparations for trafficking victims.
What do reparations look like?
Reparations are a way to address loss of opportunities and income. What if you're trafficked for 12 years and you come out with absolutely nothing? Had you not been trafficked, you might have had the opportunity for higher education and you would be on a career path. Instead, you could come out ill, drug-dependent, and terrified for the rest of your life. You don't have a profession. If you don't have safe housing and a job that can sustain your life, you're vulnerable to be trafficked all over again. Reparations are one of the ways to ensure that survivors have the means to live a free and dignified life.
What are some of the challenges you face in this work?
I think one of the biggest challenges is to recognize that people who traffic other people are damaged people. Something has happened in their lives that has made them willing to completely dehumanize another human being, not see them as a human but to see them as a commodity. When you see how these survivors come out, it's very difficult to not just want to see something bad happen to the trafficker — to not hate them or demonize them further. That takes a lot of prayer and a lot of community support.
Another challenge is securing funds to provide care for survivors. The need never stops or lessens.
Trafficking is a high-profit business. The latest estimate is it's a $150 billion annual business. And we're trying to fight it with a much smaller resource pool. It's a challenge!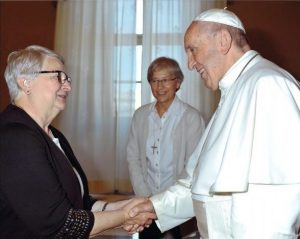 Considering these challenges, what do you draw on for strength?
The Gospel. That's the source of our life and the source of our hope. I think once you get into a struggle like this, you hold onto hope and your hope becomes more stubborn. There's no way you're going to take hope away from these people or from us. We're going to be the ones who offer hope to people whose lives have been completely devoid of hope or joy. We see potential, we see possibility in them, we see dignity. We see everything they can be and we want to make that possible for them.
As a delegate at the Talitha Kum assembly in Rome, you had the opportunity for a papal audience. What messages did the delegates share with Pope Francis, and how did he respond?
We shared with him our priorities — that besides the on-the-ground work of caring for survivors and trying to end the demand, we really feel called to work on the root causes of the demand. He gave us some very nice compliments. He told us that our work was effective and that we were a model for the Church.
We had the opportunity to thank him or to ask his prayers, especially for our network and for our work, but also for our congregations, our families and to change the hearts of the traffickers. Because we know prayer changes hearts. It might be the only thing that can.
---
What Can I Do?
We can all help put an end to human trafficking. Here's how:
If you think someone is being trafficked, or you yourself are at risk, contact the national human trafficking hotline at 1-888-373-7888 or text BeFree (233733) for support or referrals. Both resources are confidential and operated 24/7. Don't intervene directly, because you may endanger yourself or the person who is being trafficked.
Encourage your legislators to work on these issues.
Learn about the chain of production to make sure you're purchasing products from companies that don't exploit and enslave workers.
Support local initiatives and coalitions working to end human trafficking with a donation and your prayers.
To learn more, visit sistersagainsttrafficking.org or polarisproject.org.
Published on December 3, 2019 | Categories: 2016-21 Magazine archive
Frequently Asked Questions
How long does it take to complete the online EdD?
The EdD takes a total of six semesters to complete, or approximately 24 months. Students who choose the K-12 Leadership concentration may take somewhat longer if they decide to pursue additional coursework to prepare for superintendent eligibility.
Students who enter on the ABD completion track or the EdS completion track may take slightly less time to complete their degree.
Can I work while I earn my EdD? Will I have to travel often?
The online EdD is designed to accommodate full-time work schedules. Coursework is almost completely online, with two residencies of one weekend each included in the program.
What can I do after graduation?
Graduates of the EdD program can pursue advanced teaching or leadership roles in a wide range of industries—not just education. While most graduates will opt to serve in K-12 schools or districts or higher education institutions after earning the EdD, other options include government agencies, education publishing or educational technology companies, corporate training and retention, and more.
Is financial aid available?
Financial aid is available to those who apply and qualify. Graduate students can qualify for federal loans. We suggest that all students begin the Free Application for Federal Financial Aid (FAFSA) as soon as they apply. Alverno's FAFSA code is 003832.
Alverno's Financial Aid Office is happy to answer your questions. Call us at (800) 933-3401.