Welcome to Alverno's Career Studio
Alverno's Career Studio is a creative space where students become the artists of their future. Students are empowered to express individual ideas and collective imagination. It is the place where goals and dreams originate through career exploration, professional development, and internship experiences.

Read more from our students on what it is like to intern in our community.
Appointments
To schedule an appointment with a Career Coach during regular office hours, log into Handshake. Students will be prompted in Handshake to schedule with the coach assigned to their Career Community.
The Virtual Interview Room is available for student use by appointment. Please use Handshake to reserve a time (select appointment).
Students may shop the Career Studio Boutique during our office hours.
Walk-ins
For quick questions, stop in during our office hours. For everything else, please schedule an appointment in Handshake.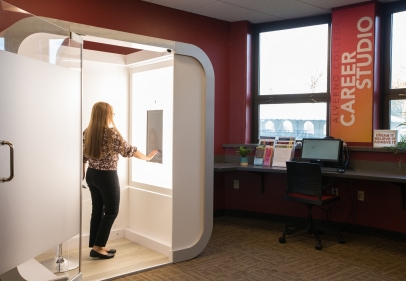 Alverno's Career Studio is home to an Iris Booth, one of only 35 educational institutions in the country to provide this technology to students. Read more.
Kohl's has committed to provide five $5,000 merit-based scholarships to support Alverno students, with a special focus on supporting women of color and/or are the first in their families to attend college. Read more. Learn about our Kohl's Scholars.
Mannequins with meaning
Dr. Cheryl Moore, executive director of Career Development, and her team have been striving to create a space inside Alverno's Career Studio that engages students in not only career aspirations but personal growth.
This academic year, they revealed the arrival of a new mannequin to join another - known on campus as Ali Schall. The newest mannequin, provided by Kohl's, has a visible scar on her hand "to represent every story, every setback, every struggle, every pain and every success of an Alverno College Strong Woman," Dr. Moore notes.
Career Studio staff have been working to expand representation of our Beloved Alverno community by showcasing fashion mannequins of different sizes, shapes, and skin tones.
The Career Boutique invites students to prepare themselves professionally and personally, offering free clothing as they grow during their Alverno journey.
Interested in donating to the Career Boutique?
Thank you for your consideration of a donation to the Alverno Career Boutique. We are seeking:
New or gently used clothing in the business casual to business professional range women.
Any and all sizes and seasons of adult clothing and accessories are appreciated, including maternity items.
All items should be cleaned prior to donation with no rips, stains, broken zippers, or other imperfections. Clothes should be good to excellent quality and purchased within the last five years/current with fashion.
Dresses
Blazers / cardigans
Blouses / dress shirts / sweaters
Skirts
Dress slacks / khakis
Hosiery / tights / leggings
Shoes
Jewelry / belts / accessories
Handbags
Messenger bags / laptop bags
Coats, hats, gloves, cold weather scarves
Scarves