Mental Health Summit
‌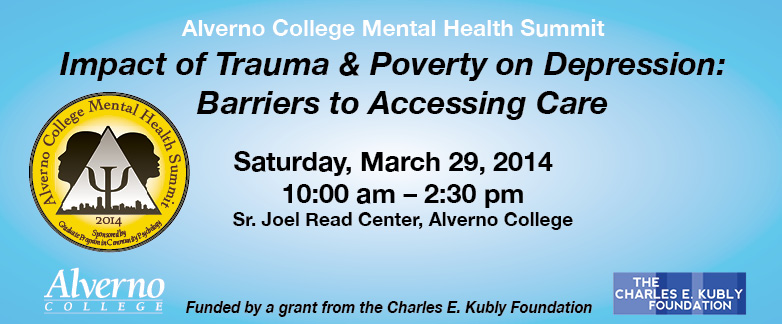 Summit Objectives
Foster cross-cultural connections among Milwaukee area mental health practitioners, students and community leaders
Explore current research and resources on trauma, poverty and depression
Expert Panel will include:
Melinda Hughes, MEd, MBA, Program Director, Aurora Healthcare's The Healing Center
Ramel Smith, PhD, Psychologist, Children's Hospital of Wisconsin
Sue McKenzie, MA, Rogers InHealth, WISE – WI's Initiative for Stigma Elimination
Moderated by Sandra Graham, PhD, Alverno College
Topics for small group discussion may include:
Trauma
PTSD
Poverty/Barriers to Accessing Care
Depression in Children
Self-Care for the Practitioner
Immigrant Stress
Many others
Participants will have an opportunity to visit the resource fair featuring local mental health agencies and initiatives.

Continuing Education Credits
This program has been approved by the National Board for Certified Counselors. Participants may earn up to 3.5 clock hours through NBCC at a cost of $35. Payment may be made with credit card over the phone (414-382-6087) or on site at the Summit with check/money order or credit card.
Call for Posters
Submission deadline extended to February 24, 2014
Alverno College's third annual Mental Health Summit welcomes proposals for professional poster presentations of research related to trauma, poverty, depression, or related subjects.
Preference will be given to proposals that align with the summit objectives. Submit proposals electronically to institute@alverno.edu by February 24, 2014, using the Poster Presentation Proposal Form
For more information or questions please call Julie Borgealt at 414-382-6435.
The Summit is FREE and open to mental health practitioners.
Register Now - Seating is Limited