Mental Health Summit
‌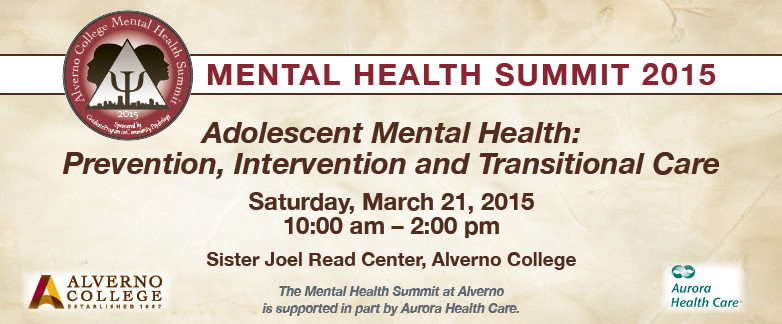 CALL FOR POSTERS
Submission Deadline: February 23, 2015
Alverno College's fourth annual Mental Health Summit welcomes proposals for professional poster presentations of research related to adolescent mental health. The conference objectives are:
(1) to explore current research and resources on prevention, intervention and transitional care for adolescent mental health in Milwaukee
(2) to foster cross-cultural connections among Milwaukee area mental health practitioners, students, and community leaders in addressing issues of adolescent mental health
Preference will be given to proposals that align with the summit objectives. Submit proposals electronically to institute@alverno.edu by February 23, 2015, using the Poster Presentation Proposal Form
Summit Registration will open on February 20, 2015
For more information or questions please call the Insitute for Educational Outreach at 414-382-6087.