These Alverno alums' lives and careers may have taken them on very different paths, but they all have identified ways to make sustainability the heart of their work. In Milwaukee and beyond, they teach us how to better care for the Earth in the process.
Click here to read these Alverno Strong alums' tips to incorporate sustainability into your daily life.
Erin Dentice '06, Parkside Elementary School, Milwaukee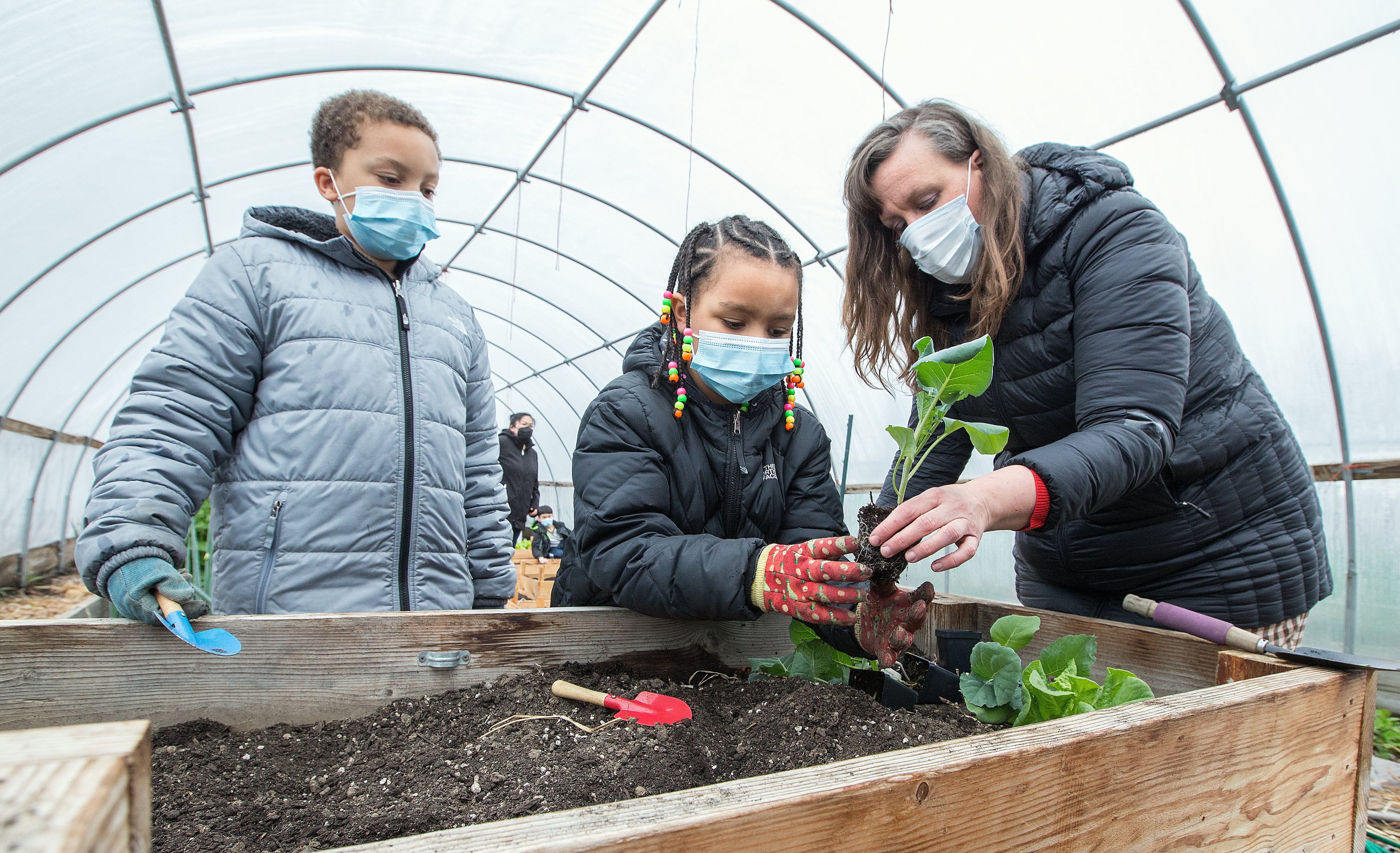 When Erin Dentice '06 steps into her garden, she sees more than chickens, plants and pretty flowers. She sees a sustainable food source.
On Milwaukee's south side, Parkside Elementary is where Dentice spends her days as the program agricultural coordinator and special education middle school teacher. In her 16 years there, she has made it her mission to build a community of conscious eaters.
Parkside students learn about Milwaukee's many growing spaces and hoop houses, grow seedlings and transplant them onsite. They also work with local chefs who teach the students and their families to prepare healthy and fun meals using the food they've grown.
"We talk with kids about food miles, understanding how far some of the food travels to get to you, and what some of that food looks like when they harvest it versus what it looks like when we pick it from our gardens. There are endless possibilities that you can cover, but I think any dialogue you can open up about this matter can make a difference," she says. "We need to make a difference because of what is happening to our environment due to climate change and people's health concerns because of what they eat."
Motherhood helped Dentice's passion for sustainability. "I started thinking about sustainability right after my kids were born. I ran my childcare center for many years, and we spent a lot of time outside. It was something we took very seriously as a family. The kids thrived being outside, so taking care of the outside became a passion for me."
Access to healthy food can be an issue in cities like Milwaukee, where many residents live more than a 10-minute walk from a supermarket, according to a 2019 report from the City of Milwaukee's Department of City Development. Dentice hopes to change this.
"If we want to change the world's current trajectory for our planet, we have to teach our children because they have to live differently and understand differently," she says. "All kids deserve access to healthy food to nourish their minds and bodies."
– Natasha Lettner '09
Callia Johnson '15, Great Smoky Mountains National Park, North Carolina and Tennessee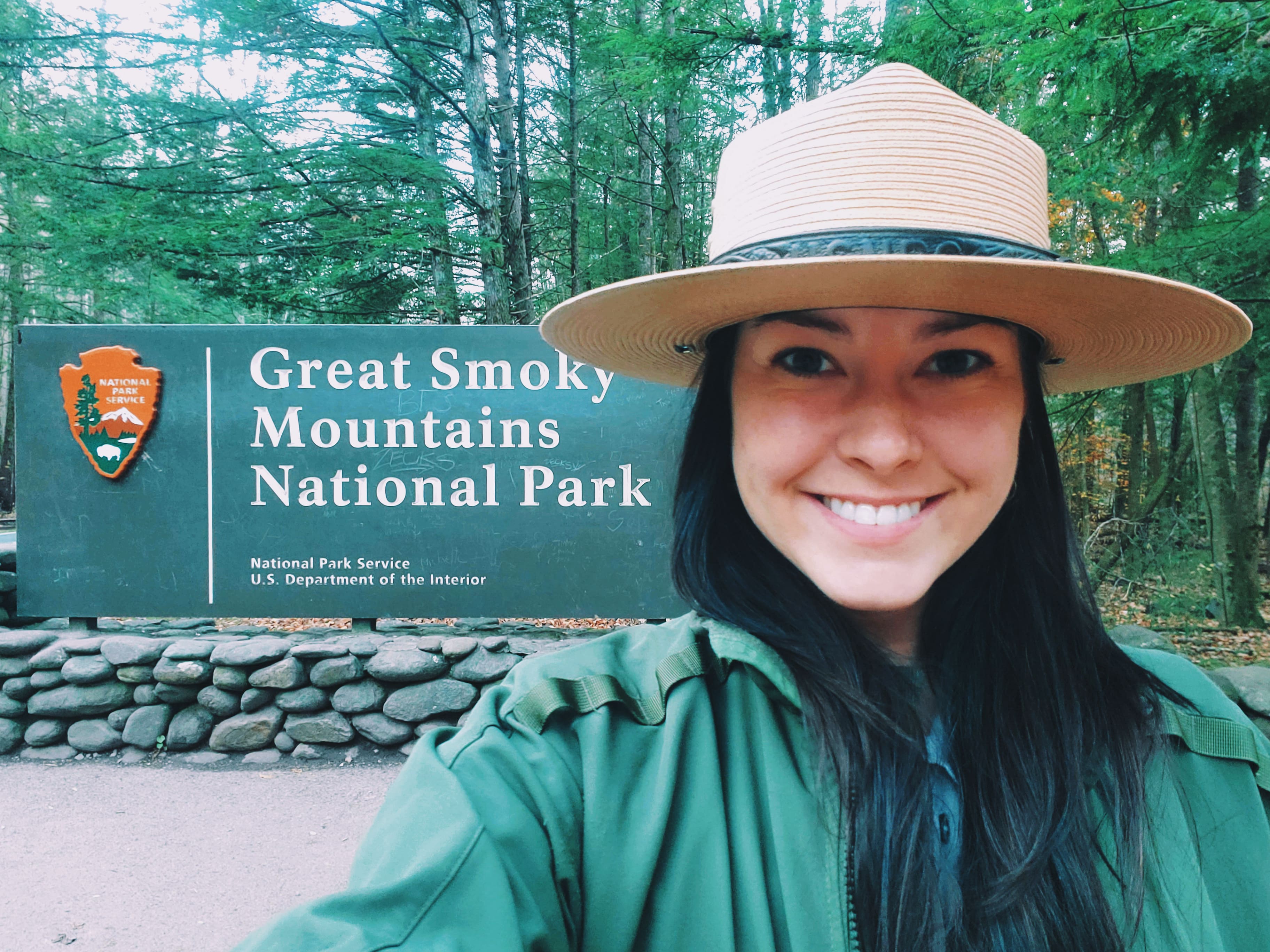 Callia Johnson '15 will never forget the solitary springtime hike when the wildflowers parted and she found herself inches away from a grazing black bear. Or her time wrangling another wild species: busloads of squirrely school children on field trips.
These are just some of the memorable moments of Johnson's time living and working in Great Smoky Mountains National Park in North Carolina and Tennessee. She joined the National Park Service in 2020 as a park ranger in education and citizen science and is now executive assistant in the park superintendent's office, giving her a different perspective on the most visited national park in the United States. "It provides me insights on what goes into running such an intricate operation," she notes.
Johnson's love of nature took root at an early age, but it took time to turn her passion into a job. She came to Alverno intending to study education but ultimately double-majored in biology and environmental science.
"I knew I wanted to do something that would allow me to potentially teach one day, but I didn't want go straight into the classroom," she says. "I care deeply about our planet and wanted to do something related to the environment to learn about it and save it, and that's also something that can be taught to other generations."
The Great Smoky Mountains National Park is "a biodiversity hotspot," Johnson says. "We have more plants and trees than almost anywhere else in the States. It's also considered the salamander capital of the world."
Recently, Johnson spotted two unusual-looking wasps: Megarhyssa macrurus macrurus and Lymeon orbus. "I had discovered two new species known to science but that had never been found in the park," she says.
– Nicole Sweeney Etter
Erica Perez '10, Perez Urban Farm, Houston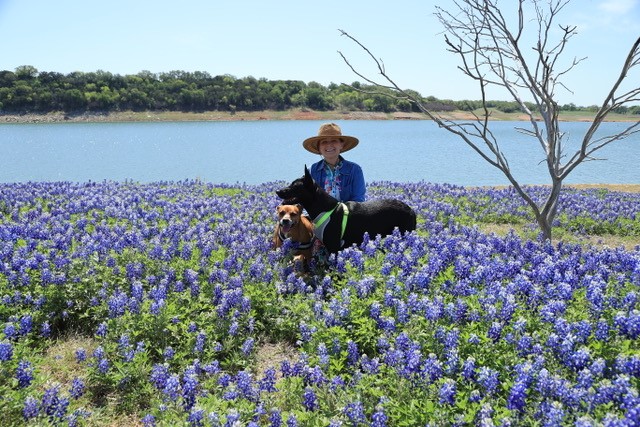 On the Perez Urban Farm in Houston, Texas, Erica Perez '10 is thriving and pivoting her skills to live more sustainably. After working corporate jobs for years, Perez turned over a new leaf and started her urban farm in 2019 after being diagnosed with an autoimmune disease.
As she sowed, tended, harvested, infused and stored organic food, she not only was healing herself, but she was also learning. "I think there are great metaphors for what I've been going through personally and seeing what the plants want and need and how they want to survive and thrive. It's been therapeutic for me as well," Perez reflects.
Other factors, like supply chain shortages brought on by the COVID-19 pandemic, also inspired Perez think about new ways to stock her kitchen.
"It was hard reading labels, and I found it easier to supply my own food, especially when the pandemic hit the supply chain. Grocery shelves were empty, especially fresh produce, which is a lot of what I rely on," Perez explained. "I decided that it'd be more sustainable for myself to grow food. Plus, I realized as a consumer, I've left a big imprint on the world."
Perez currently tends a wide variety of crops, including oranges, avocados, peppers, squash, melons, tomatoes and corn. She found that cabbage, broccoli, cauliflower, lettuce and spinach thrive during the Texas winter. But the best products of her farm: better health and a smaller environmental footprint.
She wasn't the only one who established an urban garden during the pandemic. As stores closed and more individuals worked from home, more gardens sprouted across the United States. A study published in the American Society for Horticulture Science found that 34% of research participants planted a garden because they had more time at home. Other studies have shown that gardening has many health benefits like increasing mental resilience, life satisfaction and quality of life.
―Elizabeth Gamillo '18
Denise Renteria '20, Urban Ecology Center, Milwaukee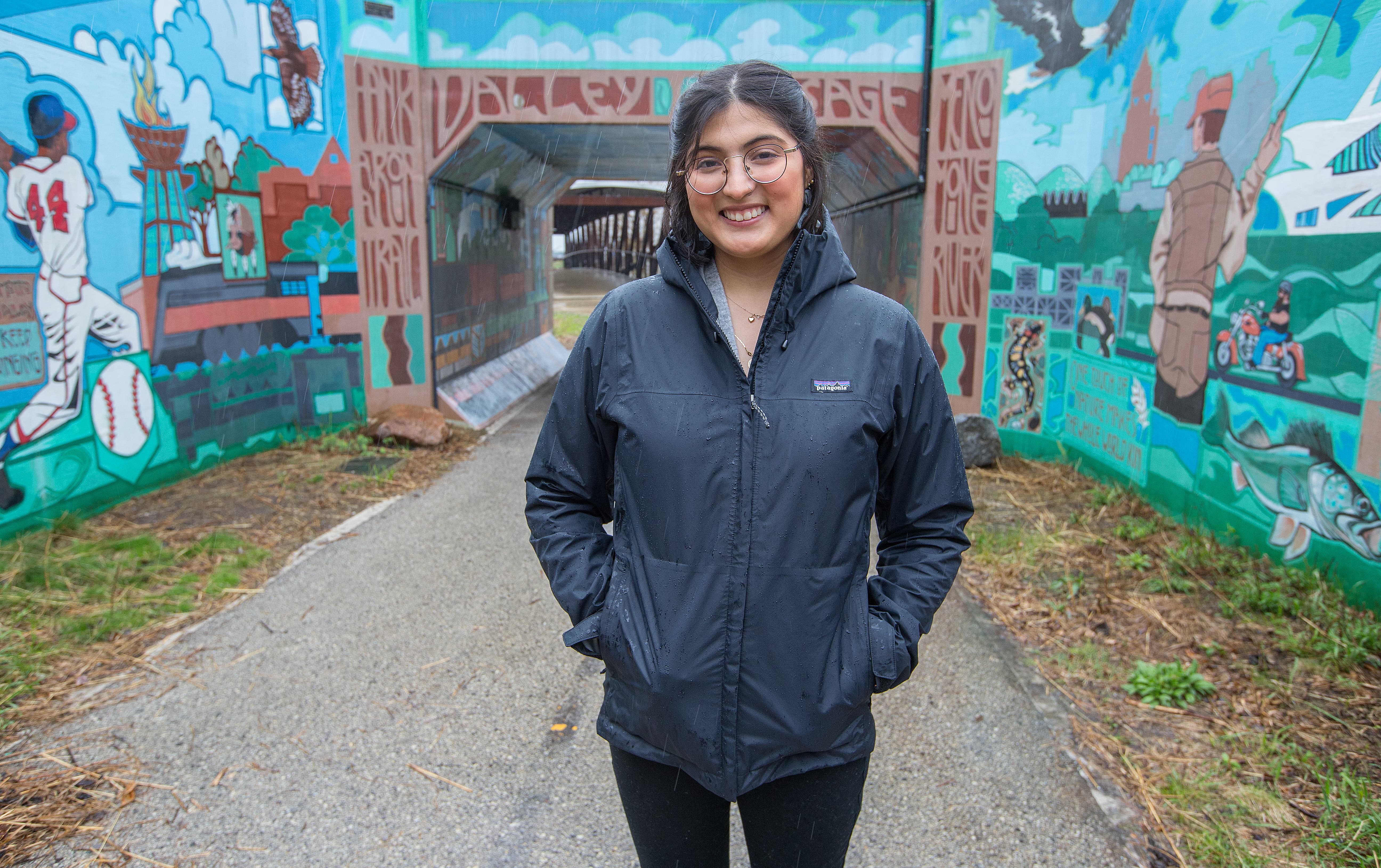 As a neighborhood engagement specialist at Milwaukee's Urban Ecology Center, Denise Renteria '20 has come to see how political decisions impact our daily lives and spur action by everyday citizens, such as working for environmental justice.
"Environmental justice focuses on improving conditions for folks that do not have access to them," she says. "One of my favorite forms of environmental justice is accessibility to green spaces, which is what we do at UEC."
Inclusion is a powerful theme of UEC's work, and Renteria ― who works at the Menomonee Valley branch ― says that begins the moment a visitor arrives.
"I want someone living in the south side of Milwaukee, or attending a neighboring high school, to be able to comfortably come in and think, 'I belong in this space, and I am welcomed here'," she says. "That is how I felt when I initially started coming to UEC as a volunteer years ago."
Renteria also seeks greater inclusion in the field of environmentalism.
"I think environmentalism hasn't been an open or accepting community to BIPOC folks, people with disabilities, and even people who are not the conventional definition of fit or thin," she explains.
As a longtime resident of Milwaukee's south side, working at UEC is personal for Renteria.
"It is a requirement to speak in Spanish to work there. We represent the community we serve," she says.
– Melissa Zacaula Luna '22
Cassie Rincon, Schlitz Audubon Nature Center, Milwaukee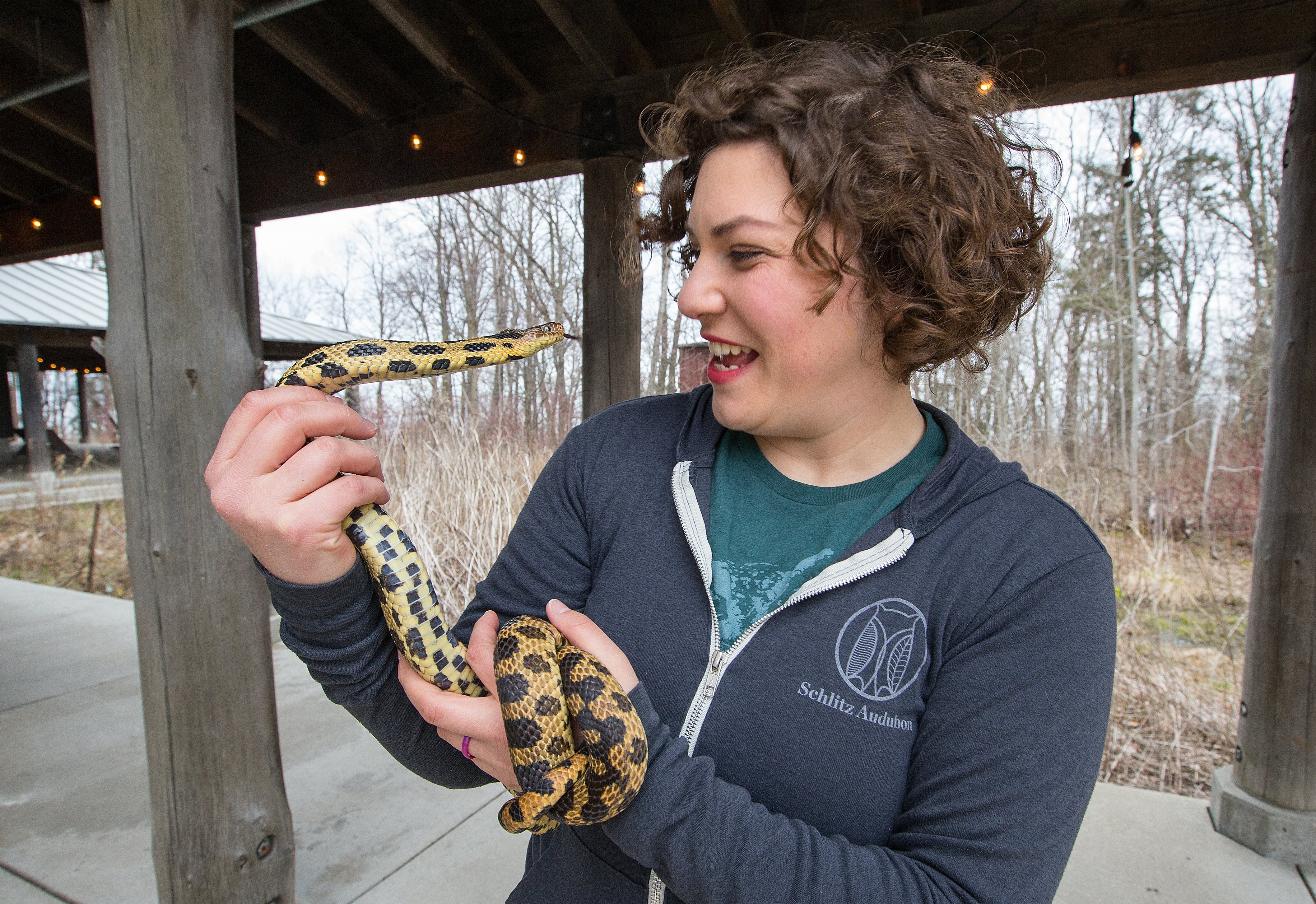 For Cassie Rincon '13, hanging out with snakes is a normal day at the office. So is traipsing down woodland paths, never quite knowing what sights or creatures she'll discover.
The Alverno alumna works at the Schlitz Audubon Nature Center, located just north of Milwaukee, where her colleagues include more than a dozen snakes, turtles and other reptiles and amphibians that, at any given time, make their home among the nature center's 185 acres of wetlands, woods and Lake Michigan shoreline.
"I consider myself so lucky to be able to work with these animals," says Rincon, who began her Alverno education with plans to become a teacher until discovering that a traditional classroom wasn't the right fit. She switched to environmental science, and her current role allows her to pair her passion for teaching with her love for nature. She delights in seeing "the wonder in kids' eyes when they touch a snake for the first time." (If you're curious, she reports that snake skin feels like a football or basketball.)
Other activities include welcoming field trips to the center, leading families on guided hikes and exploring the Lake Michigan beachfront. In the cold Wisconsin winter, gorgeous ice formations are on display; in less-frozen weather, visitors can uncover 450 million-year-old fossils on the beach.
In teaching kids about Wisconsin's native flora and fauna, Rincon hopes to foster an appreciation for nature. She also hopes to counter a common perception that threats to the environment are too far away or too big for one person – one child – to make a difference.
"We show them that there are things that you can do right in your own backyard that can help. For example, you can give migratory birds a habitat to stop over when they're traveling and take a break. We have topics on invasive species of plants that are harmful: Here's how you can get rid of it and make your world a little bit better," she says. "We teach so much about Lake Michigan, the pollution that's happening and the other nonprofits that are working hard to clean up and make sure there is healthy water for us to drink. We also teach them about citizen science roles they can take on."
Jessy Servi Ortiz MBA '13, Wisconsin Sustainable Business Council, Milwaukee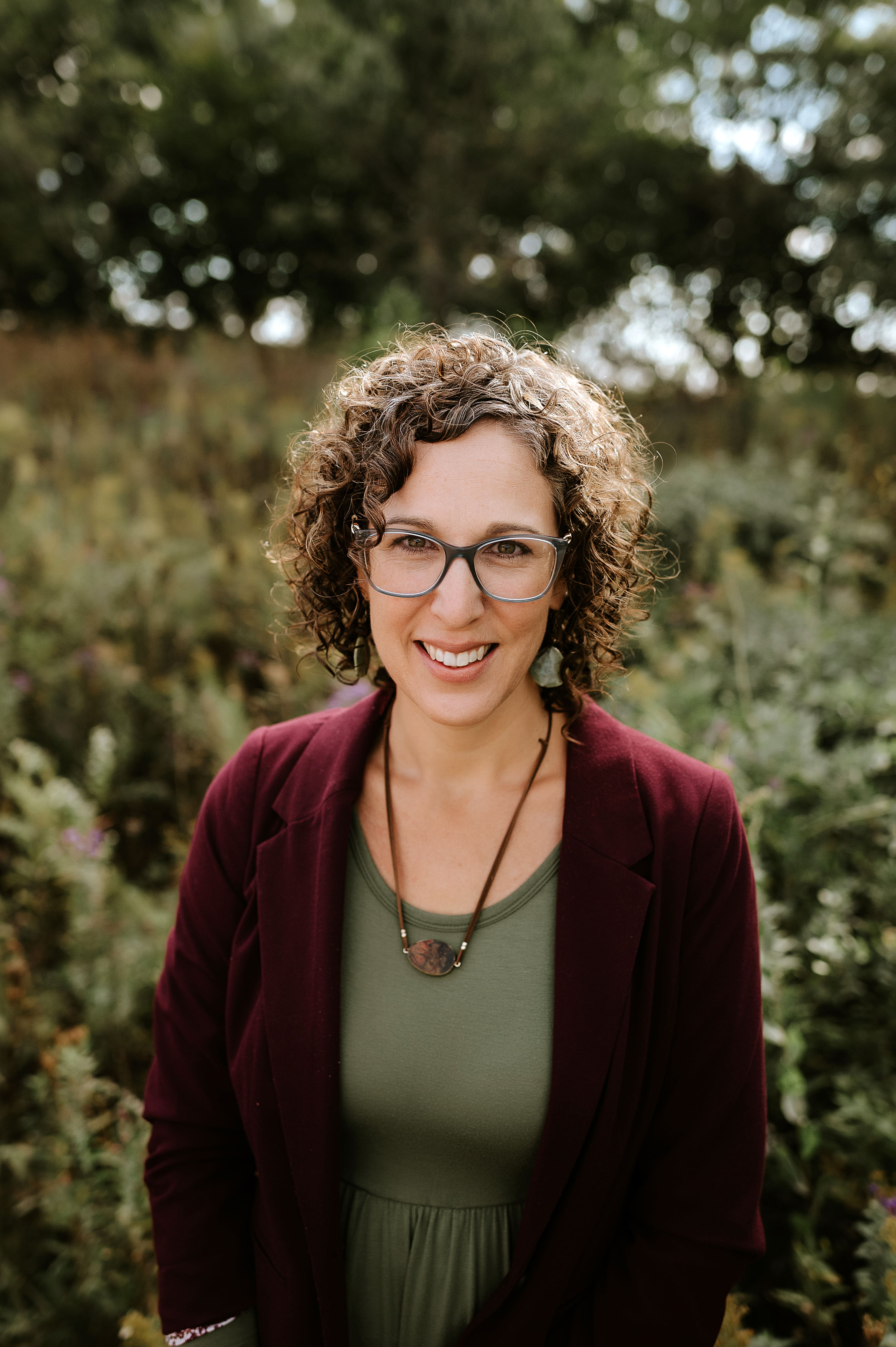 When most people think about "green" business practices, they think about conserving resources and reducing pollution. But ensuring diverse leadership and providing employee health coverage are also sustainable business practices.
Advocating for a more holistic view of sustainability ― and encouraging businesses to put these measures into action – is all in a day's work for Jessy Servi Ortiz MBA '13, managing director of the Wisconsin Sustainable Business Council.
"Sustainability is a big term and can mean something different to a lot of people. For us, it's reducing your environmental impact as well as enhancing and increasing the ways we take care of our community, including the workers and stakeholders of a company," Servi Ortiz explains.
The Wisconsin Sustainable Business Council is a nonprofit member organization that helps businesses of any size assess and improve their sustainability. Not only is there an ethical imperative for businesses to work toward sustainability, but there's also a business argument to do so.
"Manufacturers use a lot of resources in the making of their materials or products. Looking through a cost-saving lens, if a manufacturer can become more efficient with the way a product is designed, or redesign it to be remanufactured, you need less raw material, and your spend goes down. You can also design processes to use less energy or less water," she says. "If you're doing sustainability right, it should be a cost savings."
– Jackie Avial
Sheila Teruty '10, Slow Wave Vintage, Milwaukee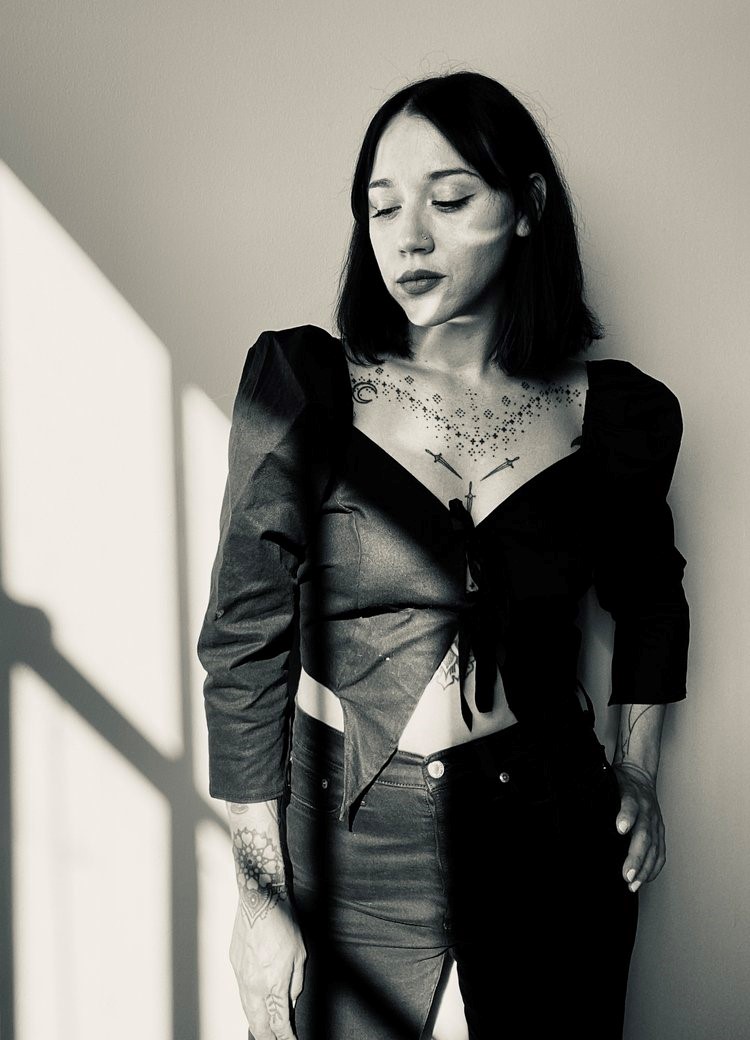 Did you know that the fashion industry is the second-largest consumer of water worldwide?
According to the United Nations' Geneva Environment Network, washing clothes releases "500,000 tons of microfibers into the ocean every year," equal to 50 billion plastic bottles.
And that is just one reason why Sheila Teruty '10 believes sustainable fashion must be our future. Teruty is a freelance wardrobe stylist who owns Slow Wave Vintage, a clothing brand dedicated to the act of slow fashion: unique, high-quality vintage items that are hand-picked after careful inspection.
As a child, Teruty's mother would take her antiquing and to garage sales ― sparking her interest in vintage and repurposed items. As a teenager, she loved fashion and thrifting.
"Anyone can go to the mall and buy the same dress that dozens of other people own already. Vintage is always about finding something new and different," she says. "You are finding these articles of clothing that actually started the trend in the first place."
Teruty says that in the past, clothing tended to be crafted to be long-lasting. Nowadays, many clothing items are designed to last a season or a few washes. Luckily, she says, "vintage is becoming more and more highly coveted by fashionistas and professionals alike."
The secret about vintage is out ― and that's the point.
"I think I use my skills and brand to bring awareness to the fact that you can live consciously in every aspect of your life. For me, that's through fashion and creating spaces with second-hand items," she says. "You can live fashionably and have a stylish home and wardrobe without having to support brands that you don't know the ethics of."
―Alexis Torres, class of 2023
Ivy Thompson '95, Maryland-National Capital Park and Planning Commission, Prince George's County, Md.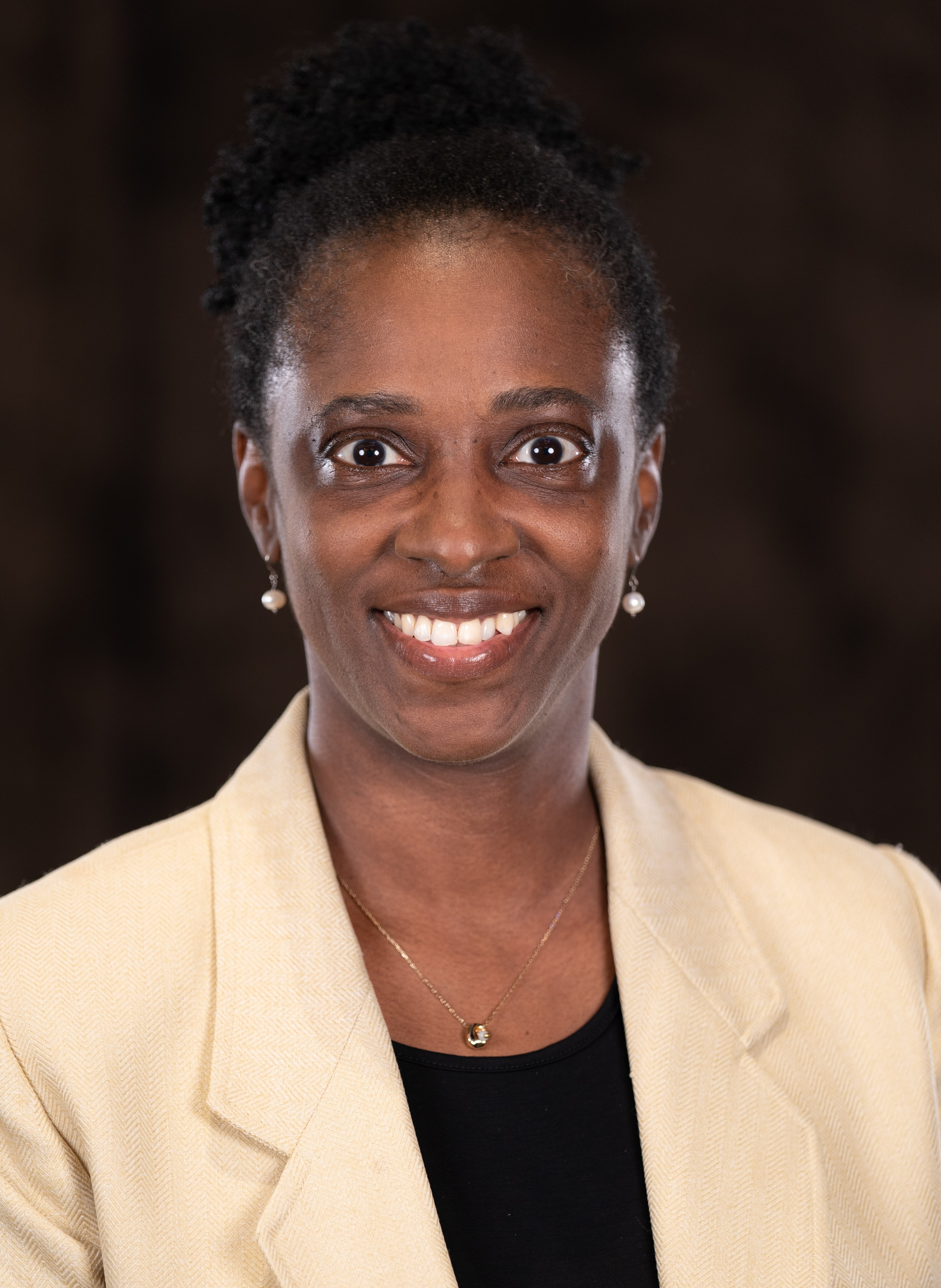 Ivy Thompson '95 and her younger sister both have master's degrees in community planning ― and that's no accident.
"We feel like that's something that our grandmothers would want us to do," Thompson explains. "My paternal grandmother was the administrator of a community health center, and my maternal grandmother was very involved in the neighborhood I grew up in. They always encouraged us to participate in the community meetings and ask questions not just for that moment, but they wanted us to be able to advocate for the community long after they were gone."
For 17 years, Thompson has served as senior planner for the Maryland-National Capital Park and Planning Commission in Prince George's County, Md., which borders Washington, D.C. She reviews public and private development projects to comply with local development standards, specifically around water and sewer service as well as accessibility and emergency response services.

Thompson embraces a definition of sustainability that invites her to consider how a project meets the needs of today's residents without harming future residents.
"How are the people who are going to be living here after I'm gone going to benefit? That takes me back to my grandmothers," she says.
―Jackie Avial
Click here to read these Alverno Strong alums' tips to incorporate sustainability into your daily life.
---
This article appears in the Summer 2022 issue of Alverno Magazine.