Student Assessment
‌‌Self Assessment at Alverno College (2000)
by the Alverno College Faculty; Georgine Loacker, editor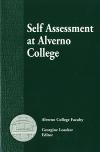 In this new monograph, Alverno faculty articulate what they have learned from studying self assessment as a form of student assessment-as-learning for more than 30 years. Their focus is on how students experience self assessment and learn from it in order to improve their performance. From the perspective of various disciplines, individual faculty explain how self assessment works in their courses.
Add To Cart $17.50
Student Assessment-as-Learning at Alverno College (Third Edition, 1994)
by the Alverno College Faculty

Based on the practice of Alverno College faculty and staff since 1973, this book explicates their theory of assessment for student learning. The book includes specific examples of assessment instruments. While published in the mid-nineties, this book has retained its relevance over time as a key resource for those desiring an understanding of the Alverno College curriculum.
Add To Cart $17.50
Assessment at Alverno College: Student, Program, Institutional (2005)
by Georgine Loacker and Glen Rogers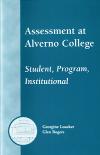 This monograph invites collegial cross-institution conversations about approaches to meeting diverse assessment and learning purposes at various levels of practice. The focus is on explaining, with examples of student, program and institutional assessment, how ongoing assessment of required student learning outcomes at Alverno College supports both individual student learning and faculty improvement of courses, academic programs, and the college curriculum as a whole. Additional strategies for fostering improvement while engaging wider audiences in evidence for student learning outcomes are addressed in program and institutional assessment examples.
Add to Cart $7.50
Teaching in an Ability-Based Curriculum
Beyond the Debate: The Nature of Teaching (Second Printing, 1994)
by Tim Riordan

Written in conversation with colleagues at Alverno College and other colleges and universities, this paper represents reflections on the practice of scholarship when shaped by student learning as its ultimate purpose.Read this report (pdf file) or purchase it.
Add To Cart $5.00
NEW! Feedback Is Teaching (2015)
by the Alverno College Faculty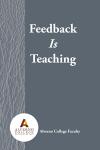 In the current climate, higher education is feeling the pressure to improve learning outcomes - whether conceptualized as grades, test scores, time to degree or performance in professional roles. This book explores the ways feedback serves as a powerful tool for improving the teaching and learning of those outcomes. It is set in the context of Alverno College, a women's college in Milwaukee, Wisconsin, that has been a leader in ability-based education for more than 40 years. The accounts in this book are representative of the experiences of many Alverno faculty members who daily use feedback to guide their students and adjust their teaching.
Add to Cart $22.00
Teaching Analytic Inquiry in the Disciplines Series

What characterizes the analytic inquiry we want our students to learn from our disciplines? How do we engage students in that kind of inquiry? How do we determine whether students have developed the analytic abilities at the heart of such inquiry? These questions are central to what the authors in this collection of essays have to say about what it means to teach analytic inquiry in their respective fields.
Price $30 per set plus shipping - Add To Cart $30.00
Individual books and series includes:

Teaching Analytic Inquiry in the Disciplines
Add To Cart $5.00

How Students Develop Analytic Skills in Theatre Courses: A Cumulative and Sequential Approach
Add To Cart $5.00
Teaching and Assessing Analysis in History
Add To Cart $5.00

Teaching and Assessing Analytical Thinking in Psychology
Add To Cart $5.00

Teaching and Assessing for Analysis: The Professional Communication Major
Add To Cart $5.00

Thinking And Knowing And Thinking About Knowing: Teaching Analysis in Philosophy
Add To Cart $5.00

We Murder to Dissect: Teaching Analysis in English Literature
Add To Cart $5.00
Focus on Specific Abilities
Learning to Listen, Listening to Learn (2007)
by Kathy Thompson, Pamela Leintz, Barbara Nevers, Susan Witkowski

Capture the essence of the Integrative Learning Model and its application throughout the Alverno College curriculum. Learning to Listen, Listening to Learn provides concrete examples of how Alverno introduces its unique listening model; how to teach listening at the beginning, intermediate, and advanced levels of the curriculum; and how to incorporate effective listening as a key component in classroom activities and assessment.
Add To Cart $10.00
Teaching Critical Thinking in the Arts and Humanities (1986)
Lucy Cromwell, Editor
Add To Cart $17.50
Teaching Critical Thinking in Psychology (1986, reprinted 1995)
Jane Halonen, Editor
Add To Cart $17.50
These books are the result of a project designed by Alverno College and funded by the Fund for the Improvement of Postsecondary Education (FIPSE), called the Network for Innovation in Critical Thinking. They represent the collaborative work of educators from a number of institutions, studying how critical thinking is defined, taught and assessed within specific disciplines.
Valuing in Decision-Making: Theory and Practice at Alverno College (1992) by the Alverno College Faculty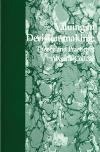 This book expands and specifies the theoretical frameworks described in "Valuing at Alverno: The Valuing Process in Liberal Education." It articulates more explicitly the various analytic dimensions that students engage in as they work with the levels of the valuing ability in their curriculum.
Add To Cart $7.50


Now We're Getting Somewhere: Finding Your Way with Group Interaction (2013)
by the Alverno College Faculty
This video can be used to demonstrate both effective and ineffective team behaviors. This can be a valuable stimulus for discussions related to the importance of social interaction abilities, effective team behaviors and group processes. An accompanying instructor manual identifies interaction behaviors and teaching questions throughout the video. It is designed to allow you to show the entire video or choose scenes.
Add to Cart $50.00
Validating Abilities
Establishing the Validity of Measures of College Student Outcomes (1988)
by Marcia Mentkowski & Glen Rogers

This publication draws on Alverno's experience in student and institutional assessment to articulate frameworks for establishing the validity of student learning outcome measures. It tracks how the dynamics of curriculum, teaching, learning, and assessment interact to shape practice-informed meanings for the concept of validity, accommodating both the educational use of performance-based assessments and wider demands for accountability.
Add to Cart $7.50
Validating College Outcomes with Institutionally Developed Instruments: Issues in Maximizing Contextual Validity (1988)
by Glen Rogers

Contextual validity for an instrument requires the integration of the multiplicity of perspectives and purposes into its design and the fidelity of its elicited mode of performance with post-college settings. This document illustrates how the strategies and elements of the contextual validity of specific instruments can be shown by describing and analyzing the history of two instruments.
Add to Cart $7.50
Student Learning Outcomes
Ability-Based Learning Outcomes: Teaching and Assessment at Alverno College
(Sixth edition, 2005) by the Alverno College Faculty

This book describes each of the eight Alverno abilities - Communication, Analysis, Problem Solving, Valuing in Decision=Making, Social Interaction, Developing a Global Perspective, Effective Citizenship, Aesthetic Engagement. They are integrated into the Alverno curriculum both in general education and in the areas of specialization. Through examples of approaches to teaching and assessment from a variety of discipline and professional areas, faculty illustrate how student learning occurs and is demonstrated throughout the curriculum.
Add to Cart $10.00
Ability-Based Learning Programs (1973-present)
This series describes the philosophy and practice of Alverno College's ability-based curriculum. The general publication introduces the principles of ability-based learning, while the discipline-specific publications (written by various academic departments) clarify the ways ability-based learning grounds advanced-level specialization in the undergraduate majors.
| | |
| --- | --- |
| The Biology Major | |
| The Business and Management Major | |
| The Chemistry Major | |
| The English Major | |
| The Environmental Science Major | |
| The History Major | |
| The Management Accounting Major | |
| The Mathematics Major | |
| The Molecular Biology Specialization | |
| The Philosophy Major | |
| The Professional Communication Major | |
| The Psychology Major | |
| The Religious Studies Major | |
| The Social Science Major | |
| Teacher Education | |
Other Publications
From Reform of General Education to Transformation: Creating a Culture of Learning (2009)
By Tim Riordan & Stephen Sharkey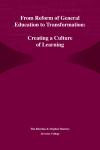 What is it that students cannot afford to miss in your field of study? The discussions that ensued from this question led to a signficant curriculum change that affected the nature of both general education and learning in the majors at Alverno College. This book is an account of this initial reform and the culture of learning that emerged.
Add to cart $5.00
Fostering Professional Development Through Experiential Learning (2002)
Alverno College Experiential Learning Committee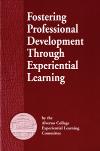 Performance and reflection are the principal components of experiential learning in all of its traditional forms - internships, service learning, clinical practica, student teaching, independent research. What we have done at Alverno is taken the powerful learning potential of performance and reflection and made it central to the entire college curriculum.
Add to Cart $10.00
ESL Strategies (2003)
by Sheryl Slocum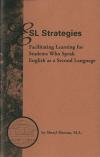 This book gives professors and teachers practical tips to facilitate the learning of students for whom English is a second language.
Add to Cart $7.50
Community of Learning
A number of years ago during a workshop for educators, the staff were asked how they integrated curriculum abilities in their work with students. This prompted many discussions about how staff contribute to shared educational principles, how they learn together and how they provide a campus classroom without walls. Partners in Learning was developed from these discussions. This paper is distributed to all new employees and it is used in a workshop about the role of employees in this learning environment.
Books from Other Publishers
Learning That Lasts: Integrating Learning, Development, and Performance in College and Beyond (2000)
by Marcia Mentkowski & Associates (Josey Bass)

This book explores how learners transform themselves and how educators foster skills for learning, leading, teamwork, and adapting with integrity in college and beyond. The authors' theory includes practical strategies for enabling a wide range of students to cultivate integrative and expansive capabilities across a lifetime. The theory draws on two decades of longitudinal studies of student learning in the Alverno curriculum, leading educational theories and experience in institutional consortia. The authors illustrate how faculty and academic staff forge effective curricula, design innovative programs, implement key institutional goals, and renegotiate the college culture.
View Chapter 7, (pdf file), "Creating the Learning-to-Teaching Connection."
Learning That Lasts has received the "Outstanding Research Publication Award" from the American Educational Research Association's (AERA) Division I (Education in the Professions). The award is given to a peer-reviewed book, chapter or article published within the past year that makes a significant contribution to research and theory in the field of education in the professions.
Disciplines as Frameworks for Student Learning (2005)
Edited by Tim Riordan and James Roth (Stylus Publishing, LLC)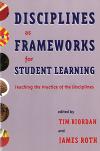 In this book Alverno College faculty, as well as one former student, explore how they approach their respective disciplines as frameworks for student learning. They represent a wide range of disciplines—chemistry, economics, history, literature, mathematics and philosophy. The faculty analyze the kinds of thinking they consider central to their disciplines and thus important for students to learn, and they describe what they expect their students to be able to do as a result of study in their fields. In addition, they give examples of learning experiences and assessments they have designed based on the kinds of thinking and doing they require of their students. They also reflect on how their own stance in relation to their disciplines has changed as a result of approaching them as educators, and how they take collective responsibility for student learning.
www.styluspub.presswarehouse.com
Orders from other countries: Prepaid orders from other countries are payable in U.S. dollars. Please add an additional $15.75 for shipping and handling. Research and technical reports are available through the Educational Research and Evaluation office at ere@alverno.edu.
If you would like more information, call the Alverno College Institute for Educational Outreach at 414-382-6087. If you would like to be put on the mailing list, please include your name, address and phone number in your e-mail to institute@alverno.edu.