Alverno Interpreter Institute
Alverno Interpreter Institute
Alverno Interpreter Institute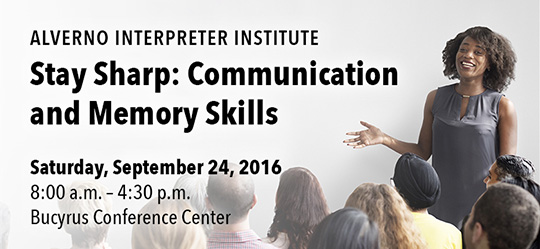 Interpreters facilitate communication between people who speak different languages, and in doing so, they rely on an arsenal that includes a strong command of their working languages, sharp memory and recall skills, and the ability to listen and communicate effectively while also managing the flow of conversation despite their frequent presence in distraction-ridden or highly-emotional situations. Thus, interpreters are required to juggle multiple tasks at once, and to be successful, they must possess sharp skills. In this workshop, participants will deepen their understanding of the cognitive processes involved with second language acquisition and the transfer of meaning from one language to another, in addition to learning and applying strategies for communicating accurately and effectively in challenging situations while improving concentration and memory retention.
Registration Fee: $75 (includes continental breakfast, lunch, and all materials)
CEUs Provided: 6.5 total, of which 2.5 are performance-based (approved by CEAP/CCHI; accepted by NBCMI)
Program Agenda:
8:00-9:00 Registration/Continental Breakfast
9:00-9:15 Opening Remarks by Jennifer Flamboe (Alverno College)
9:15-10:45 "Neuroplasticity and our Brain" by Dr. David Donarski M.D.
10:45-11:00 Morning break
11:00-12:00 "Emotional Intelligence when Interpreting" by Bruce Kestelman (WCTC)
12:00-12:30 Speed Networking by Suzanne Couture (ProHealth Care)
12:30-1:30 Lunch and small-group discussion
1:30-2:00 Memory Exercise by Daniel Dickover (Alverno College)
2:00-2:15 Afternoon Break
2:15-4:15 Concurrent Sessions/Interactive Exercises
4:15-4:30 Wrap-up & Certificate Distribution
Spring Interpreter Institute will be March 18, 2017. Save the date!
Mission Statement:
The Alverno Interpreter Institute (AII) was founded by medical interpreters as a forum to disseminate information on topics of interest to practicing interpreters. The Institute fosters skill-building and continuing education through interactive workshops and enrichment sessions as a means of professional development for those at all levels of the profession. As an entity associated with the Spanish/English Healthcare Interpretation program at Alverno College, the Institute is a venue where medical interpreters across all language pairs can gain knowledge and learn from one another, building a network of professionals.
For more information contact:
Jennifer Flamboe
or the Institute for Educational Outreach
414-382-6087