AII Workshops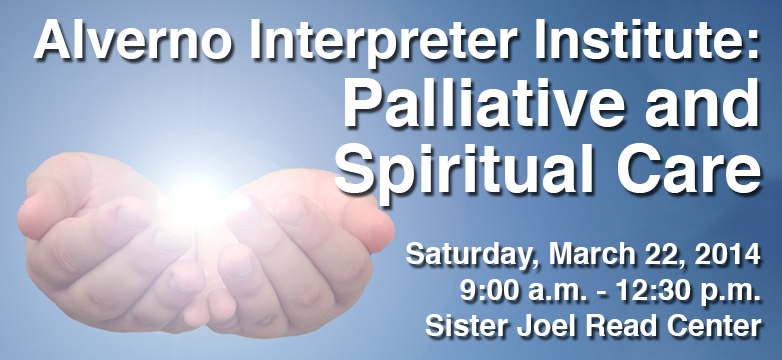 Alverno Interpreter Institute: Palliative and Spiritual Care

Sponsored by the Alverno College Spanish/English Healthcare Interpretation Program

Saturday, March 22 — 9:00 AM to 12:30 PM
Sr. Joel Read Conference Center, Alverno College
3400 S. 43rd Street
Directions to campus
Agenda
8:00-9:00 Registration and Continental Breakfast
9:00-10:30 Opening Remarks and Presentations:
"What your doctor used to have to tell you"
Bruce Goodman, Medical Interpreter, Wheaton Franciscan Healthcare
Spiritual and Palliative Care: A Roundtable Discussion
David Jerger, BCC, Pastoral Care, Aurora Healthcare
Kay Fischer, NP, Palliative Care, Aurora Healthcare
Moderator, Chris Rubach, CHI, Alverno Interpreter Institute
10:30-10:45 Break
10:45-11:00 Warm-Up Activities
11:00-12:15 Role Plays
12:15-12:30 Closing Remarks
12:30-1:30 Optional Networking Time and/or Box Lunch (additional fee with registration)
Workshop Objectives
To provide information to interpreters regarding spiritual and palliative care and Wisconsin informed consent regulations
To practice interpreting with peers in various scenarios
To network with interpreters from the area
To establish a forum where all levels of interpreters, from students to experienced interpreters, may come together and learn from each other
Check back for a total number of attendees and languages.
As of March 19th, registrations for the Spring 2014 Workshop are as follows:
| | |
| --- | --- |
| Spanish | 40 |
| Hmong/Laos | 2 |
| Arabic | 2 |
| Korean | 1 |
| French | 1 |
| Polish | 1 |
| Total | 47 |
Registration is Now Closed
Registration Fee: $35.00
Registration deadline is Thursday, March 20th.
To register by phone call 414-382-6087 or fax registration to 414-382-6088

Registered Alverno Spanish-English Healthcare Interpretation Minors can attend the conference free of charge. E-mail Daniel.Dickover@alverno.edu or jennifer.flamboe@alverno.edu to register.
All languages are welcome but bringing a partner in your language pair improves the role playing experience.
Scroll down to see a list of materials from the 2013 Spring Alverno Interpreter Institute (AII): Mental Health Interpreting Workshop. Information includes PowerPoint Presentation, scripted role plays and their translations and alternative group activities provided for participants.
AII Alternative Group Activities
‌AII Script 2 Anger Mgmt English
AII Script 2 Anger Mgmt Russian
AII Script 2 Anger Mgmt Spanish