Alverno Interpreter Institute
Alverno Interpreter Institute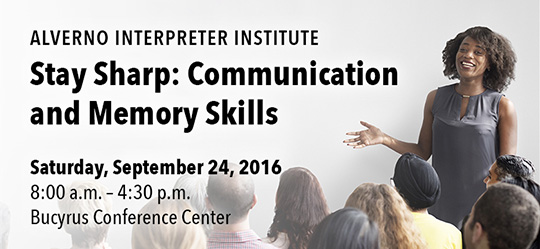 Registration Fee: $75
CEU's: TBD
Click to register for Alverno Interpreter Institute
Tentative Agenda:
8:00-9:00 Registration/Continental Breakfast
9:00-9:15 Opening Remarks by Jennifer Flamboe (Alverno College)
9:15-10:45 "Neuroplasticity and our Brain" by Dr. David Donarski M.D.
10:45-11:00 Morning break
11:00-12:00 "Emotional Intelligence when Interpreting" by Bruce Kestelman (WCTC)
12:00-12:30 Speed Networking by Suzanne Couture (ProHealth Care)
12:30-1:30 Lunch and small-group discussion
1:30-2:00 Memory Exercise by Daniel Dickover (Alverno College)
2:00-2:15 Afternoon Break
2:15-4:15 Concurrent Sessions/Interactive Exercises
4:15-4:30 Wrap-up & Certificate Distribution
Spring Interpreter Institute will be March 18, 2017. Save the date!
Mission Statement:
The Alverno Interpreter Institute (AII) was founded by medical interpreters as a forum to disseminate information on topics of interest to practicing interpreters. The Institute fosters skill-building and continuing education through interactive workshops and enrichment sessions as a means of professional development for those at all levels of the profession. As an entity associated with the Spanish/English Healthcare Interpretation program at Alverno College, the Institute is a venue where medical interpreters across all language pairs can gain knowledge and learn from one another, building a network of professionals.
For more information contact:
Jennifer Flamboe
or the Institute for Educational Outreach
414-382-6087
Alverno Interpreter Institute >